We are embarking on a journey to build the best seo company on the market. If you want to be a part of this journey and use us for SEO contact us now by emailing This email address is being protected from spambots. You need JavaScript enabled to view it.. We currently do SEO and feel we provide great service and want to improve even more to become the best option for small businesses that sell their products and services to other companies. This article will review how we are aiming to improve our services and also give other business owners a framework to review and improve their own product/service offering. In this article we also outline how you can get a free competitor website review for your business.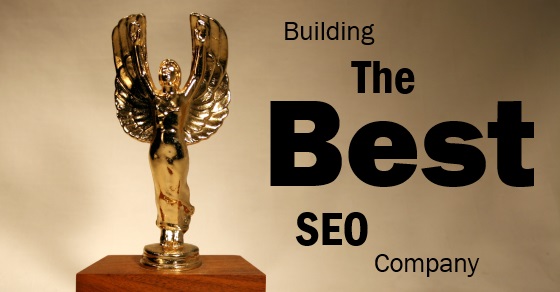 Contact us today to see if we are good fit for your search engine optimization needs.

Executive Summary
- in order to be the best you need to be better than any other option
- doing things that other companies don't or can't do will help you stand out and convince your prospects you are the better choice
- the best very rarely do the same but better, usually they do something different that no one else does
- it is incredibly hard to be the best for everyone so aim to be the best for a small target group
- the only way to know how you rank versus other options is to compare yourself to the best in the industry and see where you come up short
What We Do Differently That No One Else Does
In order to be the best at what you do you need to usually do something different than everyone else. Very rarely are you able to be the best by simply doing what everyone else is doing but better. John D. Rockefeller amassed the greatest empire of wealth ever seen in America by doing things his competitors where not. Buying out his competition and using differential pricing. At the time of his reign his competition were not using these approaches. (click here to learn more about John D. Rockefeller). Jerry Rice was the greatest receiver the NFL has ever seen because he trained and practiced differently than any other wide receiver had before him. In the off season his training program include 6 days of workouts per week. During practices he always sprinted after every catch into the end zone, instead of leisurely trotting back to the quarter back like other receivers. (click here to learn more about Jerry Rice's training and practicing). In the same way we are doing things differently with the goal of being the best at what we do.
What we do with our service that no one else does is:
Guaranteed Return On Investment - Click here to read about our ROI guarantee
Results Tracking and Transparency - Click here to read about our transparency approach
Satisfaction Guarantee - Click here to read about our 100% satisfaction guarantee
In Depth Analysis Of What Is Generating Sales - Click here to read about a customer case study
Free Competitor Website Review When Signing Up With Our Services - email us as This email address is being protected from spambots. You need JavaScript enabled to view it. with "Free Competitor Website Review" to learn more
Who We Do Not Target
It is incredibly hard to be the best for everyone so we aim to be the best only for a for a small target group. If a prospect meets any of the below criteria they are not a good fit for our services and we will not work with them.
Companies with more than 15 employees
Marketing managers at large companies
Businesses that sell their products/services to individuals
Buyers who do not believe that marketing is critical to their company's success
Business owners that require to meet in person with their suppliers
Business owners that do not look at the return on investment from their marketing expenditures
Who We Do Target
The small group that we do aim to be the best for includes businesses that fit the follow criteria:
Businesses owners that see the feel their website is important to the success of their company
Businesses that sell their products/services to other companies
Businesses that have 3-15 employees
Business owners that feel providing outstanding customer service is essential to their success
Business owners that believe great marketing can drive significant sales
Business owners that are satisfied meeting always over video conference/webex
Learn about SEO with this FREE SEO 101.
Comparison To Other Companies
The only way to know how you rank versus other options is to compare your company to the best in the industry and see where you come up short. We have done this for our website traffic and website sales lead service. Below is a list of some of the best SEO companies on the market. For each I have listed what they provide that Profitworks services do not yet include.
Webimax - Link removal services, integrated PR, monitoring online mentions of customer brands promoting positive commentary, website design
Netmark - Reputation management, PPC management, premium website hosting, SMS marketing, Mobile Apps
Customer Magnetism - website design, paid search, infographic design, reputation management, social media services, Schema markup, Google Partner and Bing Ads Accredited Professional
Higher Visibility - website design, social media services, PPC services,
Link to reviews and what they are scored on.
http://www.bestseocompaniesreviews.com/
http://www.10bestseo.com/agencies/
http://www.bestseocompanies.com/
http://search-engine-marketing-review.toptenreviews.com/
What The Leading Companies Score Well On
Customer Service
Marketing Strategy
Keyword Analysis
On Page Optimization Knowledge
Off Page Optimization Knowledge
Comprehensiveness Of Services
Help & Support
Customer & Prospect Education

What We Are Working On To Add/Improve
By looking at our competition that are the best in the industry we can see there are some areas that we need to improve in. Some of the items like website design and social media we have strategically decided not to offer. There are many items though that by going through this analysis it is clear we need to add to our service.
1. Adding Webmaster Tools Management Services
2. Adding Schema Markup
3. Adding Internal Linking Analysis Services
4. Improving Keyword Analysis
5. Improving Quality Of Content Creation
6. Improving Customer Service
ROI Of Reviewing Your Product/Service Offering
By reviewing your product/service offering compared to the best in your industry should very easily lead to a positive ROI.
For this analysis it took me about 2 hours and it will probably take me about 16 hours to implement all of the desired changes to our service. If we assume the cost of my time is $50.00 per hour that would be a total cost of $900.00. Now assuming we are making variable contributions of 40% all I will need to see in an increase in revenue is $2,250 to break even. Only time will tell but increasing sales (either by obtaining a new customer or retaining a customer we would have otherwise lost) by such a small amount is almost a given. Conduct the same analysis for your own business and see how many customers you would need to get or keep in a year to payback for your time. I think you will find this activity will be well worth your time.
Improve your website today. Download our report on The 7 Key Tasks To Increase Website Traffic.
Profitworks Small Business Services provides website traffic and conversion optimization services which increase the number of sales leads generated from a website. We focuses on actually tracking and reporting back to our clients on marketing program ROI for the activities we execute. To learn more about Profitworks click here. Connect with us on Google+ or if you are just interested in getting new customers for your B2B small businesses. Feel free to click the "Send Me Free Sales Insights" button below to get free advice on how to gain new customers.
Other Articles You Might Be Interested In
1. Email Marketing Best Practices
2. Website Marketing ROI Case Study
4. The Marketing Methods For Small Businesses With The Best Return On Investment