An interesting book I have found useful in my sales efforts is Neil Rackam's Spin Selling. In the book he outlines what questions to ask when to move prospects all the way through the buying process. If you ask the wrong questions at the wrong stage the interaction will often stall. On the other hand if you ask the right questions at the right time, you will often find the prospect quickly becomes eagerly interested in your product and excited to buy.




SPIN Selling Summary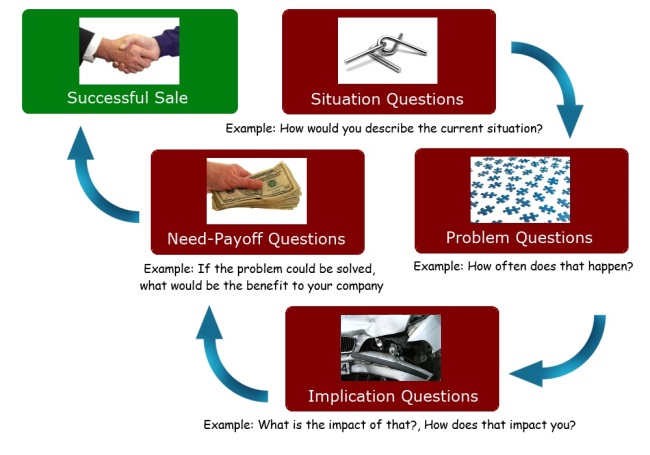 It all starts with situation questions. What are situation questions?
Situation questions are questions in the sales process that ask for background or facts.The situation type questions are the first questions you want to ask after you have introduced yourself to the prospect. The theory behind the SPIN system is to talk about your product and the benefits of your products as late into the sales interaction as possible. To do this you will need to get a conversation going by asking questions, starting with situation questions.
What are some examples of situation questions?
Examples of situation questions would be (I will use examples related to my customer who provides office coffee.
Stage 1 Questions
1. What kind of coffee brewing system do you use right now?
2. How often do you get coffee delivered to your location?
3. Are there any areas of opportunity for improvement with your current coffee supplier?
4. How many cups of coffee do you go through a day?
Stage 2 Questions
After asking Examples of stage 2 questions after the buyer has given you a specific piece of information to probe further on.
1. How long does your current coffee machine take to brew a cup of coffee?
2. Am I right in thinking that placing your coffee orders over the phone is very time consuming?
3. When did you first notice an increase in the prices you were paying for your coffee?
4. Has the number employees complaining about the coffee increased over time?
This article is the first of a 4 part series on spin selling, each one discusses the different types of questions in the SPIN Selling System. To read the other articles in this series just click on the links below!
1. Situation Questions
To get sales training for your or your staff click here.
Read the next article in this series titled SPIN Selling Questions - Determine Buyer Needs.
My name is Chris R. Keller. I work at Profitworks Small Business Services helping various B2B small businesses in Waterloo and Kitchener Ontario generate new customers. Feel free to connect with me on Google+ or if you are just interested in getting new customers for your B2B small businesses enter your email in the box provided below and click the "Send Me Free Sales Insights" button.