This is the second article in a four part series on Neil Rackam's book Spin Selling. In the book he outlines what questions to ask when to move prospects all the way through the buying process. If you ask the wrong questions at the wrong stage the interaction will often stall. On the other hand if you ask the right questions at the right time, you will often find the prospect quickly becomes eagerly interested in your product and excited to buy. The second type of question to ask is all about identifying problems to determine buyer needs.
If you have not yet read the first article in this series on the SPIN Selling System. I would recommend you start with that article. It is titled The 4 Spin Selling Questions.
2. Problem Questions
SPIN Selling Summary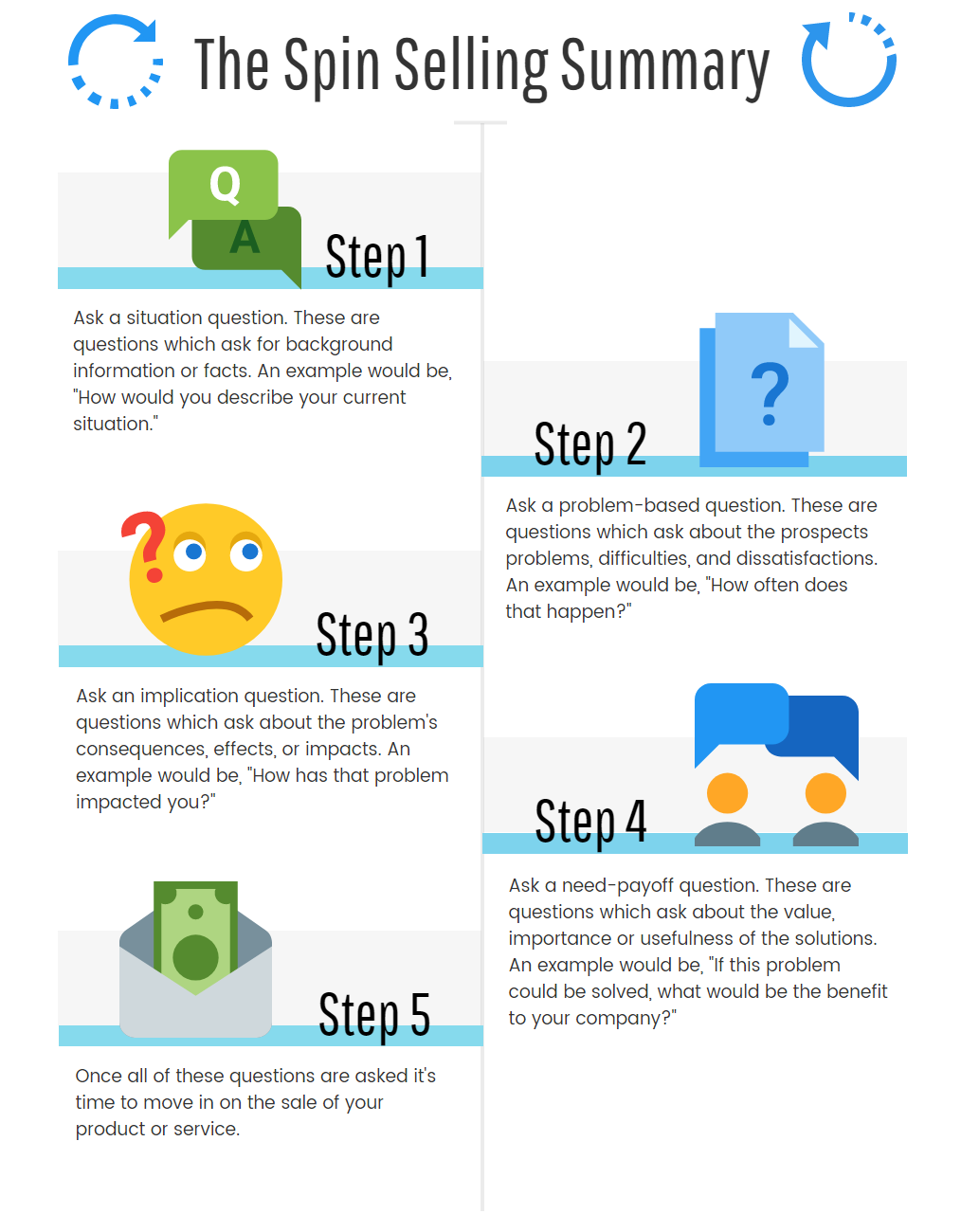 Problem Questions
Problem questions are questions in the sales process that ask about the prospects problems, difficulties or dissatisfaction. This step is critical as once the prospect realizes they have a problem, they will realize they have a need and people only buy once they realize they have a need or want.
Situation Question Examples
Examples of situation questions would be (I will use examples related to my customer who provides office coffee.
1. Do you have any problems with your current office coffee system?
2. Do you ever have people waiting in line to get their coffee?
3. Do you currently ever run out of office coffee supplies before your next delivery?
4. Do any of your coffee supplies currently cost more than what you would like?
Often a great next step after you find a problem is to follow it with a question that ask more about the problem. A great way to do this is to use questions asking where, when, who, how often and what happens if/when.
Follow-up Problem Question Examples
Examples of follow-up problem questions would be
1. How long does it take for your current service provider to respond when you have a breakdown?
2. How often does your coffee machine break down?
3. Who usually has to deal with the problem when you run out of supplies?
4. When did you receive the significant price increase?
If you do have problems with your office coffee just give me a call at (519) 880-8675. One of my customers that I represent provides office coffee and does an outstanding job.
Summary
Asking problem questions should be a large portion of any sales call. There are some areas though when you do not want to ask problem questions or they may reduce your chance of closing a sale. These area's include anything that your prospect has a high personal in, questions related to recent decisions and your own product or service. Never ask problem questions about your product in a sales call, instead save that for a specific time when you are gathering feedback and not trying to make a sale. Questions clarifying why the prospect does not think your product is a fit are great but do not ask problem questions. If you start highlighting problems in your product or service in the buying process it will just highlight these problems and create negative emotions towards your product or service. If you can use problem questions well though, you can get the prospect engaging with you and realizing they have a problem and they want it corrected. The next steps are to get them to realize all of the implications the problem creates, what the benefits would be of having the problem corrected and that you can correct the problem. If you want to get a copy of this book and read it in more detail I am sure you can get it for not much on amazon.com.
To get sales training for your or your staff click here.
Read the next article in this series titled "SPIN Selling By Neil Rackham".
My name is Chris R. Keller. I work at Profitworks Small Business Services helping various B2B small businesses in Waterloo and Kitchener Ontario generate new customers. Feel free to connect with me on Google+ or if you are just interested in getting new customers for your B2B small businesses enter your email in the box provided below and click the "Send Me Free Sales Insights" button.

I hope this article on the SPIN selling questions was interesting. Thanks for reading.