On & Off Page Optimization
We take a wholistic approach to your SEO strategy, including both on and off page optimization.
On page SEO includes a number of the core search engine optimization tactics used on your website including keywords in copy and meta description, HTML, title tags and alt tags, as well as content quality, page performance and content structure. Each of these tactics will directly influence your website's ability to rank well in search engines.
Off-page SEO includes all of the factors that can be controlled off of your website and have an impact on your rankings, including backlinks, social shares, guest blogging, and more.
Never miss a customer again!
We're ready to help you improve your online presence and turn website traffic into sales. To get started, click on the button below and one of your team members will be in contact with you shortly.



Strategic Link Building
Having relevant links from authoritative websites is still a key consideration for ranking high in Google. To outrank your competition, having a strategic link building strategy is critical. Our team can support your business in getting trustworthy links from established websites to improve your overall authority in Google.
We offer link building through authority links, editorial links, guest posts and more.
Link building is available as part of our Local SEO packages, or as a stand-alone service.

Reasons For Link Building:
Natural links are "votes of confidence" from Google, indicating that your website has information worth sharing
Increase in traffic from SERPs as well as other websites linking to yours 
Improvement in web indexing speeds 
Brand name exposure and recognition
Never miss a customer again!
We're ready to help you improve your online presence and turn website traffic into sales. To get started, click on the button below and one of your team members will be in contact with you shortly.



Phone and Email Support
One of the major benefits of working with Profitworks is having access to our team members 24/7 over phone and email support. Instead of submitting a ticket and waiting days for a response or being connected to a off-shore customer service department, you'll be able to speak with your account manager to get the answers you need when you need them!
Phone and email support are included in all of our marketing services.
Never miss a customer again!
We're ready to help you improve your online presence and turn website traffic into sales. To get started, click on the button below and one of your team members will be in contact with you shortly.



Google Maps Optimization
A Google Maps listing imperative for local SEO. Our team will help you get your profile set-up, support your team in generating new, positive customer reviews and update your listing with posts or offers on a weekly basis.
Google Maps Optimization is available as part of our Local SEO packages.

Reasons For Claiming Local Listings:
Additional traffic to your website
Improvement in local rankings 
Builds brand authority and recognition
Never miss a customer again!
We're ready to help you improve your online presence and turn website traffic into sales. To get started, click on the button below and one of your team members will be in contact with you shortly.



Details

Owen Ly

Hits: 25904
Veterinarians serve one of the most endeared family members of a household and it is this compassion and dedication to the work and families that need to be made known to your patient's and their family. Work with the Profitworks team help you reach more pets and families today.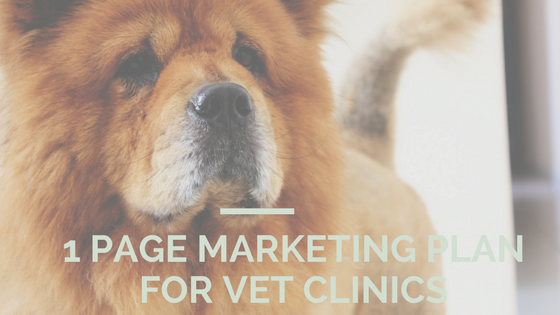 We empower clinics to help more families and pets
We've heard time and again how our clinic owners want advisors that take the time and care to manage their marketing as if it was their own business. Work with the Profitworks team to help uncover the amazing product and service more people need to hear about.

---
Executive Summary
- The key components of a one page marketing plan include messaging and channels
- The one page marketing plan can be summarized as qualities my customer cares about, who is my target customer, what is my brand statement, what is my marketing budget, where will I reach my clients, and what are my marketing goals
- The Veterinary industry is highly competitive and clinics need to provide great service and creativity if they want to help more families and pets
The most important thing about your one page marketing plan

Use your one page marketing plan as a compass rather than a map. As part of starting a new business and creating a marketing plan, the aim is to create something unique that others in the industry have not. That is what truly makes an effective marketing plan that is positioned to help your team grow in serving more great people in the company. Using this one page marketing plan will require frequent contact with clients to understand where their needs and their pets' needs are.
Our interpretation of a one page marketing plan as popularized by Successwise revolves around two crucial areas:
Message - what the predominant themes are that your target customer should know about your clinic
Channel - where these messages should be delivered in a unique or fresh way
Creating a message that resonates with your patients and family

In order to create a message that resonates with clients, it is important to understand what is valued and how they would articulate these aspirations and needs in their own words. One of the best sources for this is to use Google, Yelp, or Yellowpages reviews to determine what customers find to be important when they are raving about clinics or what expectations often go unmet.
Both reinforcing these needs and addressing unmet expectations are great ways to create brand messaging that can help you better connect with your customers. Based on a search in Waterloo, here are some things that customers really appreciate about vet clinics.
Being greeted by name each time a patient visits (including pet and owners)
Flexibility in dealing with last minute changes
Staff are caring, compassionate, friendly, and knowledgeable (for this reviewer they drive across the GTA to see their vet outside of the area)
Follow-up calls to check on the pets after service
Can tell that staff love their jobs
Exceptional respect and compassion for pets when being put down (some clinics even send handwritten and signed notes to owners who lose a loved one)
Clinic decor is also important for pet owners
The vet clinic industry is incredibly competitive because of the sheer number of clinics advertised online as well as the extensive number of reviews. Without a marketing plan, you are leaving your clinic's future viability to chance. From here we identify the target customer base that you would like to aim for.
Describe your clinic in 1-2 sentences

Being able to describe your clinic in 1-2 sentences is a great way for you to quickly connect with customers and also give people an easy way to understand how your clinic is different than others. For example, based on the Google feedback we've just covered, I may want to highlight a team's compassion, knowledge, and flexibility.
"Our clinic is dedicated to offering compassion and expertise in every stage of your family and pet's life. Our caring and detailed service is available for every season."
A clinic could also look at emphasizing decor, friendliness, and follow-ups.
"Our team is located in our modern pet care centre where the latest practices are used to ensure top care for your pets, all with a friendly smile and follow-up call to ensure everything is right."
Given these examples, it is important to conduct first-hand research into what pet owners and pets care about as part of being in a clinic. Having gone through the process, one develops an innate empathy with their market, helping define who you're trying to serve based on a resonance of challenges and aspirations.
Finding the right audience to reach and where to reach them

Pet owners, like other people, often do not enjoy being categorized, but as part of empathizing with the families and pets you are trying to serve, there are important insights to draw from understanding these categorizations, some of which can be seen by the different types of dog owners.
There are generally a number of types of pet owners, including
The de-facto pet expert: reaching these customers is easy in the way of providing useful content and new information that they may not know. Given access to proprietary knowledge bases that vets have this customer enjoys being engaged in the decision process.
The pet is treated like a human owner: these owners provide equal comfort to their pet as they would a spouse or child. Speaking to them may require additional research as to common dog names that these types of owners may use to further connect with this demographic.
Anxious owners: are often overly involved with their pets and often worry about worst-case scenarios or upcoming bugs that may impact their pet.
The "pet" person: often has difficulty saying no to taking in new pets or animals in trouble. This owner is likely to respond to having the convenience of working with a pet specialist that can manage numerous pets in various life stages for them.
Select the top segment of pet owners that you would like to target as well as the pets that your clinic has the most experience in. It is important to note that choosing a specialty may provide you with a way to have a dedicated following, but, as conventional knowledge holds, dog and cat owners are by far the most common type of pet owners.
As you consider what themes impact pet owners and also your target segment, you are now creating a brand. A brand is more than just a message but is a core set of themes and values that are held true in every aspect of your veterinary clinic. It is the standard to which your service is held that constitutes a brand, and it is one that can help provide the most excellent level of service and compassionate care to pets and families.
Set a marketing budget

Whether you are starting up with little money to spare or are an established practice looking to serve more pets, setting a marketing budget is important and is actually accessible to all clinics of all shapes and sizes. Typically, care centres and not-for-profits will dedicate 6-8% of their total budgets towards marketing and outreach, though we understand that dedicating this amount of dollars may not be feasible for all clinics.
This means that a clinic that makes $400,000 a year should look to spend at least $24,000( 6%) on marketing. Now, the second difficult choice is how to spend that budget, which we explore further in our next section of the marketing plan. ,
It is to be noted that larger clinics will tend to have even greater spending on marketing, not because they can better afford it, but because they've seen its impact on growing their service.
Determining means for delivering your message and brand
For your one page marketing plan, the next section is to determine the channels through which to reach your target pet owners with your message and brand. We cover classic channels that are used by clinics and explore ones that could deliver your brand and create a connection with pet owners.
Here are some classic channels in which clinics would seek to promote their services so as to help owners incorporate these into their plan:
Website - is the standard for markeeting and is the primary means in which clinics are discovered by new residents.
Media ads - media ads like commercials and radio spots are another method to get on potential customers' radar.
Social media - is another way to interact and stay in touch with pet owners.
Here are some other great ways to reach pet owners that may help you cut through the noise:
Set up a pick-up bag dispenser for pet owners to use at dog parks.
Create a blog featuring the latest practices in pet research to educate and empower owners.
Offer free pet clinics during an afternoon at the mall.
Create a Facebook or social media group that provides care tips and support for other owners.
Provide a listing service or guidance for pet owners who are looking to rent in your area.
Offer a pet rental service where people exploring the possibility can come take your clinic friends out on a date.
Consider offering your clients access to knowledge bases that contain the latest research and findings on pet care.
Set goals for your marketing plan

One of the main challenges that clinic owners run into is a fixation on sales alone. Often sales and clinic growth occur not in response to a sole focus on the bottom line but through a focus on learning and curiosity. As part of that approach, we often encourage business owners to focus on driving insights and applying those to quickly improve service or communication, which ultimately lead to growth.
Example goals for clinic owners:
Learn 5 things about pet owners each quarter and seek to implement at least 2 related insights.
Find at least 2 new potential platforms, communities, or apps that pet owners are using to make their lives easier.
Get at least one Google review (or choose your top review site) a month.
Grow clinic practice by 5 families or owners + pets every month.
Identifying monthly goals often times is more actionable than setting quarterly and annual goals. Depending on how dedicated a clinic owner is, however, this rule is flexible.
1 Page Marketing Plan Table of Contents
Now that we've covered the basics of a one page marketing plan, here is an outline to help you get started on your own:
Key needs and expectations I want to focus on for pet owners and pets
Who are the pet owners that I want to serve
What is my brand statement (1-2 sentences about my clinic)
What are the main ways I will reach these pet owners
What are my goals and expected outcomes that I can review
Sample One page marketing plan

Download our one page veterinary clinic marketing plan here or contact us to help you tailor the plan.
Growing your business one healthy dog or cat at a time
A one page marketing plan is a great way to quickly identify key priorities in reaching the families and pets that need your clinic's help. Marketing, done well is customer service because it allows a clinic to reach and engage in a caring and compassionate way to better the lives of families and friends who own a beloved pet. Our hope is that our one page marketing plan for clinics can help more professionals serve more families and pets.
Profitworks helps organizations succeed with marketing
"I've found Profitworks to be tenacious and adaptable to the challenges our industry possesses."
-Blair - Business Owner & Customer
Read More About What Our Customers Say
We've helped passionate and caring companies across Canada and the US succeed with growth, because we believe in the beauty and meaning of every article written, email sent, and social media post crafted. Our team endeavours to create unique competitive advantages for all of our customers and would be thrilled to learn more about your mission and plans for your team. Profitworks provides marketing strategy, content marketing, branding, and social media management for great companies with a stellar product or service.