Search Engine Optimization. When you enter into the world of digital marketing it may be one of the first methods you hear about. But is SEO worth the investment? The quick answer is absolutely yes. SEO Is renowned for its high return on investment and it's long lasting results. In this blog article and podcast, we're going to walk you through some of the top reasons why SEO is certainly worth the investment.
Profitworks provides SEO services and Email Marketing services. If you're looking to make a marketing plan for the first time check out our FREE marketing template. Click here to check it out now!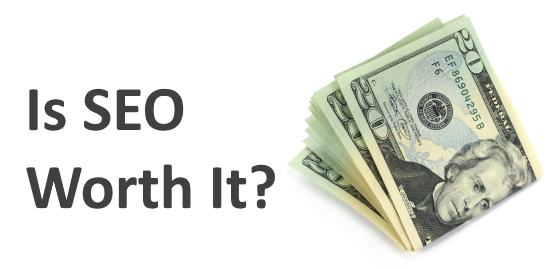 Executive Summary
In short, Search Engine Optimization is well worth the investment because it has long lasting results which have generally resulted in an ROI of over 200%. In a study by Econsultancy, it's ranked as one of the best marketing channels in terms of return on investment.
Sales & Marketing ROI Podcast: Episode #42
Is SEO Worth It Click the link below to listen to the podcast. 
Listen to this podcast- click here

Subscribe our podcast now - click here
View a full listing of our podcasts - click here
SEO Is Worth The Money!
Let's start off with the first thing everyone wants to know: will SEO provide me with a high return on investment? Now, while there can be outliers or exceptions, the general consensus is that SEO provides one of the best ROIs in the marketing industry. But before we get into that, let's talk about how ROI is calculated. Here's a simple formula to help you understand what return on investment is:
(Profit - Cost - Previous Profit) / Cost
So for example, if your previous profit was $10,000 and you invest $5000 dollars in a marketing endeavor resulting in a profit of $20,000, your calculation would look like this:
($20,000 - $5000 - $10,000) / $5000 = $5000/$5000 = 1.00 ROI
This 1.00 ROI can also be described as a 100% ROI which means you earned double what you spent on the marketing endeavor in profit. As long as your ROI stays above 0.00 or 0% you can be assured that you're not losing money by investing in SEO marketing. So what kind of ROI can you expect from SEO? Long term you can expect some incredible ROI numbers from investing in Search Engine Optimization, but like they claim at CleverLight:
"What you get out of an SEO campaign is largely dependent upon what you put into it. Your expected output will be heavily influenced by the type of campaign that you run and the money you put into it." - Clever light
That being said, you should expect an ROI of somewhere between 200-300% within the first couple of years of your work with an SEO company. Let's take a look at this formula below which discusses increasing a website's traffic from 1000 visitors a month up to 2000:
First, let's suppose that from your 1000 visitors per month you were averaging 30 leads which lead to 5 sales. Let's suppose these 5 sales lead to $1000 in profit each, so a total profit of $5000 per month or $60,000 per year. Let's suppose your SEO investments cost you $1,000 per month or $12,000 per year. Here's what you'd be looking at in terms of ROI if you were able to double your traffic which results in double your profits ($60,000 to $120,000):
(Profit - Cost - Previous Profit) / Cost
($120,000 - $12,000 - $60,000) / $12,000 = $48,000/$12000 = 4.00 ROI
As you can see, even increasing the amount of traffic you receive from 1000 to 2000 visitors a month can result in an ROI of over 300%, and this doesn't include the additional website traffic an SEO service should be able to provide you. So how does this ROI compare to other marketing methods? Check out this chart by Econsultancy to show how business owners rate SEO against some other digital channels.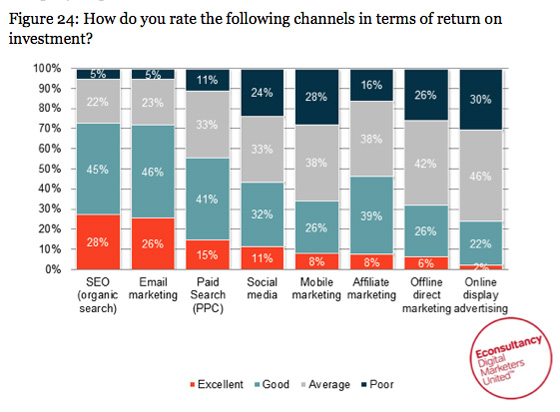 As you can see by this chart SEO ranks as one of the best marketing methods alongside email marketing. We see these types of results all of the time, and while many businesses aren't taking advantage of SEO those who do find it's certainly worth the investment, particularly in the long run. Now, we all know that investing in marketing costs more than just money. Generally, when you invest in a marketing strategy you also invest your time into it.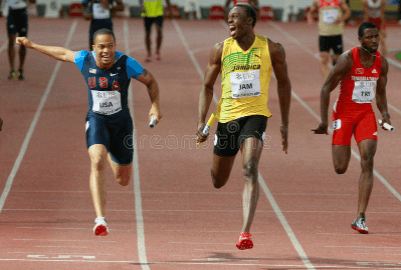 SEO Is Worth The Effort!
One of the main reasons we see people push back from investing in SEO is because they feel it takes way too much effort for such little immediate return. This is simply not the case! I'm sure if you asked 9-time Olympic gold medalist Usain Bolt if he felt that his 4 years of training between each Olympic victory was worth it, he would tell you a resounding yes. The effort you put into SEO is similar. It may take a while to reach your goal, but once you do you can expect it to last.
While it does take time to build a substantial online presence through the efforts of SEO you can start to see results within the first year if things are done properly. Of course, doing things properly means you will have to put in some effort to ensure you get the best results. But trust us, the results are worth it.
You may even be thinking, what if I hire an SEO company to do my work for me? Wouldn't that mean that I don't have to put in any effort? The truth is even if you hire a professional SEO company to do the work for you, you will have to work to provide input into their plans and educate them on your business. You know your company better than anyone so your thoughts and feedback are super important to your SEO efforts even if you get help.
At the end of the day you'll find that the time and effort you put into your SEO marketing plan will be incredibly beneficial, particularly further down the road where you'll be able to sit back a little more and simply reap the benefits of having a website with a fantastic online presence.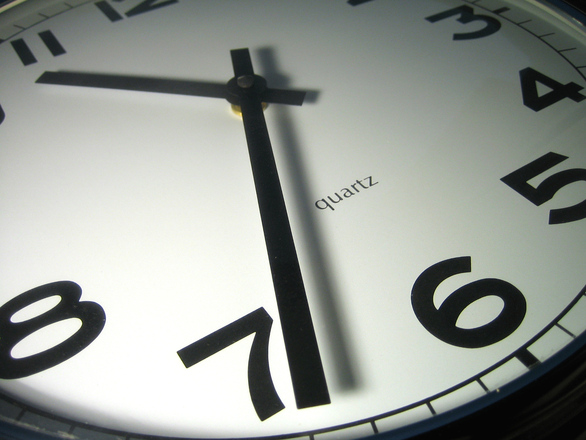 SEO Is Worth The Time!

One of the major knocks people have against doing Search Engine Optimization is that in order to do it correctly it can take up a lot of your time. It's this reason that many people choose to go with Pay Per Click marketing instead, but what you gain in time you lose in both revenue and long lasting traffic to your website. With a Pay Per Click campaign, you can expect instant results but once you stop paying for the ads the amount of traffic to your site will drop instantly.
With SEO it can be a long uphill climb to the top of Google's search rankings, but once you're there you've created a long lasting source of traffic to your site. Also, according to ClickX, organic results are actually 8.5x more likely to be clicked on than any Pay Per Click results, making them even more worth the effort. It's much more profitable to have the #1 search result for a keyword than to have an advertisement for that same keyword.
SEO Is Hard Work And Is Definitely Worth It
"Despite its reputation for taking too much time to see results, business owners and digital marketers alike agree that SEO is most certainly one of the best bangs for your buck. As already stated it returns on average $2.75 in additional profit for every dollar spent. Now, keep in mind that the results from this marketing investment may take a while to come through, but the short-term pain is well worth the long-term gain that you'll notice in only a couple of short years. Having the strongest online presence is one of the most important factors in today's environment to becoming the leader in your market. If you're interested in investing in Search Engine Optimization our team here at Profitworks would love to help you get started. Click here to get in contact with us today.
"The importance of Website Optimization in today's competitive market is critical for the growth and development of any company.  We engaged the experts at Profitworks to develop an engine-friendly website, and are seeing the results of an increase in sales from customers who "found us on the web"." - Cathy (Business Owner & Customer)
Click here to learn more about us!
Do you feel you want to build your online presence but you're not quite sure where to start? Here at Profitworks we offer a FREE website review for anyone who would like to have one, no strings attached! Click the button below to get started today!
Profitworks provides SEO services, website conversion optimization services and email marketing services with a focus on making our customers the leaders in the markets they operate in.

Become The Leader In Your Market
Other Articles You Might Be Interested In