In this podcast I discuss which of SEO vs PPC gets the better ROI. If after you listen to this information you have further questions or require additional information, just send us an email or give us a call. From this podcast I think you will get valuable information that will help you determine how to best allocate your marketing budget.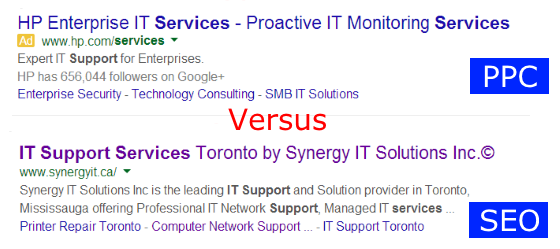 SEO vs PPC Chapters
Chapter 1 - What Are The Main Differences Between SEO and PPC
Chapter 2 - How Search Result Clicks Are Distributed
Chapter 3 - The Compounding Power of Search Engine Optimization Explained
Chapter 4 - Why SEO gets the better ROI than Google Adwords or Bing Ads
Chaper 4 Executive Summary
- Organic traffic accounts for 51% of web traffic and PPC traffic accounts for about 10% of website traffic
- Organic traffic accounts for 70% of all traffic for business services where as PPC traffic accounts for under 3% of business services traffic
- Website marketing that creates organic traffic on average generates $2.74 in profit for ever $1.00 spent in that year and $4.58 in profit over 3 years from that $1.00 spent in one year
- Pay Per Click advertising (PPC) such as Google Adwords and Bing Ads on average generates -$0.95 in profit for ever $1.00 spent in that year and -$0.85 in profit over 3 years from that $1.00 spent in one year
Sales & Marketing ROI Podcast: Episode 7
Terms you should know before listenting to this podcast:
Search Engine Optimization (SEO) = the process of maximizing the number of visitors to a particular website by ensuring that the site appears high on the list of results returned by a search engine (ie. google or bing search results)
Pay Per Click Advertising (PPC) = is an advertising method of buying ads that appear in search engine results. Examples of PPC advertising are Google Adwords and Bing Ads. 
Return On Investment (ROI) = is a profitability ratio states the ratio of net profit to costs for a particular initiative.
The formula for ROI on Marketing initiatives used in this podcast is (Revenue - Variable Costs - Marketing Costs)/Marketing Costs. 
Listen to this podcast to find if SEO or PPC have the better ROI. 

Subscribe our podcast now - click here
View a full listing of all our podcasts - click here
Marketing ROI By Marketing Method
Profit per Dollar Spent for SEO = $2.75
Profit per Dollar Spent for PPC (Google Adwords) = -$0.95
That means in the above scenario if you spent $100 on SEO and $100 on Google Adwords you would get $275 in additional profit from SEO and lose $95 from spending on Google Adwords.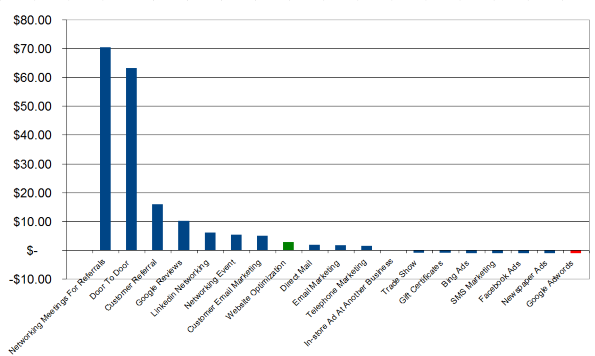 Data was collected from 2010 to June 2014 across all of our clients and our own business. 
If you would like a copy of this chart in a PDF form, email us at sales at profitworks dot ca. 
Additional Interesting Article
Click the link below to read more about PPC vs SEO. 
http://searchenginewatch.com/article/2363253/Organic-Search-Drives-51-of-Traffic-to-Websites-Study?utm_term=&utm_content=Organic%20Search%20Drives%2051%25%20of%20Traffic%20to%20Websites%20%5BStudy%5D&utm_campaign=09%2F05%2F14%20-%20SEW%20Daily&utm_medium=Email&utm_source=Daily
As you can see from the article organic traffic account for roughly 51% of all traffic for business service websites, where as paid search accounted for 10%. Specifically for the business services market roughly 70% of all traffic is organic traffic and paid search accounted for under 3%.
You will also notice that organic traffic account for roughly 55% of all revenue for business service websites. Given organic traffic accounts for the largest source of revenue, I would recommend organic search is where each company should focus on and invest in. 
How To Calculate The ROI
Here is a great article that overviews how to calculate the ROI from SEO and PPC
https://dentboost.com/dental-seo-roi/
Improve your website today. Download our report on The 7 Key Tasks To Increase Website Traffic.
Profitworks Small Business Services provides website traffic and website conversion optimization services which increase the number of sales leads generated from a website. We focuses on actually tracking and reporting back to our clients on marketing program ROI for the activities we execute. To learn more about Profitworks click here. Connect with us on Google+ or if you are just interested in getting new customers for your B2B small businesses. Feel free to click the "Send Me Free Insights" button below to get free advice on how to gain new customers.
Other Articles You Might Be Interested In
1. Building The Best SEO Company
2. Website Marketing ROI Case Study
3. Web Marketing Myth Or Reality?