About 94% of the first page results clicks are for SEO versus 6% PPC while users have a bias for only reading less information across the screen as they move down the search listings based on the F pattern eye-scanning behaviour of Google users. This article provides a deep dive into available data on search distribution. Readers will understand how clicks are distributed when it comes to search results layout, search rankings, and also distribution for local SEO. This article is paired with a companion podcast in which we discuss the differences in click distributions between SEO (Organic or Search Engine Optimization) and PPC (Pay Per Click Ads). Be the leader in your market by improving your marketing and website performance, purchase profitability today.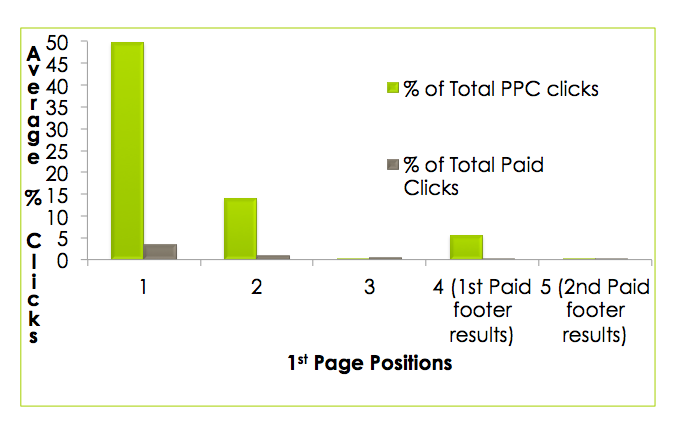 SEO vs PPC Chapters
Chapter 1 - What Are The Main Differences Between SEO and PPC
Chapter 2 - How Search Result Clicks Are Distributed
Chapter 3 - The Compounding Power of Search Engine Optimization Explained
Chapter 4 - Why SEO gets the better ROI than Google Adwords or Bing Ads
Chapter 2 Executive Summary
- Organic clicks represent 90% of the overall distribution with paid clicks coming in at 6%
- When users search for a specific website or product, over 80% click throughs are made on the first result
- When users search for information about a service or product, only about 30% click throughs are made on the first result
- Depending on the search results page, users will often click on the nearest organic result from the search box
- Heatmaps also suggest that users read horizontally and then downwards, forming an F pattern. Marketers can leverage this information to boost conversions
Sales & Marketing ROI Podcast: Episode #48
Learn the differences between SEO and PPC search results click distributions in this featured podcast in just under 7 minutes.

Subscribe to our podcast now - click here
View a full listing of our podcasts - click here
What are the Differences between SEO and PPC
In a previous article, we cover SEO vs PPC helping to understand the differences including how paid and organic results are displayed. For an in-depth look refer to the article to get started in understanding how these two approaches differ and their effectiveness in bringing visitors to your website. Entrepreneurship magazine balances the perspective by sharing some keen advantages to using paid search.
PPC
Enables faster generation of traffic
Protection from decreased traffic from search algorithm changes
Organic
Acquire reoccurring traffic into your website
Provides linking opportunities to build street cred
Helps customers get informed or make decisions
Where do Clicks Commonly Happen for Search Displays (Clicks Distribution: 94%~ SEO vs 6%~ PPC)
A study of the UK searchers on Google found that 94% of the time, users will click on SEO results compared to 6% of the time on ads. Clicks were also influenced by whether a search was navigational (i.e. I know what I am looking for but I need the home page link) vs exploratory searches (i.e. I want to research information on a topic or company). Gender was also noted to play a role in whether they would click on a paid ad or not, with females (53%) making up a majority of the 6% that would click through on ads versus males (47%). There is not enough data to determine whether you should cater your ads to a specific gender, however.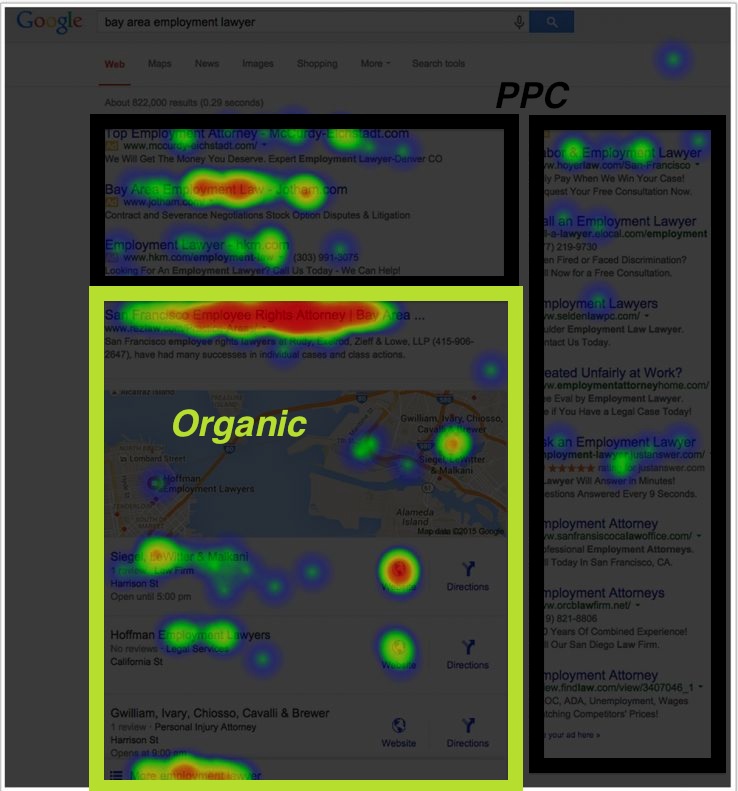 This image also provides a potential heat map of a survey conducted by Moz on where users would click given a sample of search terms. No surprises here, as the majority of clicks go through organic search rather than paid searches.
Source: https://moz.com/blog/the-new-snack-pack-where-users-clicking-how-you-can-win
Here is another way to look at how the clicks distribution plays out when both ads and organic results are in the mix. As we can see first place Organic takes the line share of clicks with Paid listings trailing off very quickly. The graphic is calculated based off of data from Receptional, though the years of data may not line up it does give us a fair approximation. The data below also doesn't incorporate side ads where shopping which are more prevalent when there are shopping items in a seeker's query.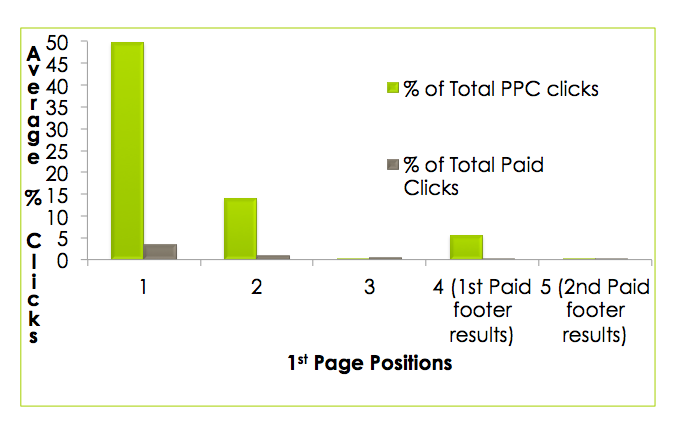 The metrics above are approximated using 94% organic click distribution and 6% for PPC (as supported by Search Engine Watch) along with the click distribution by position data found at Receptional.

Source: Profitworks
Where Clicks are Most Likely to Occur by Position
Understanding where clicks occur is the first step in getting a grasp of the overall Click Through Rate Distribution (CTR). In the image above, if your search term is in a shopping-centred category like "laptops," there are two sections: Organic (SEO) and PPC (Ads). The clicks will typically happen in the boxes outlined above. Doctor McAwesome's SEO blog posted findings on CTRs by first page position. The ground rules to interpreting these figures are that each search term has its own unique distribution and the illustrations below are taken to understand an approximated average distributions. The analysis revolves around having two types of search terms, 1) which is light on ads, and 2) a search term that is heavily competitive on ads. Despite the ad competition, organic SEO CTRS can range from 85%-60% of the clicks on the first page results.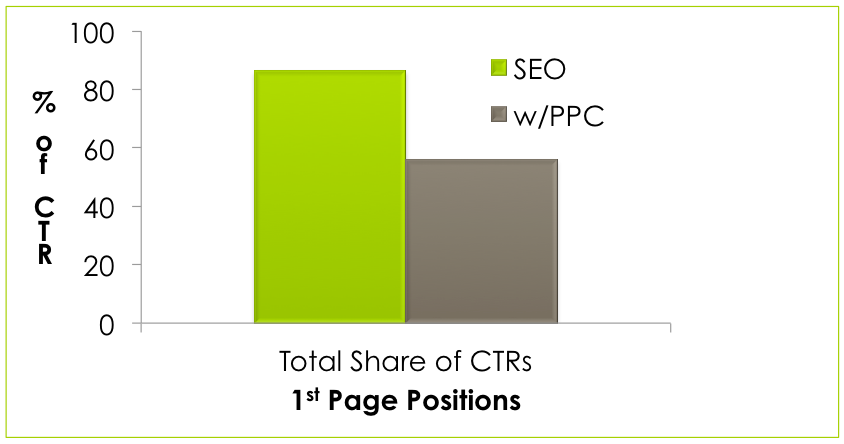 Here we see how SEO is affected by paid search when users search for shopping items or there are significant purchasing intention.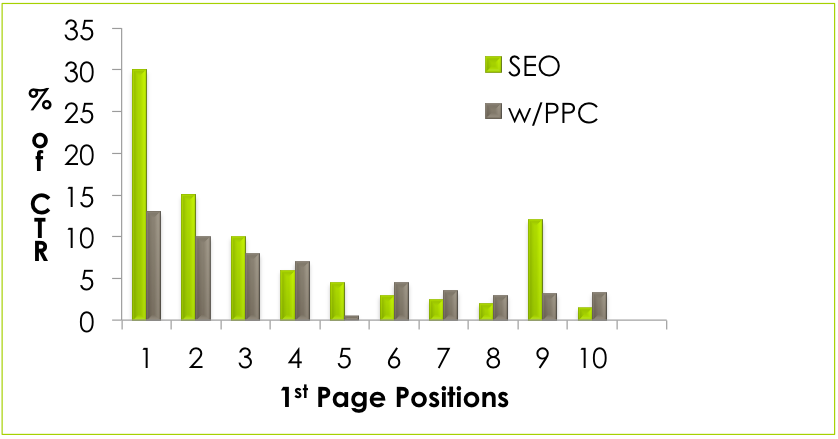 How Geography Impacts Click Distributions
Local results which include Ads, Google Maps listings and organic results are typical in a service keyword search like "personal injury lawyers," from the same study cited earlier by Moz. The local click distribution as surveyed by potential users offers the following insights: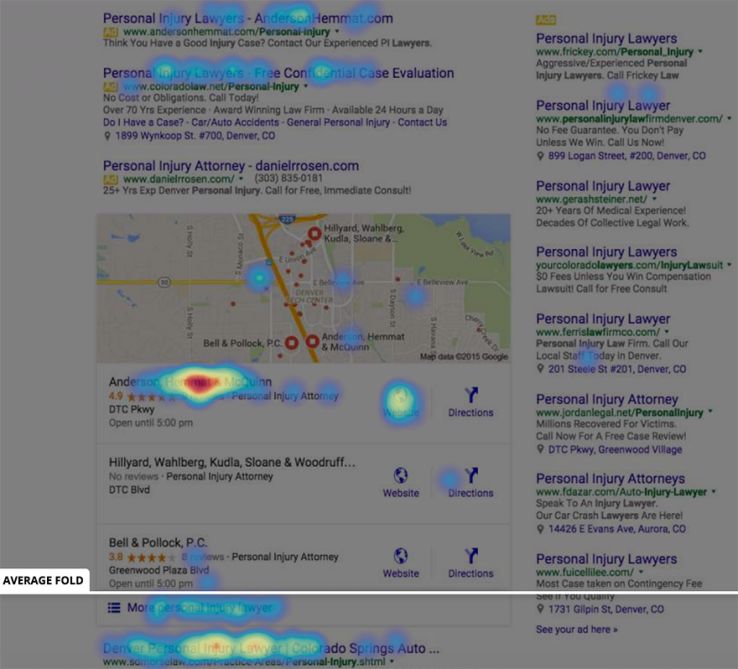 Source: https://moz.com/blog/the-new-snack-pack-where-users-clicking-how-you-can-win
Based on this layout, the data provided by Moz has been revisualized, showing us a lion's share of CTRs going to the first organic map result:

Here is an alternative test conducted by Moz where the search result was slightly altered, with the results indicating a more even distribution for map results.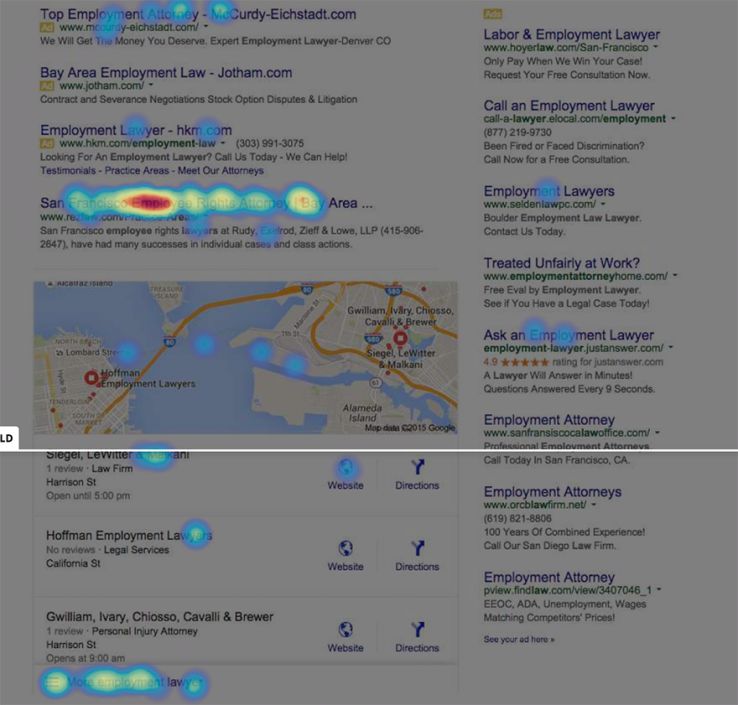 Source: https://moz.com/blog/the-new-snack-pack-where-users-clicking-how-you-can-win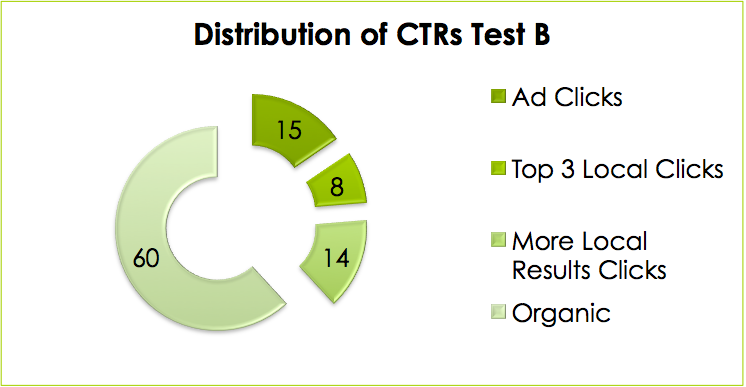 On average, local businesses can expect anywhere from 8%-44% of clicks to come from organic, locally-driven search results, so local SEO should definitely concentrate efforts on building reviews and ranking for top google map spot.
CTR and Conversion Distributions
Despite limited data available, correlating conversions to CTR distributions need not be an impossible feat. If we see the conversion process as a funnel, the upper funnel helps us make reasonable assumptions as to how these two metrics can be correlated. Since we know that the top 3 organic searches for low ad placement results take up a majority of the clicks or interactions, we can assume that given a 0.1-2% average conversion rate (adjusted from
Smart Insight's conversion
averages) for those clicks. That means the heatmap for conversion on first page results clicks should be the same, all other things equal.
How to Use Click Distributions to Increase Your Website's Performance
Based on the heatmaps above, a trend or theme begins to develop and we see users typically interacting with first page content via an F pattern illustrated below. This means that you will need to strategize whether you are going for a first, second, or third strategy. One may ask why any company would settle for anything but first place, but given the domain authority of government websites in your keyword category, sometimes having a practical and realistic game plan for being second can pay significant dividends in converting users based on the F pattern distribution. This means that users must tailor their titles and search descriptions more succinctly with the essentials needing to be captured within 3-5 words of their search title and 5-7 words in their meta descriptions.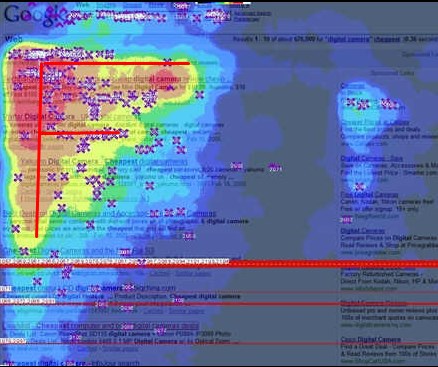 Source: https://www.searchenginejournal.com/12-heatmap-findings-roadmap-conversions/97485/
For more insights on how to create sales on your website. Download our report on The 7 Key Tasks To Increase Website Traffic.
Profitworks Small Business Services provides website traffic and website conversion optimization services which increase the number of sales generated from a website. The focus of our services is on increasing sales and return on investment from a website. To learn more about Profitworks, click here. Connect with us on Google+, or if you are just interested in getting new customers for your business, feel free to click the "Send Me Free Sales Insights" button below to get free advice on how to gain new customers.
"Our overall sales to new customers has improved as a result of detailed analysis, proposed solutions and successful execution." - Tom - Profitworks Customer
Profitworks Small Business Services provides marketing services specializing in SEO and website conversion optimization services. Our services increase the number of sales generated from a website. The focus of our services is on increasing sales and providing a positive return on investment. To learn more about Profitworks, click here.
Other Articles You Might Be Interested In