How Amazon Became Successful And The Leader in eCommerce
In this article, we are going to take a look at one of the most interesting eCommerce stories of the 21st century - how Amazon became successful.
Attracting customers for your eCommerce business is an important venture in 2019, and Profitworks can help. Let's learn together from Amazon founder Jeff Bezos, whose platform started out as a small business in his garage, and now millions (and growing) worldwide use it on a daily basis to make online orders that can arrive in a single day, as well as trademark products like Amazon Prime and Alexa. 
Let's dig in and take a look at how Amazon used the flywheel strategy to become a worldwide leader in eCommerce. In addition, you can listen to a podcast on the Amazon flywheel approach here https://profitworks.ca/blog/836-how-amazon-built-tremendous-momentum.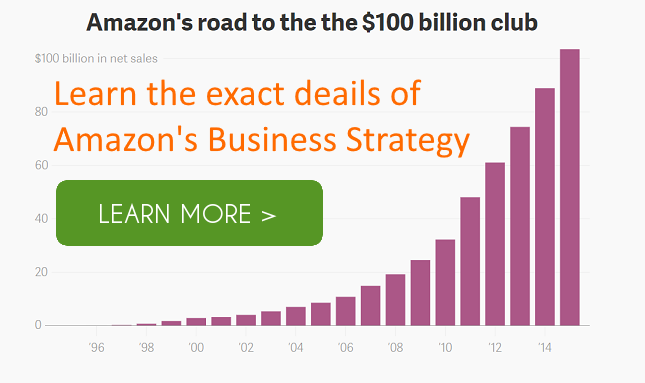 To get a handle on Amazon's success, you must first become familiar with The Flywheel. This strategy was outlined in detail in Good To Great by Jim Collins, but Inc.com's Jeff Haden says the idea is quite simple, really: "A flywheel is an incredibly heavy wheel that takes huge effort to push. Keep pushing and the flywheel builds momentum. Keep pushing and eventually it starts to help turn itself and generate its own momentum -- and that's when a company goes from good to great."
The key takeaway here is the flywheel is a self-reinforcing loop made up of a few key initiatives that are driven by each other, thereby building long-term success.
Here's how Amazon became successful using this strategy, according to Brad Stone in The Everything Store:
... Bezos and his lieutenants sketched their own virtuous cycle, which they believed powered their business. It went something like this: lower prices led to more customer visits. More customers increased the volume of sales and attracted more commission-paying third-party sellers to the site. That allowed Amazon to get more out of fixed costs like the fulfillment centers and the servers needed to run the website. This greater efficiency then enabled it to lower prices further. Feed any part of this flywheel, they reasoned, and it should accelerate the loop.
Listen to this podcast about why I like buying from Amazon & how you can apply this to your buiness
In other words, Amazon development projects were structured to bolster other initiatives underway at the company, and once momentum began to build, each cog in the wheel fueled the others. 
A recent example in the company's history is the purchase of Whole Foods. Not only did it add grocery stores under the Amazon umbrella, but these locations were turned into an additional 400 distribution hubs for everything else you can buy through them.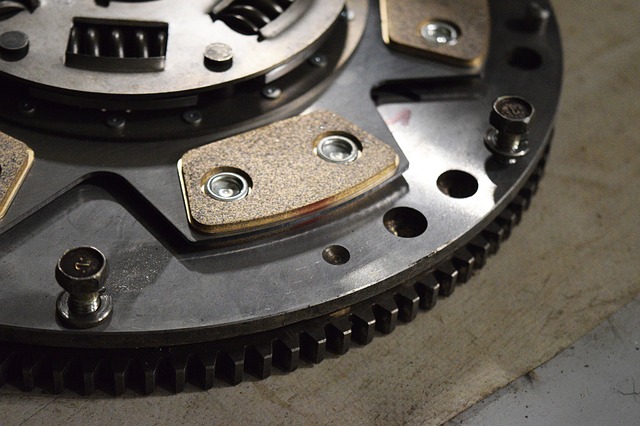 Amazon became successful by employing a flywheel marketing strategy.
To learn more listen to our Podcast "Why Amazon's website works well for sales" 
How Amazon Became Successful - A Brief History
Before we dive any deeper, let's take a look back at Amazon's timeline, and how quickly it became such a success.
Entrepreneur Jeff Bezos and his wife MacKenzie open an online bookstore in Seattle, financed with $10,000 of his own money. The company first ran out of his garage and they worked on desks made out of doors purchased from Home Depot. (Source:
CNN
)
1997 - Amazon stock goes public, with the caveat that investors should expect initial losses as the bookseller looked to expand into other areas in order to compete with traditional retail stores. (Source: CNN)
1998 - Amazon starts selling CDs and DVDs. "The music section launched with 125,000 titles - far more than the average physical music store — and allowed shoppers to listen to song clips as well as view recommendations matched to their mood." (Source: CNN)
1999 - "Amazon allows third-party sellers to hawk used merchandise in what it called zShops (now known as the Marketplace). That sparks a huge increase in the volume of transactions on Amazon.com. Over the first four months, a quarter of a million customers bought something using the service." Only 3 years later, Amazon began selling clothing. (Source: CNN)
2005 - Amazon announces a $79-a-year loyalty program called Prime that includes free two-day shipping on any order. Now, with more than 100 million members worldwide, Prime is considered one of Amazon's most valuable assets. (Source: CNN)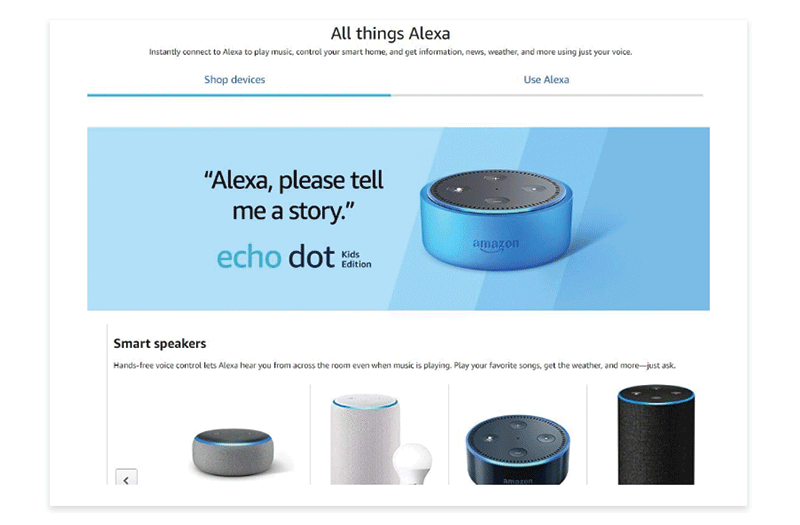 Amazon Echo dropped in 2015.
Learn more about Amazon's Marketing Strategy & How To Replicate The Results For Your Business
2008 - One year after launching an e-reader called Kindle, Bezos purchased Audible for $300 million, further cornering the market on audiobooks.
2009 - Amazon buys online shoe retailer Zappos in a deal worth nearly $900 million. "Despite attempts to penetrate the shoe market Amazon hadn't been able to catch up with Zappos.com, which provides free returns and overnight shipping." (Source: CNN)
2015 - "After being blamed for the decline of independent bookstores across the country, Amazon opens its own physical retail location in Seattle. The store's opening is meant to market Amazon's growing list of electronic devices as much as it is to sell books. Amazon now has 15 bookstores in cities across the United States." Later that year, Amazon begins selling its first smart speaker called the Echo in 3,000 stores nationwide. The Echo is the platform for Alexa, Amazon's virtual personal assistant, and therefore the key to a wealth of consumer data and purchasing decisions. (Source: CNN)
2019 - Happy 25th birthday, Amazon! "At the quarter-century mark, Amazon has 647,500 employees, occupies 288.4 million square feet of real estate, and accounts for nearly half of online retail in the United States." (Source: CNN)
Key Amazon Stats
The following stats via Media Kix really highlight Amazon's success: 
95 million Americans have Amazon Prime memberships.

Amazon Prime members spend $1.4k per year on average.

Consumers purchased over 100 million products on Prime Day 2018.

9 out of 10 consumers price check a product on Amazon.

43% of teens say that Amazon is their favourite shopping site.

Whole Foods prices went down 43% after Amazon acquired the grocery chain.

Amazon's ad spend was $3.4 billion in 2017.

2% of Echo owners have purchased a product via Alexa.
Again, think of the flywheel strategy and how so much of what makes Amazon tick involves a variety of products and services that fall under one banner.
"Starting off as an online bookstore, Amazon now offers everything from soup to nuts," writes snapagency. "Literally. A search of the site reveals over 3,000 listings for vegetable soup. Search the term "nuts" and you'll see over 37,000 results. Amazon now carries products in music, books, electronics, health and beauty, automotive, grocery and clothing. Business owners can contract with Amazon's network of pros to get IT support, furniture assembly and even A/V services. By diversifying its offerings, Amazon is continuously driving reach and relevance."
Opinions on Amazon's impact on the world at large are mixed, but it's not difficult to track how Amazon became successful.
Full credit needs to be given to Amazon for understanding early the need to invest in technology and make a push to dominate the online retail sector. All of the smaller components of the flywheel have created a behemoth in the field, and that's how Amazon became successful and the leader in eCommerce.

Become The Leader In Your Market
"Our overall sales to new customers has improved as a result of detailed analysis, proposed solutions, and successful execution." 
Tom  - Business Owner & Customer