For any business, having a solid marketing strategy is incredibly important, especially when it comes to growing a list of leads. If you're new to the world of digital marketing, though, marketing your custom home building business may feel intimidating. As a custom home builder, you're offering a niche, high-cost service that your audience may never know about if you lack an online presence, which is why it's so important to create a digital marketing plan that builds awareness and trust. 
In this post, we're going to walk you through some of the key aspects of digital marketing by sharing some of the most important steps you can take to promote your business online. By the end of this post, we hope that you feel inspired to start designing and building a digital marketing plan that will rival your latest custom home!

Looking for more support in marketing your custom home building business? We know that managing a marketing strategy while also managing operations for a business can be challenging. Our team can help. Contact us today to find out how we can build your digital brand while you focus on building your business!




Digital Marketing for Custom Home Building Businesses


Claim Your Google My Business Listing. 
Claiming your business' listing on Google is one of the first things you should do when looking to promote your business online. Not only will this increase the likelihood of your business appearing in potential customers' search results, but it will also improve your credibility in the eyes of customers who find your listing. Having the ability to showcase your business name, website, phone number, address, hours, and customer reviews will improve the customers' perception of your business as legitimate.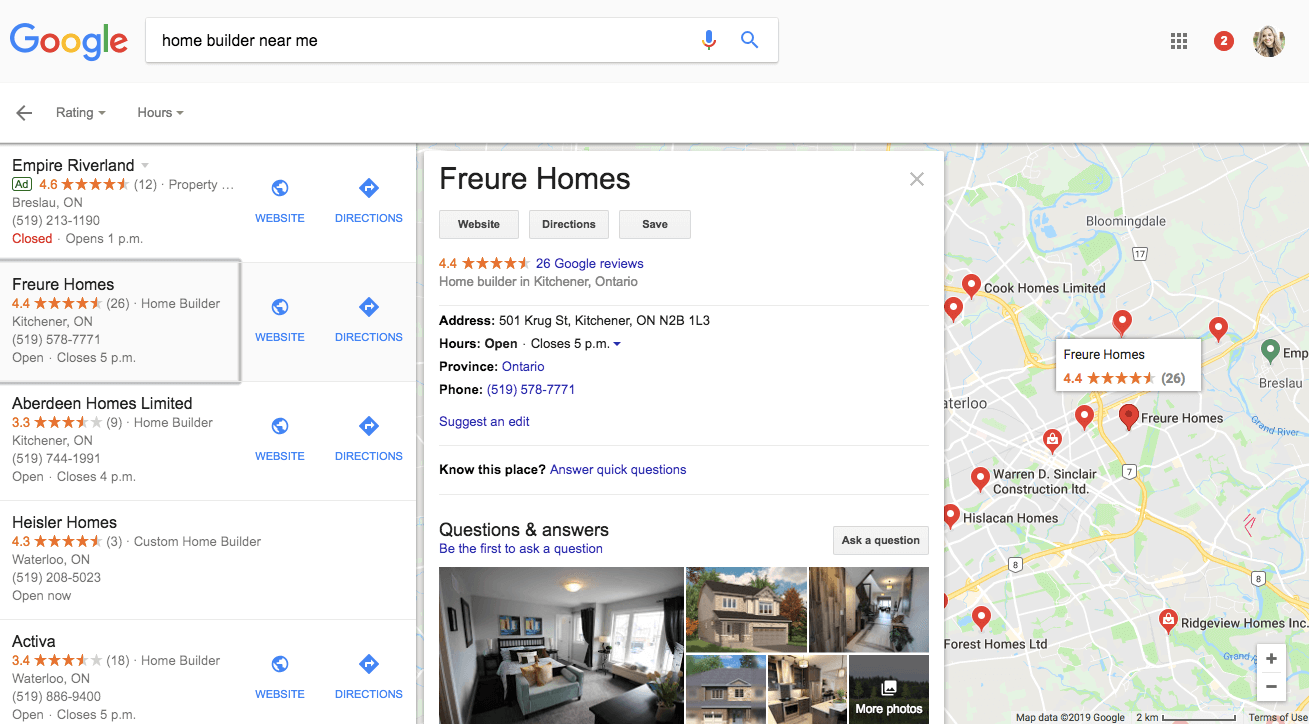 In addition to legitimacy, having a Google My Business listing is also one of the fastest ways provide the most information possible to customers who are searching for your brand, product, or service without having to get them to your website. Claiming your listing means that potential leads within range of your location conducting searches for your service will find your business quickly and straight-forwardly. One of the best parts of Google My Business? It's free to claim your business and can result in thousands of impressions of your business online!
Invest in Search Engine Optimization.
One of the most valuable things that your custom home building business can invest in is search engine optimization. Search engine optimization (also known as SEO), is the process of improving your website's unpaid visibility in search engines like Google through a number of technical and creative techniques. The goal of SEO is to make your website more visible online, thereby increasing your traffic and ultimately sales results. 
When your target audience is searching for a custom home builder in the area you service, one of the first things that customer will do is conduct a Google search to find some of the brands they could work with. When they enter keywords related to your business, such as "custom home builder [insert your city here]", having your website appear on the first page can make or break your ability to make the sale. If your competitors have invested in SEO and you have not, it's likely that you'll lose the customer to the one who has taken the time to ensure that their website is optimized for Google.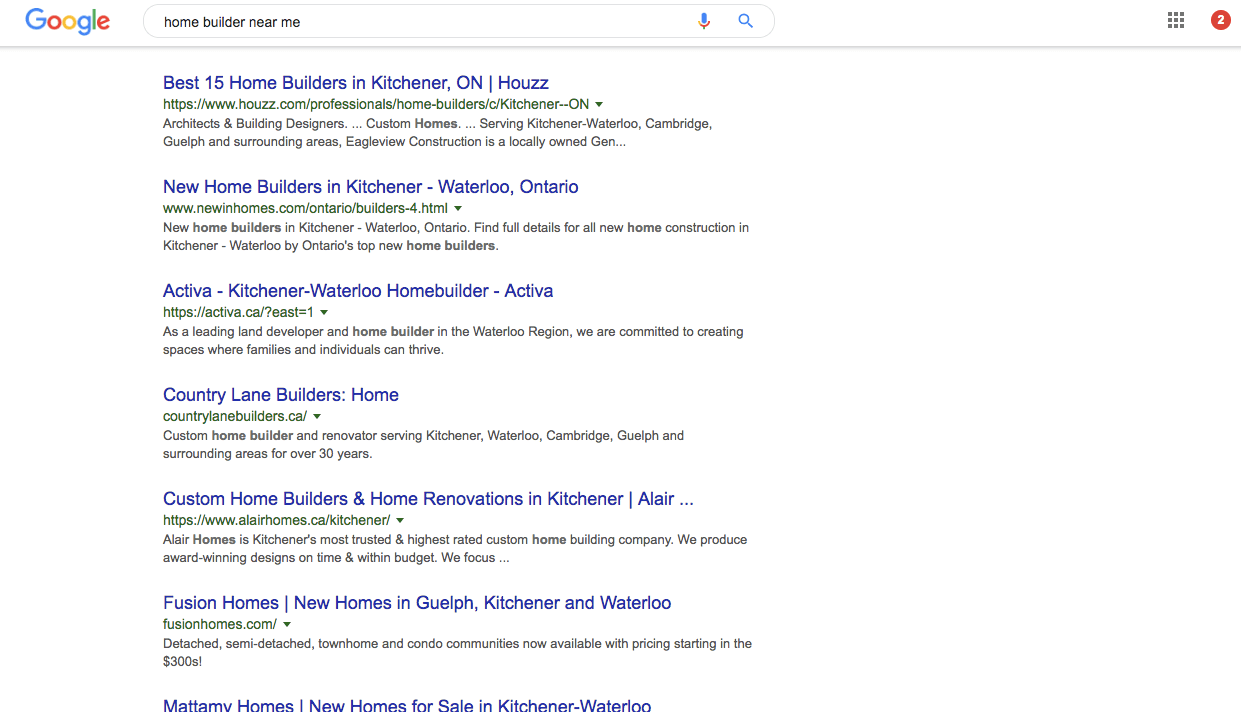 SEO is all about building your brand's topic authority for the product or service you offer. Some of the ways you can do this are through on-page SEO; including meta tag optimization, using the right heading tags, releasing relevant content such as blog posts, including relevant keywords throughout all of your pages, and much more. The truth is, website optimization is an ongoing, ever-changing art that typically requires a team of marketing specialists who can keep your website relevant as SEO changes over time. If you're new to the world of SEO and are wondering how to start optimizing your website, download our free SEO Checklist to get started today! 



Create a Social Media Community. 
If we know anything about social media, it's that it's not going away any time soon — in fact, there are 3.397 billion active users on social media today. Creating social media profiles for your custom home building business is an excellent way to start gaining followers online, share content such as promotions and behind the scenes photos of your work, as well as develop relationships with past and future customers. 
Before creating your profile(s), the first thing to consider is which social media platform your target audience is spending the majority of their time on. If you create profiles on pages like Twitter and Google+ but your audience is spending their time browsing through Instagram and Facebook, you'll miss the opportunity to connect with them where they are. As a custom home builder, it's likely that you'll want to choose platforms that allow you to showcase your work visually, such as Facebook, Instagram, and Pinterest. These are common platforms for businesses who are looking to share photos of their products while also simultaneously building relationships with their current and future client base.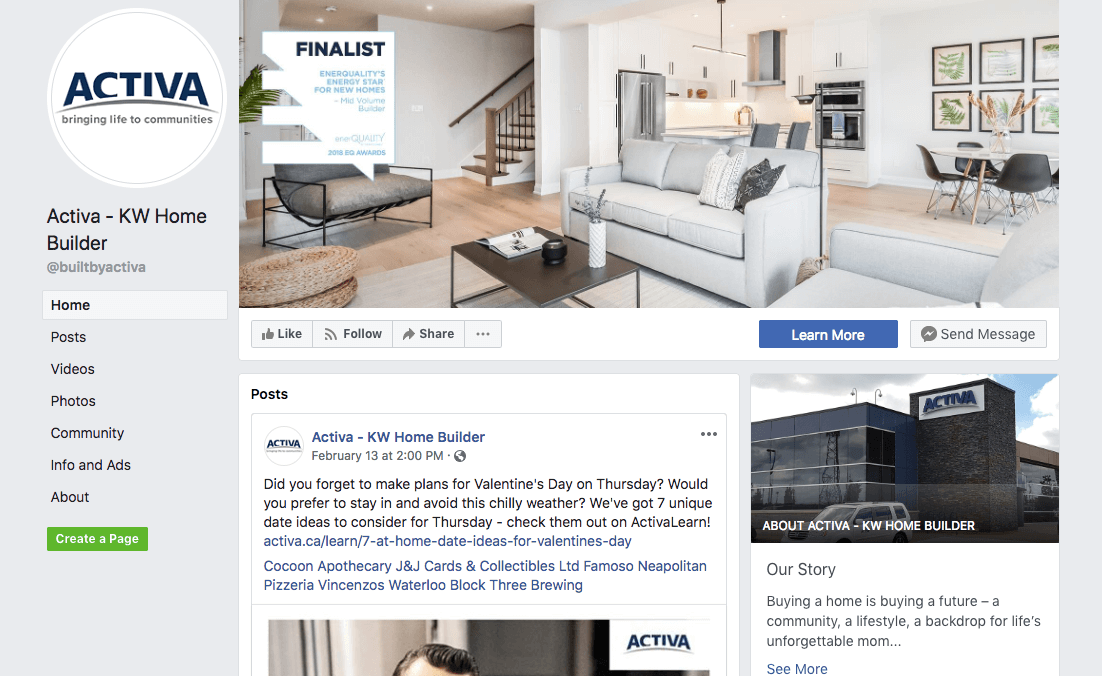 Once you've created your profile(s), it's time to determine what types of content you are going to share. When it comes to content, the sky is really the limit! Your followers may respond well to before and after images of your work, progress updates on projects, customer testimonials, or inspirational images. An easy tool to create customer testimonials is Clipchamp. Over time, you will notice trends in which posts perform the best and will gain a deeper understanding of what it is your followers really appreciate about your business page. 
Use Paid Ads
So you have a brand website, you've claimed your Google My Business listing, invested in SEO, created social media profiles, and you're still not noticing any positive results. Now what?
Often, the investments that you make in digital marketing can take time to be realized by search engines. Google still needs to recognize your SEO efforts, and building a large following on social media doesn't happen overnight. Don't lose hope, though—one of the ways to accelerate getting noticed online is to invest in Paid Ads. Paid Ads come in many forms, including popular tools like Google Ads, Facebook Ads, YouTube Ads and even LinkedIn ads. For a small investment, these platforms allow you to pay for the traffic, impressions, and hopefully conversions that you are looking for.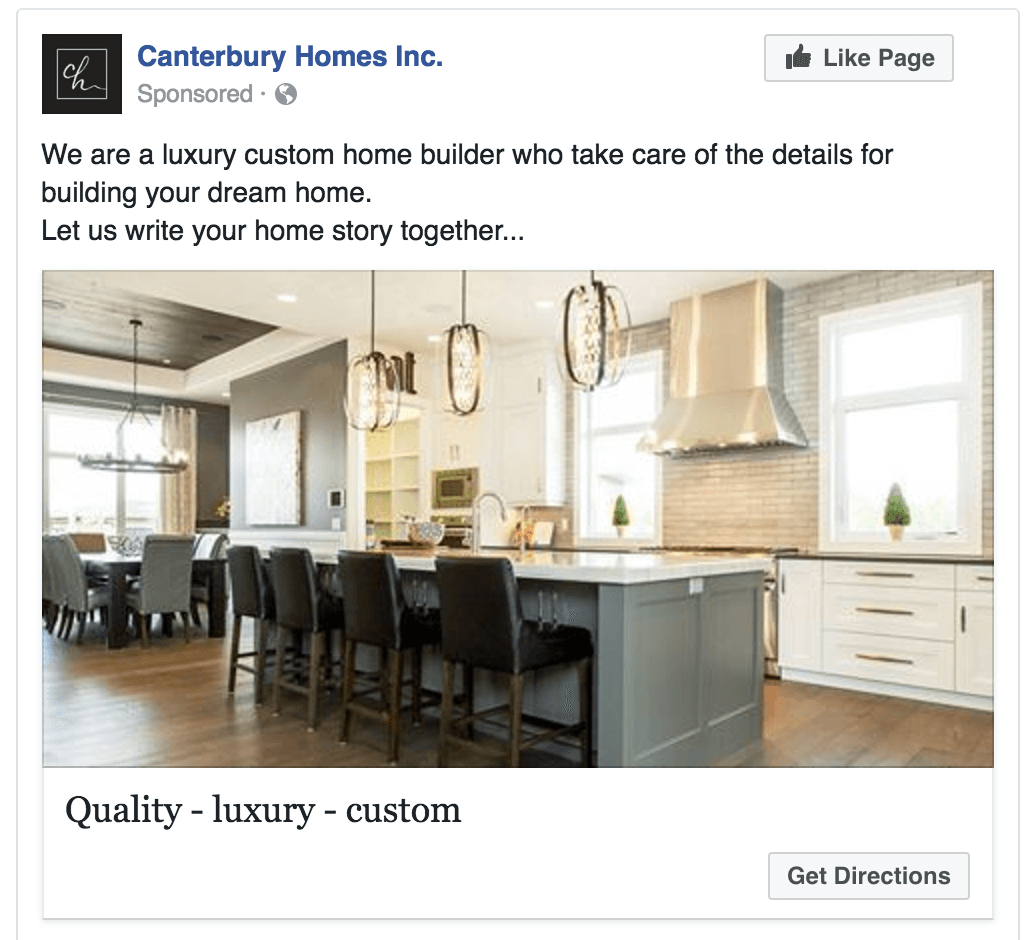 Facebook Advertising is an incredible tool that allows you to target your audience intentionally, down to their interests, hobbies, or stage of life. You can create and send ads to the people you want to notice your custom home building business online, directing more traffic to your website or social media pages. Companies like Relevantly help businesses like yours in running Facebook Advertising campaigns by researching your audience and creating ads that are proven to convert! Keep in mind, though, that paid ads are not and shouldn't be used as a substitute for search engine optimization. While paid ads are a great short term solution for traffic, they won't generate the results you are looking for over time. Finding the right balance between SEO and paid ads for your business i the best approach to take.
Start Building
As a home builder, you've worked too hard on your custom homes to let them go unnoticed. By investing in a digital marketing strategy, including website SEO, social media, and paid ads, we really believe that your business will gain the online traction it needs to thrive. 
Wondering how to get started or how to balance marketing your business while running it? We understand that business owners have a lot on their plate, which is why our team at Profitworks has helped countless home builders like you create and run an effective marketing strategy. Contact us today to find out how we can help!