So you've mastered building houses--now, how do you build an online community around your business? While navigating the ins and outs of social media for home builders may seem like a daunting task, it doesn't need to be. Your company can create a thriving social presence in no time through a little bit of strategy and consistency.
From user-generated content to giveaways, we're sharing 8 of the most foolproof types of social media posts for home builders to start gaining traction on social media today. To learn more about our tips, keep on reading!
Not sure where to start in marketing your home building company? Our team at Profitworks can help--we've supported countless home builders in growing their brand awareness online and we can help you, too! Contact us to put social media to work for your home building business.

Social Media for Home Builders: 8 Post Ideas
Ready to transform your home building business' social media strategy? Look no further than the following 8 post ideas to help you build your digital community. 


1. Showcase Your Work
One of the most valuable things your home building company can share on social media is photos of your work. From the planning stages to laying the foundation to building and finalizing the home for clients, executing a home building project takes a lot of work. Why not showcase your masterpiece by taking images after every project completion to share on social media? Not only will the commitment to showcasing your work create a steady stream of content for your brand, but it will also inspire your followers to consider hiring you for their project after seeing your skill and expertise.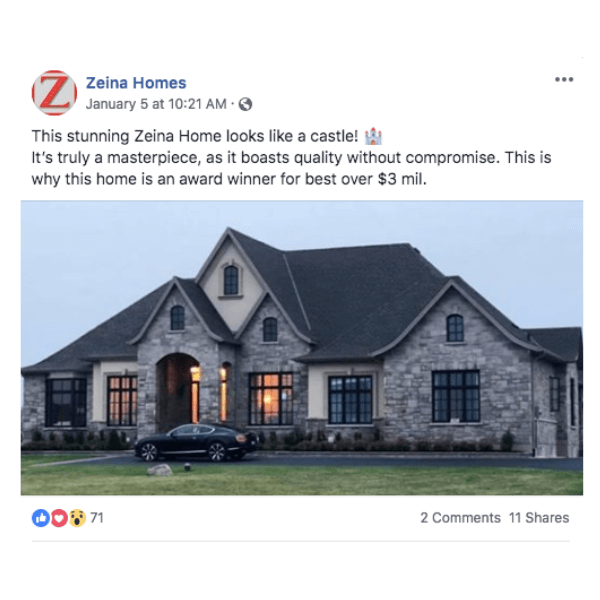 Home builder Zeina Homes provides an excellent example of the showcasing strategy. By capturing an image of one of their finalized builds, they are able to post on social media to give followers a glimpse into their work, while also boasting their award-winning achievement.



2. Encourage Engagement
For any brand, encouraging social media engagement is an important piece in developing an online community. Although it may seem difficult, it doesn't need to be. Instead of posting a typical image, video or text-based post, include some sort of response from your followers through a request to engage or a call-to-action. This may look like asking a simple question to your followers, encouraging them to like, share or comment on your post, or capitalizing on Facebook or Twitter's interactive tools like polls.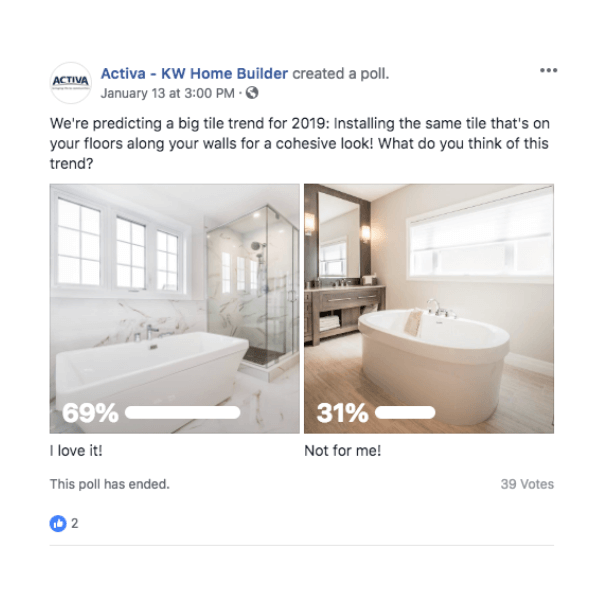 Activa Homes provides an example of this interactive technique by using a poll to encourage follower interaction. Using images of two different spaces, the post encourages followers to respond with their preferred style simply by voting on the poll. This is a quick, easy, and anonymous way for your followers to engage with your content.



3. Share a Testimonial
They say that word of mouth is the most powerful tool for brands. If your business has successfully delighted customers enough to receive positive reviews, why not share them on social media? Sharing notes from happy customers is an easy way to create content that is relevant for your brand while also showing prospective customers that you're great at what you do. 
To share a customer review on their Facebook page, Grayling Builders created a well-branded post that serves two purposes: giving a nod to their experience and happy customer base while also showcasing their build. By avoiding sharing the review in a text-based format, Grayling was able to create a post that seamlessly fit into the rest of their social media content while achieving multiple goals.
4. Share Your Expertise
As a home builder, your clients want to know that they can trust you to build not only their investment but also the place that their family will call "home". To gain their trust, one of the most effective things you can do with your social media platforms is to share your expertise. Whether you remind your customers of your hard-earned certifications, awards, or endorsements, taking time to remind them that you are an industry expert can go a long way for your brand.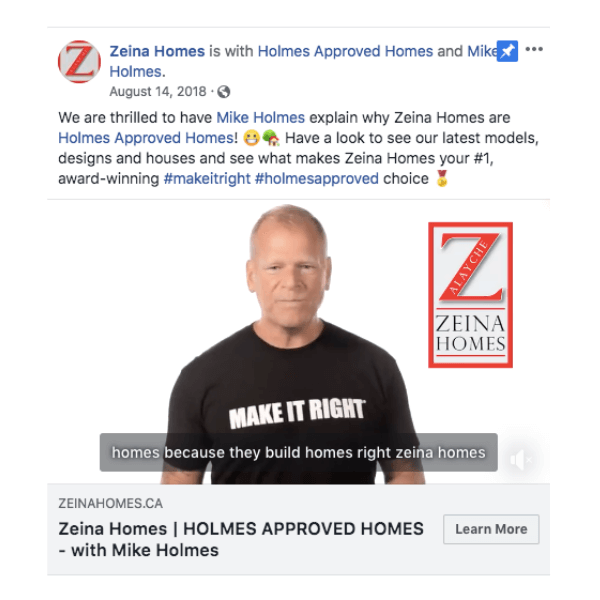 Zeina homes provides a phenomenal example of this strategy through their partnership with industry influencer Mike Holmes. Not only is Mike Holmes a well-recognized figure, but he is also associated with all things home building and carries a sense of influence and expertise that thousands of people look to. Zeina's choice to partner with Mike means that their brand is now associated with the same luxury and expertise he offers, solidifying their claims of being the number one choice in their area. 
5. Run a Giveaway or Contest
Your customers have given a lot to your business, and a fantastic way to encourage engagement online is to find opportunities to give back. A simple way to do this is through social media giveaways or contests. While contests or sweepstakes typically involve a more thorough entry process from customers, social media giveaways are often smaller-scale offerings used to boost social engagement by requesting users like, comment, or share a post in exchange for entry. Depending on your budget for the contest, a social media giveaway is often an easy route to reward your followers at a low cost while also growing your following online.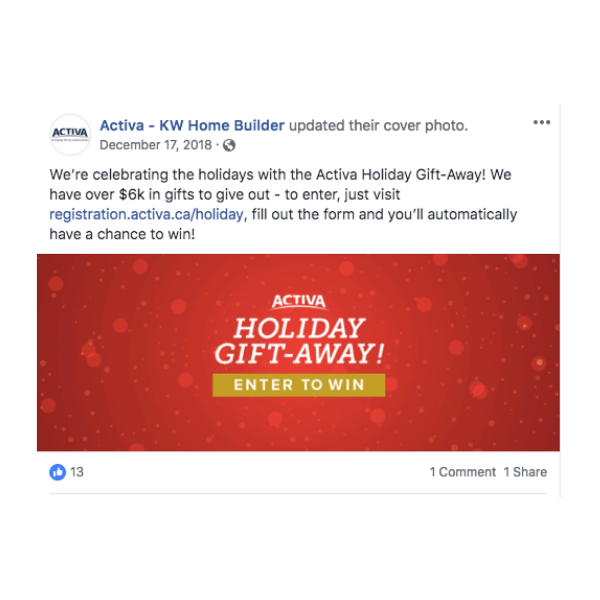 During the holiday season, Activa chose to gift their followers by creating a "gift-away" contest with over $6000 in gift cards available to win. To enter, users simply click through to the website, fill out the form and offer their contact information in exchange for a contest entry. The result? A few happy people who will actually win the prizes at hand, and for Activa, a brand new contact list full of emails that the brand can reach out to in the new year with sales promotions and business updates!
6. Share User-Generated Content
Coming up with enough posts to consistently share content to your social media platforms can be a time-consuming task. The solution? User-generated content! User-generated content is any type of content (such as photos, videos, blog posts, testimonials, etc.) that has been created for free from your customer base or fans. Put simply, it is the free promotion you receive for your brand rather than promoting your brand yourself. As a home builder, you have a significant opportunity to encourage user-generated content from your clients. Homes are an extremely visual product, and your customers are going to be just as excited to move into them as you are to build them. Why not request that they share an image of their new space after moving in?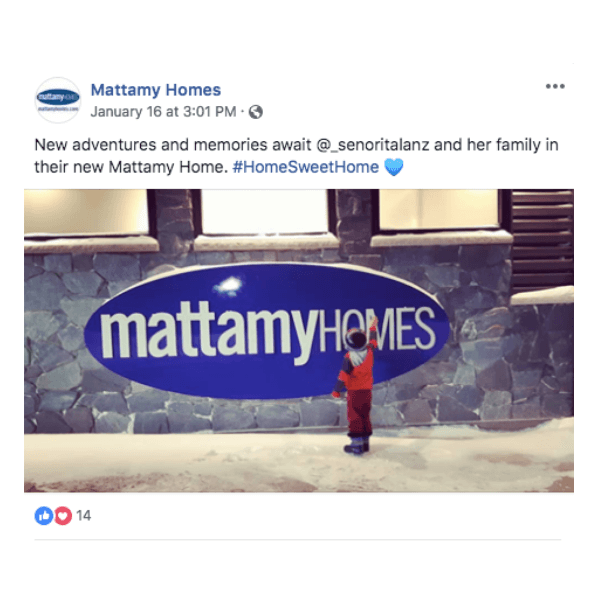 After moving in to their new home, a client of Mattamy Homes chose to share an image of their child in front of the brand logo, quite clearly happy to promote the business after receiving their dream home. By creating a company culture that encourages clients to share similar photos, you can create a steady stream of content for your business so that you never have to worry about not having an image to post again!



7. Get Personal
Your business is made up of real people, and sharing their experience working with your brand is a fantastic source of content for your social media platforms. More and more, customers want to know that they are purchasing products and services from brands with corporate cultures that they can get behind. By sharing frequent posts to showcase how satisfied your employees are with their jobs, or ways that your business is giving back to your community, you can share some of your brand personality in a way that captivates users online.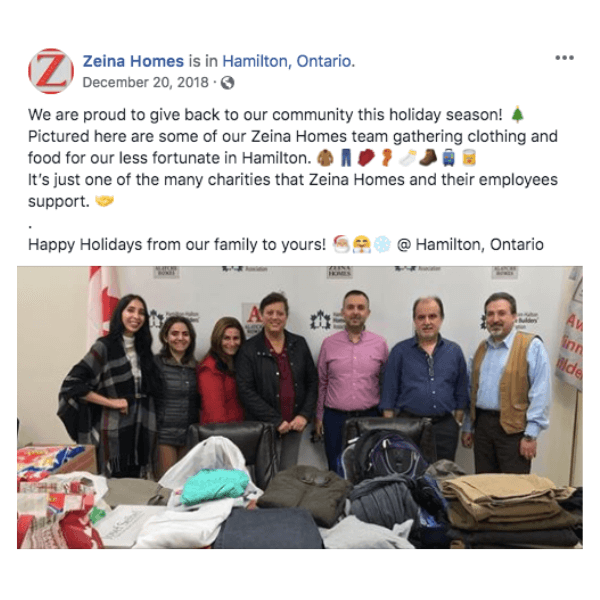 During the holiday season, Zeina took time to give back to their community by partnering with a local organization in order to provide food and clothing for the less fortunate in their region. Snapping a quick photo of the experience is a great way to not only remember the experience internally but also to remind followers that the brand is committed to their community and stands for more than profits. 



8. Celebrate Holidays
While the world is celebrating, your brand can, too! During holidays like Christmas, New Years, and Easter, your followers often aren't thinking about much else other than their families and celebrations. During these seasons, it's often best to keep things simple and show your followers that you're celebrating as well instead of trying to sell them additional products, services, or promotions.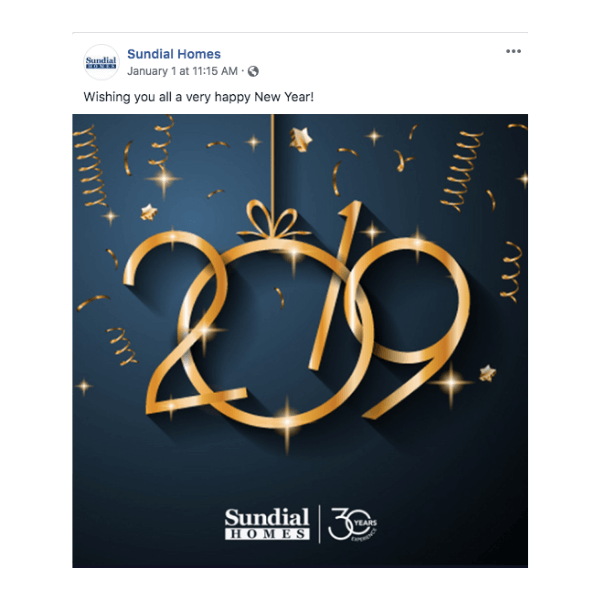 Sundial Homes shared an effective celebration post on January 1st to kick off the New Year with a simple but encouraging message to their followers. Another unique spin on the post, though, was the inclusion of their years in operation at the bottom of the post. With the transition into the new year, it also means another year in business, meaning that the brand can showcase their lengthy "30 years in business" on the graphic to subtly promote their brand without seeming too "salesy."
Building Your Social Presence 
Now that you've been equipped with 8 effective variations of social media posts, we hope that you feel as though you have the toolkit you need to start building your brand online. As a home builder, having a social community that can rally behind your work and experience will be instrumental in growing your brand awareness online. Another incredible way to get your content in front of a larger audience is to use Facebook Advertising. Facebook Advertising allows you to hyper-target your audience based on where your target market lives, how they behave and what they're interested in, with the right content at the right time. Companies like Relevantly specialize in Facebook Advertising so that your marketing dollars are as effective as possible.

Looking for more marketing tips and techniques to grow your home building company? At Profitworks, we are a team of marketing experts with experience helping countless home builders rise to the top of search engines and grow their brands online. Contact our team today for support today!