Turn Shoppers Into Leads
Your PPC managed campaign will be custom-built to suit your business, based on information you provide and your competitive landscape. Our dedicated team of specialists are committed to managing your campaign so that you get the highest ROIs possible. Your success is our focus!
Flexibility
You'll have a fixed monthly budget to ensure you never spend more than you want. You can increase your spending at any time to get more traffic and generate more leads.

Fixed Budget
You set your budget and we manage your campaign within that budget. We'll never exceed the limit you set. You decide how much you want to spend and when you want to spend it.
Results
You can be confident your campaign will generate profitable responses. In fact, you only pay when your ad is clicked, NOT simply when your ad appears on a results page.
Why Hire a PPC Management Agency?
You will be taking advantage of our exceptional PPC management expertise and proven track record. Watch the performance and scale of your PPC campaigns increase with industry leading strategies and technologies that will ensure results.

You will get the maximum return on your investment using the best software programs to keep your business on top. Make the most out of your marketing and advertising budget while realizing your goals by working with our performance obsessed team.
Why Pay-Per-Click Advertising:
Fast results    
Cost-effective
Targeted
Measurable
Customizable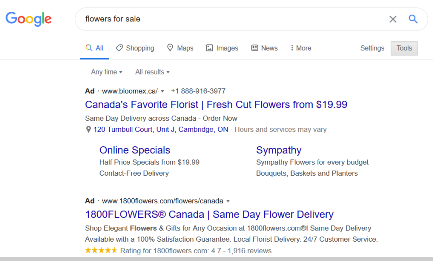 3 Easy Steps to Sales Growth
Book a Call
Chat with one our experienced pay-per-click advertising specialists to determine the best strategy for your business. Explore and discover your growth opportunities.
Develop a Strategy
We'll confirm if PPC advertising is the right marketing strategy for you and then put together and present you with an in-depth marketing plan that matches your goals and target metrics.
Watch the Growth
We'll put your plan into place, monitor your results and make adjustments when necessary to ensure that your get the maximum sales growth for your investment. You can relax and watch your sales grow!
Why Choose Profitworks
Let the experts at Profitworks manage your PPC advertising for you so you can get the best return on your investment. We understand that no single solution will work for every business. That's why out team will take the time to get to know your particular needs and design a custom PPC plan for you. We'll do the necessary research to develop targeted digital marketing strategies to line up with your online goals and increase both your conversions and revenue.

Set your goals. Decide on your budget.
Maximize your sales growth!
How PPC Can Work for You
PPC stands for pay-per-click advertising and it is one of the best ways for you to get immediate results by targeting your most qualified audience. Put your ad front and center, right where the most people are going to see it - at the top of page one of Google search results. Or promote your business on the most popular social medial channel such as Facebook, YouTube, and LinkdeIn. Your PPC social media ads will cut through newsfeed clutter and show up right where your target market is looking. 
Contact Profitworks today
for a FREE, no obligation introductory chat; tell us what you want from your PPC advertising and we'll show you how we can get it for you.
In Addition to PPC, Increase Your Website Traffic Organically
You can boost your search engine rankings and drive even more traffic to your website with custom designed SEO services