Websites can drive significant ROI for a business. Especially blogging and having a podcast if they offer high value content that your target market is desiring. A prefect example of this in action is The Smart Passive Income Blog & Podcast by Pat Flynn. Pat Flynn is an online marketing genius and many of the things I have learned about website marketing has come from him. In this blog article we take a look at the ROI he has been able to generate blogging and recording Podcasts.

Get Sales & Marketing Insights To Grow Your Business

Sales & Marketing ROI Podcast: Episode 1

ROI Results
Initial Investment = $200.00
Total Profit = $1,903,482.04
ROI = 951,641%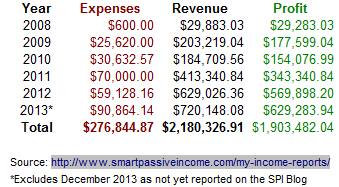 Now granted in order to get this result it took Pat and his team a lot of time, which is not included in the calculation. Even if you include a cost of $50 per hour at 45 hours per week and add a cost of $10,000 to initially create the website the ROI is still 159%. What other investment do you know that returns a rate that good? Plus the website Pat has built will continue to generate revenue for him in the future even if he does not invest any more time or dollars. Your website is always one of the best investment options for your business.
Source: http://www.smartpassiveincome.com/my-income-reports/
Traffic Increase Lessons
Regularly Add Content
Pat strongly recommends that a website should try to post a blog once a week, or even more if they can as more pages means more rankings. More rankings means more traffic. A great example of adding content regularly is discussed in the Smart Passive Income Blog podcast #77. We have also seen the same results on our website as per this study we conducted. http://www.profitworks.ca/blog/332-the-importance-of-adding-content-to-driving-website-traffic
Be Everywhere
Pat strongly recommends all websites to be on all social media platforms to generate the most links back to their website and have multiple ways to generate traffic back to their site. We have also seen that by getting more links to our website it has helped us generate more traffic. Read his full article on be everywhere at http://www.smartpassiveincome.com/how-to-be-everywhere/
Provide High Value Content
Pat throughout his blogging has consistently stressed the importance of providing high quality content that people actually want to read. We have seen on our own website that the pages that consistently month after month deliver us the most traffic are those pages where we are providing something of incredibly high value to our readers, things like free useful tools and very interesting information that can't be found anywhere else on the internet. To learn more about Pat's content strategy go to http://www.smartpassiveincome.com/content-strategy/
Give Away Things Of Great Value For Free
On the Smart Passive Income Blog they give away their ebook titled "eBooks The Smart Way" completely for free. This is perfect for their audience. This is actually the way I first found the SPI blog and got hooked on reading the blog.
Create Dialogue With Your Audience
Pat does an excellent job creating dialogue with his audience, making them feel connected and engaged. How he does this is through the comments section on each of his blog articles, his email marketing (where he often asks for feedback or asks other questions) and by challenging his readers to take part in contests and challenges. With these contests and challenges he also shares the submissions to the rest of his audience. Here is just one example of a contest he has run in the past http://www.smartpassiveincome.com/reader-challenge-round-up-interviews-and-the-next-challenge/. And finally Pat just started a new Podcast where readers can ask him any question and he will respond to their questions. You can find this new podcast at http://www.smartpassiveincome.com/ask-pat/
Launch New Items With A Strong Launch Plan
On the Smart Passive Income Blog they always launch new things with a strong marketing plan behind them to ensure they take off right when they go live. This could be email marketing, promoting them on their podcast and blog before they go live or some kind of partnership to support the launch. To come up with your own ideas for how to support the launch of something here is a great resource I found http://www.floship.com/10-ways-to-create-product-launch/
Conversion Lessons
Have Lead Capture Devices On All Pages
One of the most valuable ideas shared on Pat's blog that has had the greatest impact on our own website is that on every page you should include a lead capture device. A lead capture device is simply a form or some action the visitor can take so that you can get their contact information. In podcast #78 he suggests that on every blog page you should give something away for free so that you can get their contact information. In addition in a separate video he stress this importance again. Watch the video at http://www.smartpassiveincome.com/conversion-strategies/
Have Lead Capture Devices In Multiple Places On Every Page
Read more by reading this article by Pat Flynn - http://www.smartpassiveincome.com/conversion-strategy-results/. If you read this article you will see that by adding multiple lead capture devices on each page you can significantly increase the number of leads you can generate from your website.
Add Bonuses To Reward People Taking The Action You Want Them To
Pat is a strong supporter of the Bonus Sandwich. Basically this concept is that with every product you sell you should include one free bonus that helps the customer overcome a hurdle they experience hindering them from using the product you are selling and the other bonus is one the customer can use after using the main product or something that can enhance the performance of the main product. To learn more read https://popupsmart.com/blog/ultimate-guide-convert-customers/
Use Large Easy To Read Fonts
I can't seem to find where on SPI I read this but I remember reading that Pat recommends using a larger font size of at least 14 for your blog posts. When we made this change on our own website to a large font size we saw a good decrease is bounce rate and also a good increase in time spent per visit. Although I can't find the article where he recommends this I think if you go to any of his blog articles you will see the font size is very large.
Use Social Proof To Get People To Take The Action You Want
On the Smart Passive Income Blog they use social proof to encourage people to sign up for the newsletter. At the bottom of each page below the button to sign up for the newsletter it says "Over 75,000 amazing people have subscribed to my newsletter and your amazing too!". By showing this it encourages people that it must be a very good newsletter because so many people have signed up for it. We did this on one of our conversion pages and saw about a 25% increase in conversions. Using social proof will increase your conversion rates.
Two Step Actions Usually Work Better Than One Step Conversions
Creating a conversion process that starts with just a button that then takes the visitor to a form will perform better than including a form right on the page. We have also seen these results as we once thought that taking a step out of one of our free download resources would increase conversion rates. After completing the test we found that it actually decreased the conversion rates.   Source: http://www.smartpassiveincome.com/rapid-list-building/
Have A Page That Lists All Your Desired Conversions And Make It A Main Page Of Focus
Thirty to forty percent of all sales come from one particular page on the Smart Passive Income Blog.....the resource page. This page lists all the desired conversions Pat wants his website visitors to take. This page is one of the 7 pages included in the main menu and not hidden within the site. Take a look at it at http://www.smartpassiveincome.com/resources/
Source: http://www.smartpassiveincome.com/my-july-2013-monthly-income-report/
The Smart Passive Income Blog Links
The Blog - http://www.smartpassiveincome.com/
The Podcast on iTumes - https://itunes.apple.com/us/podcast/the-smart-passive-income-podcast/id383084001
The Podcast from his website - http://www.smartpassiveincome.com/category/podcast/
The Smart Passive Income Blog On Youtube - http://www.youtube.com/user/smartpassiveincome
The Smart Passive Income Blog on Facebook - https://www.facebook.com/smartpassiveincome
The Smart Passive Income Blog on Google+ - https://plus.google.com/+PatFlynnSPI/posts
The Smart Passive Income Blog on Linkedin - http://www.linkedin.com/profile/view?id=22302160
The Smart Passive Income Blog on Twitter - https://twitter.com/patflynn
If you liked this article please head over to Linkedin and endorse me for "Sales & Marketing ROI." If you would be willing to do this for me it would be a great help.
Learn The 7 Key Tasks To Increase Traffic To Your Website. Click Here For The Free Report.
My name is Chris R. Keller. I work at Profitworks Small Business Services helping various B2B small businesses in Waterloo and Kitchener Ontario generate new customers. Feel free to connect with me on Google+ or if you are just interested in getting new customers for your B2B small businesses enter your email in the box provided below and click the "Send Me Free Sales Insights" button.

Other Articles You Might Be Interested In
1. The Best Referral Program Ever - How To Get $50 Free For You And Your Friends
2. How To Make A Slogan For Your Brand That Will Attract Customers
3. Small Business Marketing - 5 Key Components
4. The Marketing Methods For Small Businesses With The Best Return On Investment