This podcast and video are of a seminar we held recently titled, "Thing You Can Do Today To Get More Sales From Your Website." The goal of the seminar was to provide business owners and marketing managers items they can implement on their website on their own with minimal time to increase the sales they get from their websites. In the seminar, we did review a few websites of the attendees' but we have removed this section to not leak any confidential competitive information of the attendees. If you would like a digital copy of the presentation slides or you would like a free review of your website to see what could be done to increase the sales from your website just contact us.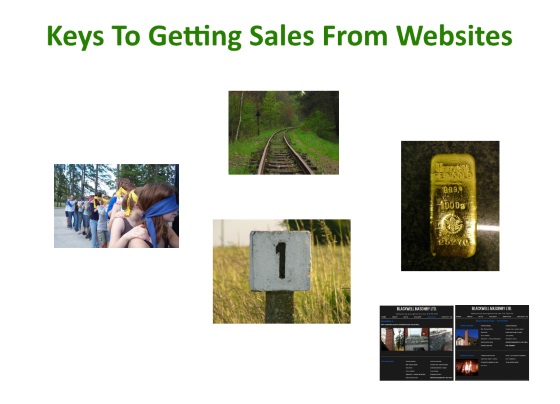 Sales & Marketing ROI Podcast: Episode #30
"Things You Can Do Today To Get More Sales From Your Website"

Subscribe our podcast now - click here
View a full listing of all our podcasts - click here
Seminar Recording
Improve the sales from your website. Get a free review of your website from one of our experts. Click here. 
Key Conclusions
The Goal Of Every Website
Is not website traffic.
Is not social media posts, shares, likes or follows.
Is not higher search engine rankings.
It is simply to drive more sales.
Keys To Conversions
1. Trust
   A. Social Proof (Types = expert, celebrity, user, wisdom of the crowd)
         - certifications
         - test results
         - celebrity endorsement
         - testimonials
         - reviews
         - ratings
         - customer list including easily recognizable companies
         - case studies
         - number of customers served
         - social shares
   B. Credibility
   C. Communicating Values
   D. Personable/Human
2. Multiple Links To Conversion Path
3. One focus, one focal image, one focus product, one desired action, one focus goal
4. Providing value to website visitor
5. Advanced tools (especially A/B testing)
Tracking Results
Track all sales back to the source of the sale by asking new customers how they found you.
Enter this information into a tool to track results (IE. your accounting system, CRM system or an excel spreadsheet).
Advanced Tools
A/B Page Testing - The most powerful
Heat Map Tracking
User Usage Recordings
First Impression Testing
Get a free recommendations on how you can improve your website.
Return On Investment Of Website & Search Engine Optimization Investments
In general, investments into your website, like search engine optimization, usually yield very good returns on investment. From the data we have analyzed and the results we have seen with our clients, usually investments in a website or search engine optimization yield about $2.75 in profit for every dollar spent. Or another way to say that is an ROI of 275%. That being said, results will vary by business as this is only an average. In general, almost all companies will see a positive return from search engine optimization as it is one of the top three or four marketing options available. 
For more data on return on investments by marketing method, refer to our article at http://www.profitworks.ca/blog/461-marketing-channels-and-methods-that-generate-the-best-quality-leads.
Get A Free Review Of Your Website From One Of Our Website Conversion Experts
Complete With Our Top 5 Recommended Changes Specific To Your Website To Improve Sales
Profitworks Small Business Services provides website traffic and website conversion optimization services which increase the number of sales generated from a website. The focus of our services is on increasing sales and providing a positive return on investment. To learn more about Profitworks, click here. 
Improve your website today. Download our report on The 7 Key Tasks To Increase Website Traffic.
Other Articles You Might Be Interested In
1. How To Increase Sales From Your Website
2. How to Measure Your Search Engine Optimization Effectiveness

3. Social Media Marketing Services - The Top 7 Reasons Why to Spend That Money on Local SEO Services Instead