In this blog post we take a look at all of the different website platforms we have used for our clients and compare them versus each other. Because we provide services to increase website traffic and optimize conversion we use a lot of different content management systems. This article should quickly give you helpful information for deciding what website platform is best for your business.

Squarespace The Best Website Platform For The Average B2B Small Business
Each of the website platforms we looked at has their strengths. Each is the best for certain situations (except Interspire which is just a poor choice in general). Below is what each is best for.
Squarespace - best for a small business that does not have staff with high levels of website coding skills and does not need custom functionality
Joomla - best for businesses that have staff with high levels of website coding skills and need custom functionality
Wordpress - best for businesses that need custom functionality but have limited website coding skills
WebWiz@rd - best for businesses that need the highest security, need above average visual appeal, want live website technical support that they can talk to anytime on the phone. Also a good choice for e-commerce websites
webs - best for businesses that have minimal to no budget for a website
Interspire - not recommended for any businesses
No One Content Management System (CMS) Trumps The Rest
After completing our review we found that there is not one single Website CMS that beats the rest hands down. Each of them (except for Interspire) has their strengths, but also their weaknesses. This means that the best CMS for a particular business will depend on its given businesses situation.
Website Platforms Cost Comparison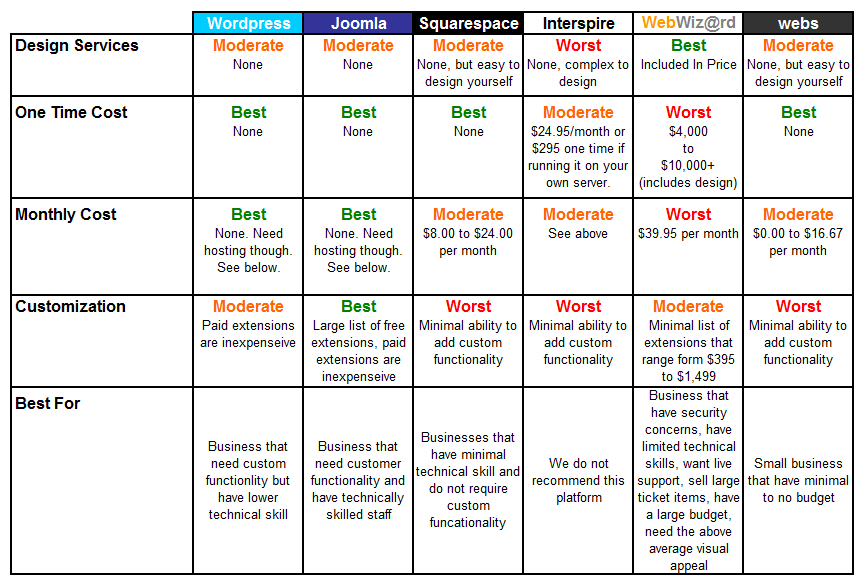 Note: For Joomla or Wordpress you can get hosting from Blue Host for as low as $3.95 per month.
Learn The 7 Key Tasks To Increase Traffic To Your Website. Click Here For The Free Report.
Website Examples
Wordpress - http://www.smartpassiveincome.com/
Joomla - http://gsas.harvard.edu/
Squarespace - http://use.expensify.com/
Interspire - http://www.unitwin.com
WebWiz@rd - http://www.mccordick.com/
webs - http://www.etutoring4you.com/
Comments On Return On Investment (ROI)
The most important thing you should be looking at when selecting a content management system is the ROI. In order to calculate the ROI you should look at all of the costs of the option and then look at the sales increase it will generate over 3 years. (You can pick any number of years, but I usually like to use a 3 year calculation as a website should always payback in 2-3 years). Below outlines how to calculate the ROI
Costs
- Design Costs
- Hosting Costs
- Platform Costs
- Extension Costs
- Projected Additional Support/Technical Assistance Costs
Total Cost = the total of all of the above items
Revenue
Total Revenue = Annual Revenue x 3
ROI
3 Year ROI = (Total Revenue - Total Costs)/Total Costs
Example (For Squarespace):
Costs
Design Costs = $0.00 (If you do it yourself)
Hosting Costs = $0.00 (included in platform costs)
Platform Costs = $8.00 x 12 months x 3 years
Extension Costs = $0.00
Projected Additional Support/Technical Assistance Costs = $500.00 x 3 years
Total Cost = $1,788
Revenue
Total Revenue = $15,000 x 3 years = $45,000
ROI
3 Year ROI = ($45,000 - $1,788)/$1,788 = 2,516.7% (not bad!...websites usually have great ROIs)
The platform that will most likely have the best ROI will be Squarespace because you can build it yourself without having to hire a designer. Therefore the biggest cost (the design cost) is fully removed.  If Squarespace does not give you the functionality you need I would look at Joomla or Wordpress. WebWiz@rd can also have a good ROI if you know you will need technical support and you sell larger priced items.
Again before deciding on one only I would recommend getting quotes on each, projecting what the sales and ROI will be for each option and then taking a look at the benefits of each option. Then make a decision once you have the full picture.
Website Platforms Features & Benefits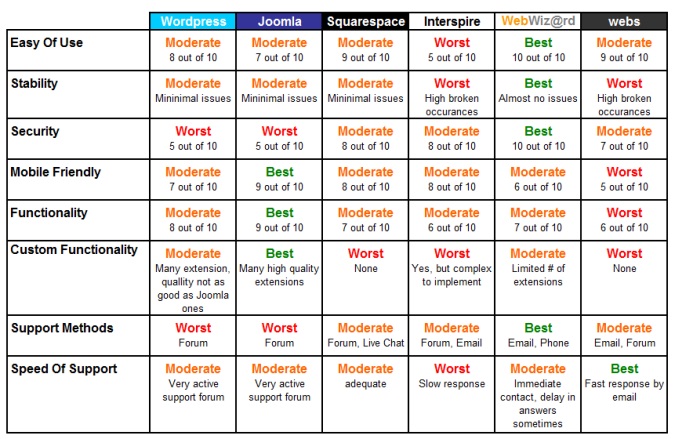 CMS Program Details
Squarespace-Is very easy to use with almost minimal training and allows you to modify the HTML code for customization. The main disadvantages of this program are that there are two different types of editing modes which is confusing and a time waster. In addition because this is not an open source solution there are no extensions that allow you to add custom functionality to the website. By not being an open source solution this does help to make your website more secure though. The other big benefit of Squarespace is that it is pretty good at being able to adjust the website to mobile and tablet screens.
Joomla - What I love best about Joomla is that there are many free high value, highly reliable extensions for Joomla that allow you to easily add functionality to your website at no cost. The major disadvantages are that the only real technical support is through the forum which is not always the fastest and not as convenient as being able to phone someone. With the latest version of Joomla they have also addressed making their websites compatible with multiple screen sizes for mobile devices and tablets which is very nice.
Wordpress - This platform is very similar to Joomla. The one difference I find is that there is more resources online about Wordpress, which helps when trouble shooting. There are also more extensions than Joomla but what I find is that they are of lower quality and for the good ones you often have to pay. I would also say that it is slightly easier to learn than Joomla.
WebWiz@rd - The biggest benefit for WebWiz@rd is that it comes with live customer support that you can phone and talk to. This technical support works right at their head office and is not off shore. The other big benefit of this CMS system is that it is not an open source solution, so hackers have never seen the code to this platform and don't know how to break into it. They have never had a single website of theirs hacked into. The interface is very easy to use (even more so than Joomla or Wordpress). The disadvantage is that there is only a limited number of extensions and if you want the extensions you have to pay for them and they are rather expensive. That being said they also have the ability to create custom extensions for you. With this solution if you want your website to be mobile friendly it will also cost you more money as well. In general it is a really good solution so long as you have the budget to pay for it.
webs - This website platform I found often had technical issues and was very constraining on what you could do visually and functionally. That being said you get what you pay for. Considering it is so inexpensive (as low a FREE if you go with the smallest package), it is okay given the price.
Interspire - I found this platform very confusing, difficult to use and very difficult to add additional functionality. Given there are not any other places where it is stronger than other options it really does not have a use. I would not recommended this for any businesses
Other Articles You Might Be Interested In
1. The Marketing Methods For Small Businesses With The Best Return On Investment