The market for chatbots is expected to reach $1.23 billion by 2025, a number increasing by a compounded annual growth rate of 24.3%. Chatbots may be all the rage in modern UX design, but it's not always clear how to use chatbots to achieve what is often the number one objective of any business' website: increasing conversions.
If you're wondering how to use chatbots on your own website to improve conversions, we're sharing 4 of the ways you can leverage this digital marketing trend to turn web users into paying customers—and fast.
At Profitworks, we are a team of marketing experts with one goal: helping you become the leader in your market. Looking for SEO expertise, managed marketing services, or support with your marketing strategy? Reach out to our team today!

How to Use Chatbots to Increase Website Conversions:
Personalized Customer Service
One of the most valuable benefits of incorporating a chatbot into your website strategy is the personalized, high-touch customer service that your users will benefit from. Gone are the days of filling out a contact form and waiting weeks for a response—in today's world, customers expect a response fast. Luckily, by using a chatbot, you're able to reply to customers in real-time with responses that feel genuine and humanlike. Now, customers that have questions while using your website (whether about your product, service or business itself) can ask your chatbot directly rather than leaving your website when they can't find what they're looking for.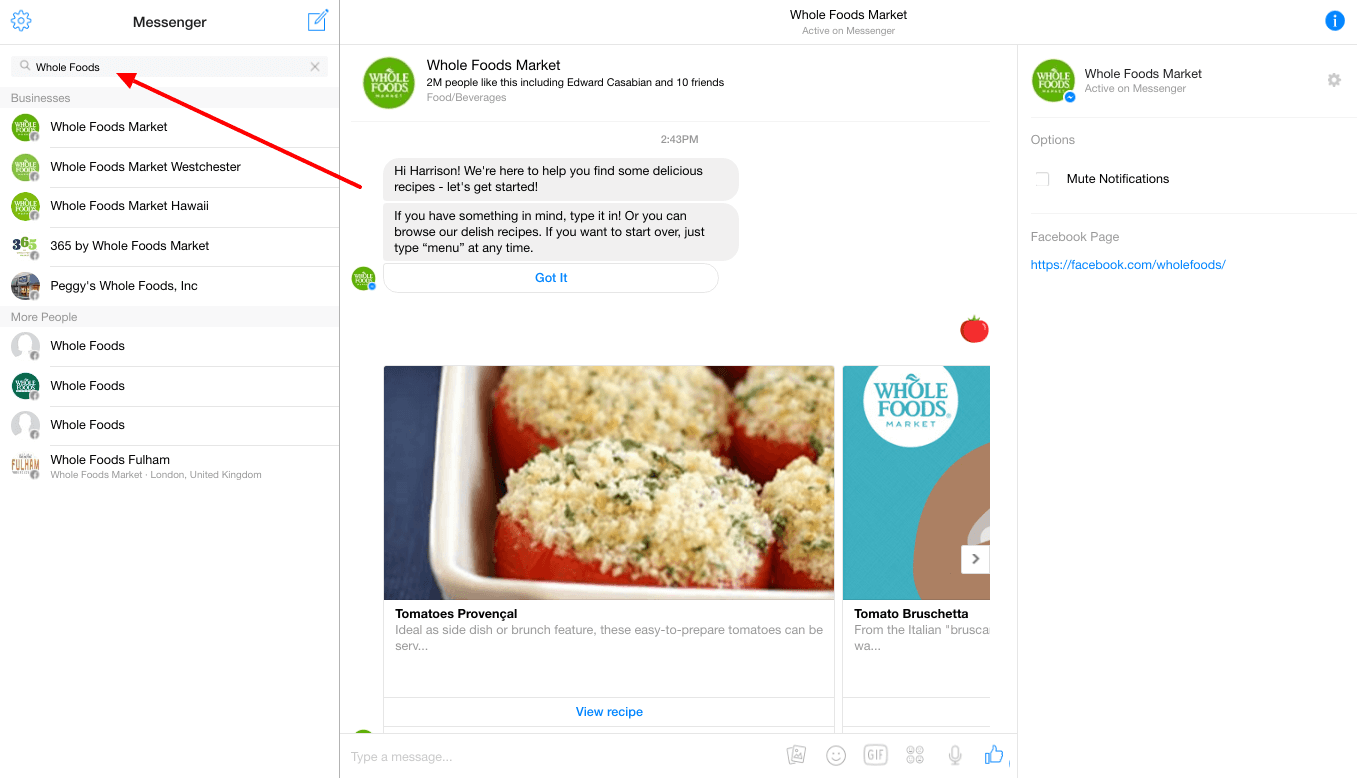 Chatbots built through Facebook Messenger, like that of organics superstore Whole Foods, take this personalization a step further. In the interaction with users, Facebook actually allows the bot to read and respond to them by name, catering to the type of information that users are looking for. In addition to sharing more information about the business itself, the Whole Foods chatbot also taps into experiential marketing by allowing users to search for recipes by entering emojis into the chat field.
Information-Gathering
Not only are chatbots excellent at offering elevated customer service experiences, they're also fantastic information-gathering tools. Each customer conversation allows your business to build up a repository of real customer data--and the best part? It runs in the background while you focus on other tasks. Social media marketers at Sprout Social are using their chatbot to determine what people who are landing on their website are looking for and are able to point them in the right direction based on their response.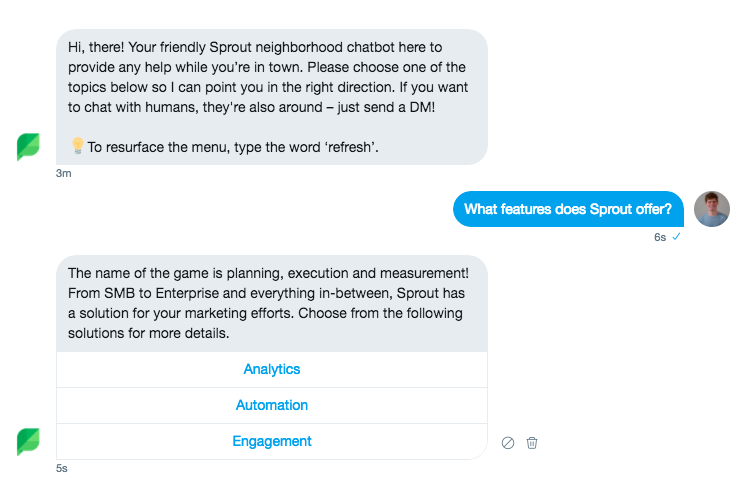 Additionally, every time you gather information about what a customer is looking for on your website, you're able to better foresee the needs of other customers, allowing you to cater both your chatbot and overall website experience based on these findings. With a chatbot running your website while your sales team focus on high-touch leads, your business is able to gather a much larger volume of customer data with significantly less effort.
24/7 Salesperson
Can you imagine having a salesperson that was willing to work around the clock, responding within seconds to interested customers all over the world? Now you can! Through chatbots, businesses of all sizes now have access to an affordable, 24/7 sales tool with the potential to qualify leads on your behalf, allowing you to focus on the sales conversations that require more of your employee time.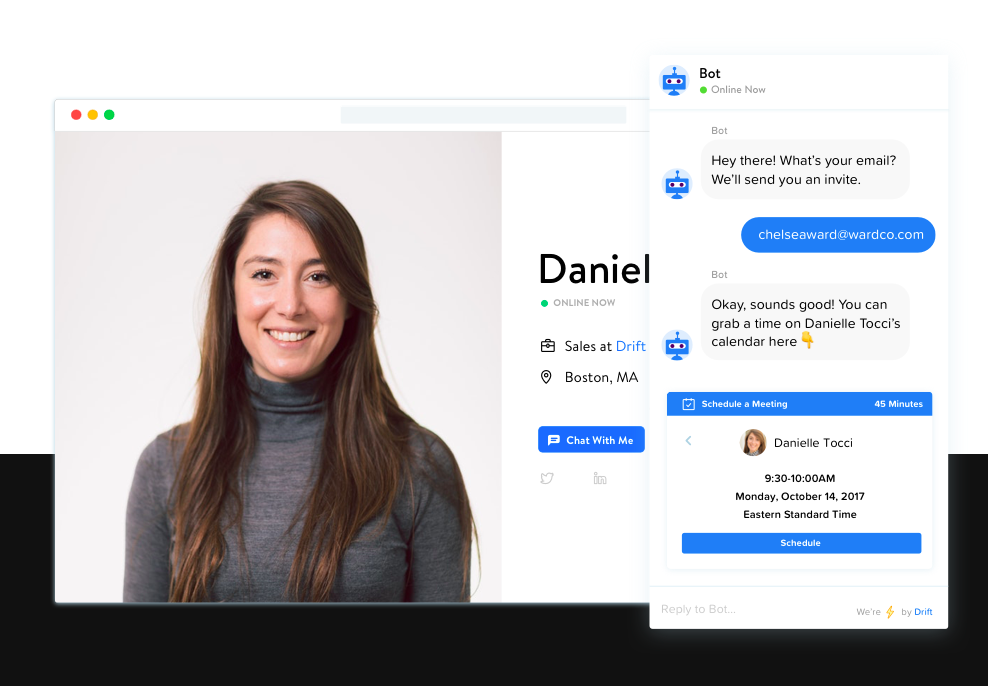 Chatbot platforms like Drift allow your business to move conversations with leads along the sales funnel by offering users the option to actually book a meeting with a member of your sales team. Through an integration with Google Calendar, the Drift Assistant uses AI to provide users with potential meeting times on your behalf, confirming them with you and providing reminders before they're scheduled to take place. 



Integration With Sales Funnel
Perhaps the most valuable opportunity to increase conversions on your website using a chatbot is through your ability to integrate chatbot data with your current sales funnel. Using the chatbot, you can determine where customers are in the funnel, whether it be the awareness, interest, purchase decision, or action stage of the purchase process, simply based on the questions these customers are asking.
For example, customers who are in the interest stage are more likely to be asking general questions about your product or service and can likely be re-directed to a FAQ or blog section of your website. On the other hand, customers who are requesting to book a meeting with your sales staff are more likely to be in the purchase stage, and should be moved forward in the sales funnel appropriately. 
By offering integrations with popular sales tools like Salesforce, Hubspot, and Marketo, Drift's chatbot platform makes it easy to move customers throughout your sales funnel automatically, allowing you to stay on top of where leads are at and re-market effectively.
Not Sure Where to Start With Your Chatbot?
Now that you understand the benefit of chatbots in improving your website conversions, you may be wondering--what's next? Although the benefit of running a chatbot is undeniable, it's not often as easy as it seems to launch one on your website. Determining which chatbot is right for your business' needs and getting it up and running can take valuable time that your business can't afford, which is where our team comes in.
At Profitworks, we are a team of marketing experts with experience in using a number of chatbot platforms across a variety of web hosting platforms. For support throughout the process of determining which chatbot you should use to the actual launch of the bot on your website, we can provide the support you need to make your chatbot dreams a reality. Contact us today!
"Our overall sales to new customers has improved as a result of detailed analysis, proposed solutions and successful execution. " - Tom (Business Owner & Customer)
Read more customer testimonials here.