The Ultimate Guide To SEO For Small Businesses
Download The FREE Ultimate Guide To SEO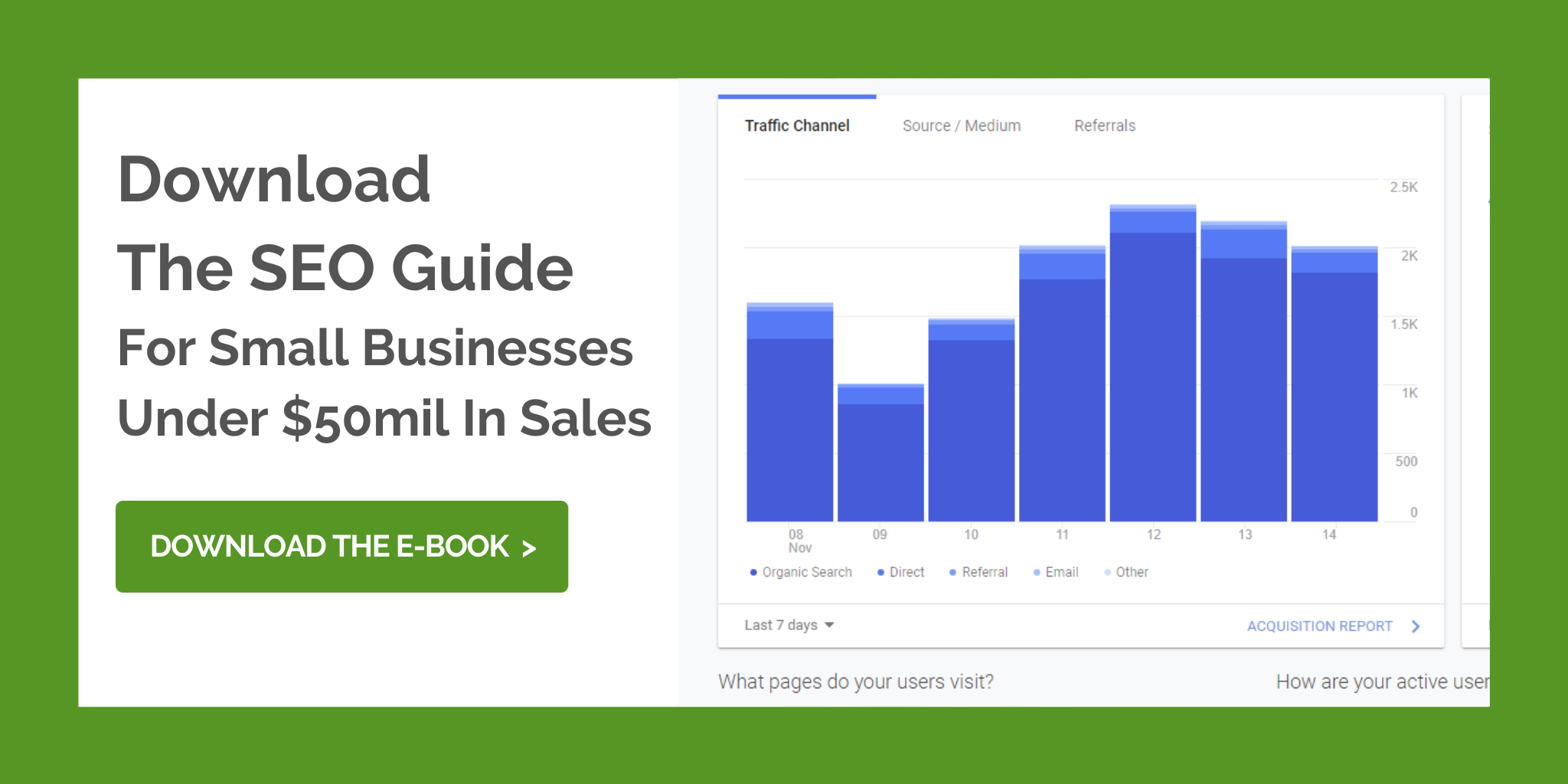 What You'll Learn In Our Guide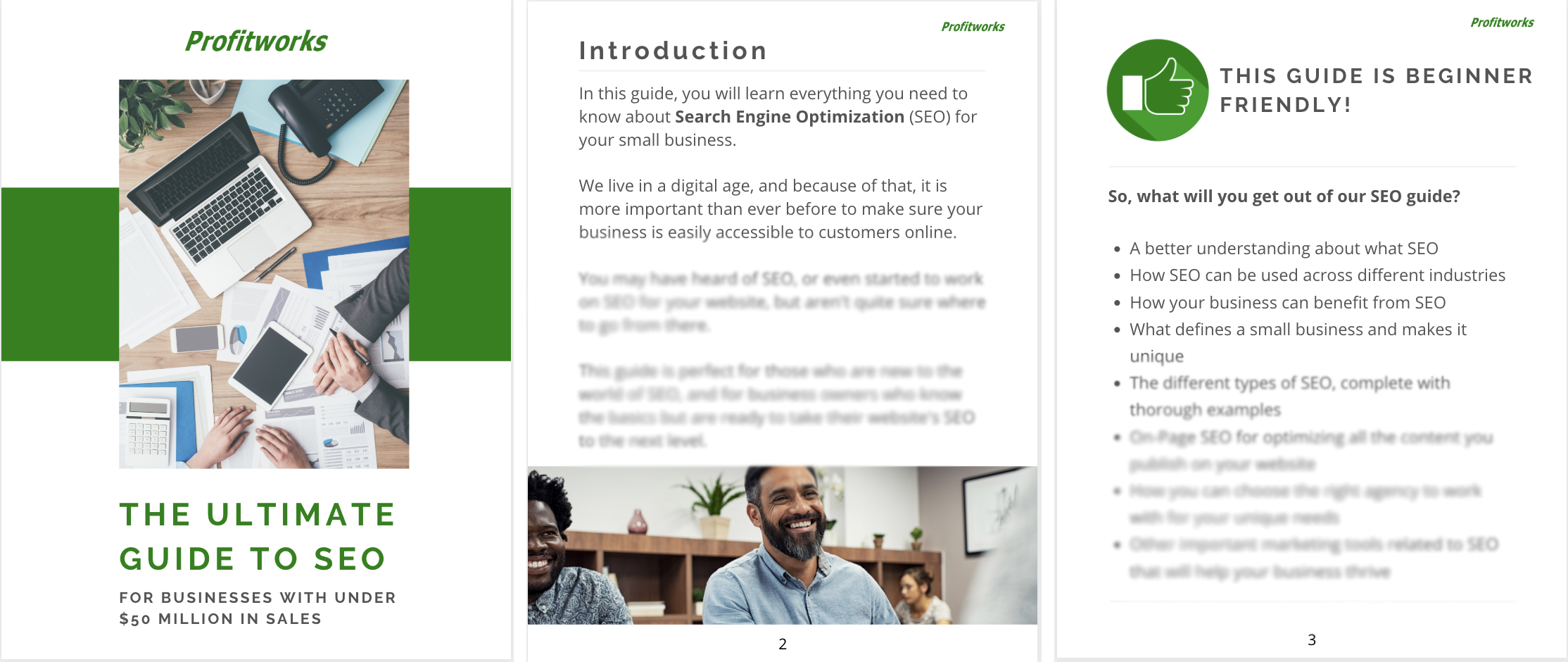 A Sneak Peek Of What You'll Get In Our Guide! 
After you download The Ultimate Guide To SEO, you will gain access to a full e-book that includes everything you've ever wanted to know about SEO. The guide is beginner-friendly; you don't have to be an SEO expert or even have any previous experience with SEO to understand the book! 
Topics Included: 
- Introduction: Introducing The Basics Of SEO
- What Is SEO: A more thorough walkthrough about what SEO is 
- Who Needs SEO: A breakdown going through who can benefit from SEO services
- What Defines a Small Business: Understanding if your business is considered a "small business"
- Industry Examples: Providing examples of small businesses within popular industries
- Types Of SEO Overview: A basic walkthrough about the different types of SEO
- Keyword Planning: A thorough explanation of keyword planning and its importance
- Content Creation: A guide on how to create high-quality content for your website
- Link Building: Describing what link building is and various link building activities 
- On-Page SEO: Understand on-page SEO vs off-page SEO
- Black Hat SEO vs White Hat SEO: A guide to ethical SEO practices vs unethical practices
- The ROI of SEO: What you can expect in terms of your return on investment 
- Choosing The Right Agency: How to choose a reputable and professional SEO agency to work with
 Remember, this guide is beginner-friendly. You may not understand all of the terms included above, but with our guide, you will! When it comes to SEO, there is a lot to unpack. In short, search engine optimization is not just one thing - it is a number of activities you can do to help your website "rank" better on search engines.
Because it is not just one activity, it's important to understand how all the different SEO activities come together to help your website rank better when someone searches for your target keyword. 

Why Choose SEO For Your Business
Still not totally sure if SEO is right for you and your business? There are a number of reasons why every small business can benefit from investing in SEO. Some of these reasons include: 
SEO is a great investment for your business, whether you are just starting up or have been in business for decades. Getting noticed online is becoming more and more important, and if you want to keep up with current trends, SEO is the way to go! 
Want To Learn More About SEO? 
After reading our e-book, you may be ready to learn more about SEO! You can learn more about SEO by downloading our SEO Checklist here. In our SEO checklist, you'll get a step-by-step guide to including all the important SEO information on your website. 
You can also learn more about SEO by checking out our Profitworks Podcast! Our thorough Podcasts cover a number of marketing topics that you may find helpful, such as how much you should invest in marketing, Facebook advertising, ways to improve your home page, the importance of email marketing, and so much more.
 At Profitworks, we're happy to chat with you about your SEO and marketing strategy. 
Looking for ways to get more traffic to your website and increase your sales? Our Ultimate Guide To SEO For Small Businesses is designed to help small business owners learn all there is to know about Search Engine Optimization (SEO) and why it's vital for every business to have it. 
 At Profitworks, we have over 15 years of marketing experience with a focus on SEO for small business. We are happy to share what we've learned over the years with you! Want to learn more? Let's talk.