Google is continually changing the way it ranks websites, so it is essential to be aware of current SEO trends and ensure that you keep up with them so that your company gets noticed by the customers looking for your products and services. Here are some of the top trends in SEO today:
If you have any questions about these SEO trends or other marketing concerns, please contact us.
Top 5 Trends in SEO 
1. Voice-to-Text Searches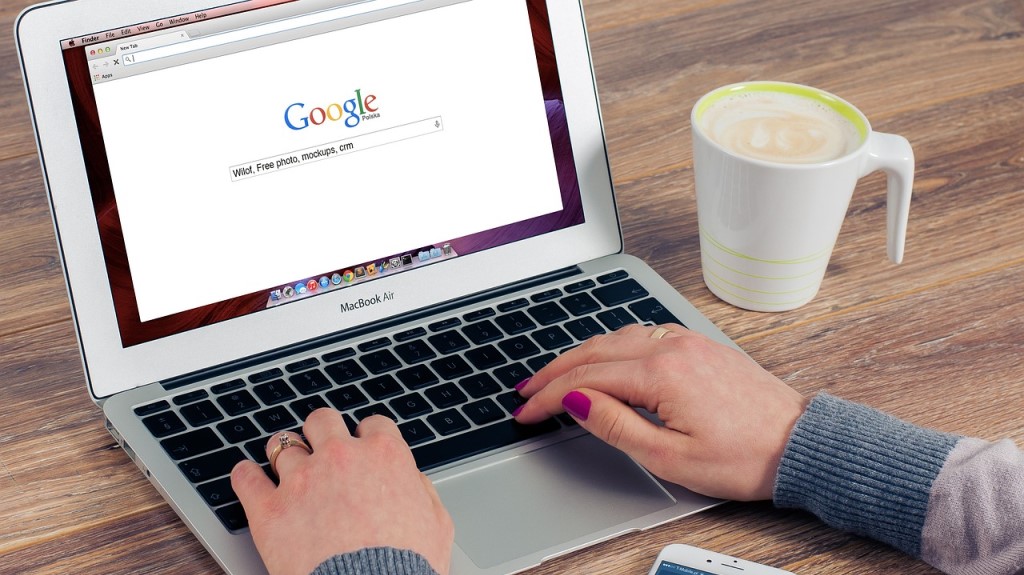 Voice-to-text uses speech recognition software to translate spoken words into text
More people are using voice-to-text to do online searches. What is voice-to-text? It's simply using speech recognition software that translates your spoken words into text. So instead of typing what you want to search for, you speak it. The big difference between typing your search and speaking it out loud is that you will tend to use more words when you are speaking and fewer words when you are typing.
It is much easier and faster to say what you are looking for so you don't worry about adding all the filler words like "the", "and", and "a". Also, you will most likely use longer phrases or even complete sentences. Texting takes more effort and more time, so people tend to omit unnecessary words and type as little as possible.
What Does Voice-to-Text Mean for SEO?
In order to reach users of voice-to-text, you need to target more specific or longer key phrases in your content. Targeting long-tail keywords has always been an effective strategy for SEO, but now this strategy is even more important making it one of the top trends in SEO. When selecting keywords to target, try to be more specific and think about your customer's needs. You need to be more detailed in your selection
How Do Long-Tail Keywords Work?
Long-tail keywords are keyword phrases that are made up of three to five words instead of one or two words. They are more specific so they help you target distinct demographics. For example, a generic keyword could be "running shoes" whereas a long-term keyword would be "running shoes Kitchener" or "women's running shoes Waterloo". These long-tail keywords target more specific users according to their location and/or gender.
With voice-to-text technology, users may now say the phrase "where's the best place to buy women's running shoes in Waterloo?" instead of simply typing "women's running shoes Waterloo". This means that now you can think about targeting these much more specific long-tail keywords in your SEO content.
 2. Zero-Click Content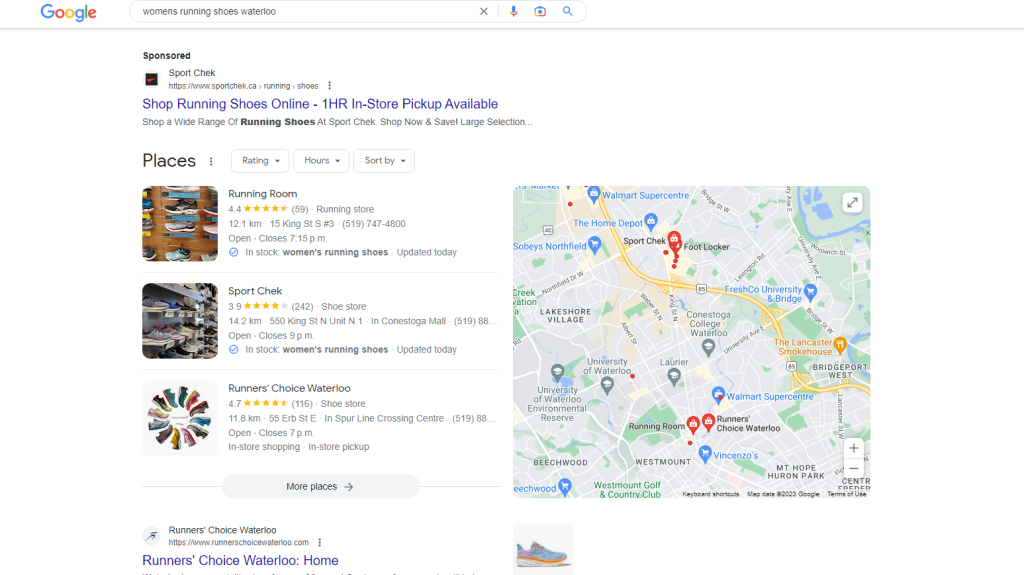 Trends in SEO: Search engine results pages include extras like business listings and ads
Search engine results pages have changed over the last little while. Not only do you see a listing of organic searches but you also get:
Ads
Knowledge graphs
Business listings
Shopping tools
Images
Videos
Featured snippets
As a result, zero-click content is increasing.
What Is Zero-Click Content?
Zero-click content occurs when someone finds the information that they are looking for from the Google Search Results Page (SERP) without ever clicking through to one of the websites listed. Currently, about 25.6% of desktop searches and 17.3% of mobile searches are zero-click content. You might think that this content isn't important because you are not getting direct conversions for them, but people are still reading them. Another one of the top trends in SEO is to pay attention to the various features that appear on the SERPs and try to optimize for them as well. Here are some tips for making the most of SERPs:
Featured Snippets:
Featured snippets are the boxes at the top of a search engine results page that give you more detailed answers to the questions you are searching for. These featured snippets can include:
Paragraphs
Images
Bulleted/numbered lists
Google gets the information for these featured snippets directly from high-ranking web pages that are SEO optimized. You need to keep producing high-quality content on your website that is well-optimized in order to be highlighted in these snippets.
Google Business Profile:
Make sure that you have a Google Business Profile and that it is kept up to date. Google uses the information in your profile to display content on the SERPs.
3. Video Content 
Here's a great example of a testimonial video by Ascender HCM
Google understands how important and popular videos are for users and that's why you will see more videos in search results. Video content continues to increase in popularity on social media channels such as Tik Tok and Instagram and now it is playing a more significant role in search results making it another one of our top trends in SEO. In fact, over 80% of marketers consider video to be a significant source of increased traffic and sales.
There are many different types of videos that you can include on your website that can have a positive effect on your SEO ranking and your conversions, including:
Customer testimonials
How-to videos
Helpful product tips
Short ads for your products
Google has been incorporating more videos into its search results by displaying video shorts and doing video indexing. When Google indexes a video, it may appear in a search result including features like its title, description, thumbnail image, and a link that you can click to play the video. Including relevant videos in your website content is another great way to make sure that your company is found in search results.
 4. Visual Search Optimization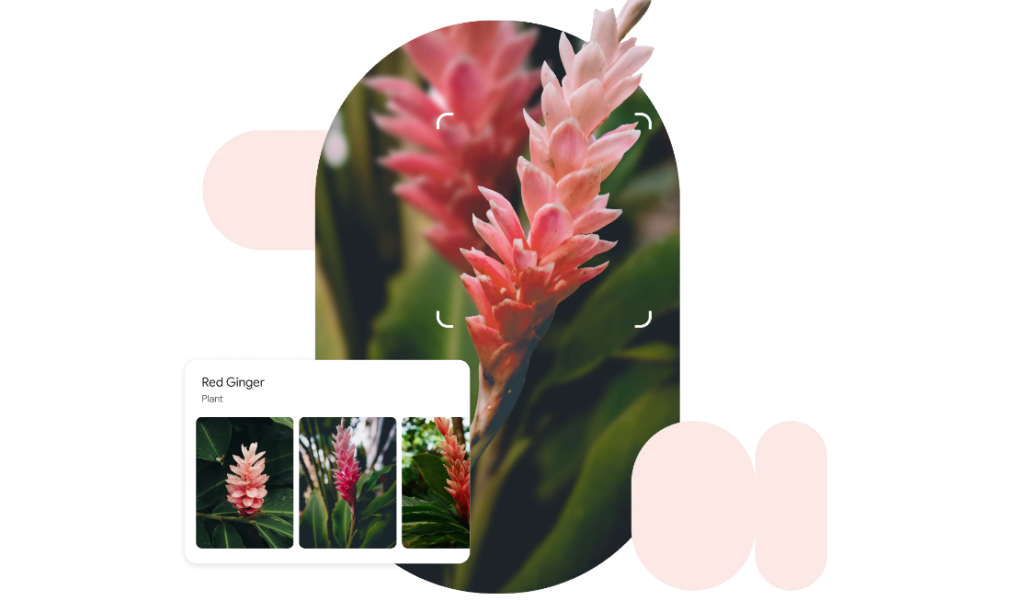 Trends in SEO: Google Lens uses image recognition technology to search for images. Source: Google Lens
Google Lens is an app that uses artificial intelligence and image recognition technology to identify text and objects around you and within images. This means that it can take a look at an image on your website and identify what it is and include it in a search result. In order to make sure that your images are ready for Google to search them you need to do the following:
Use high-quality images
Include captions under your images that give more details about the image
Write appropriate and descriptive alt-text
Making your images search-ready will give you even more opportunities for your content to rank in Google searches.
 5. Core Web Vitals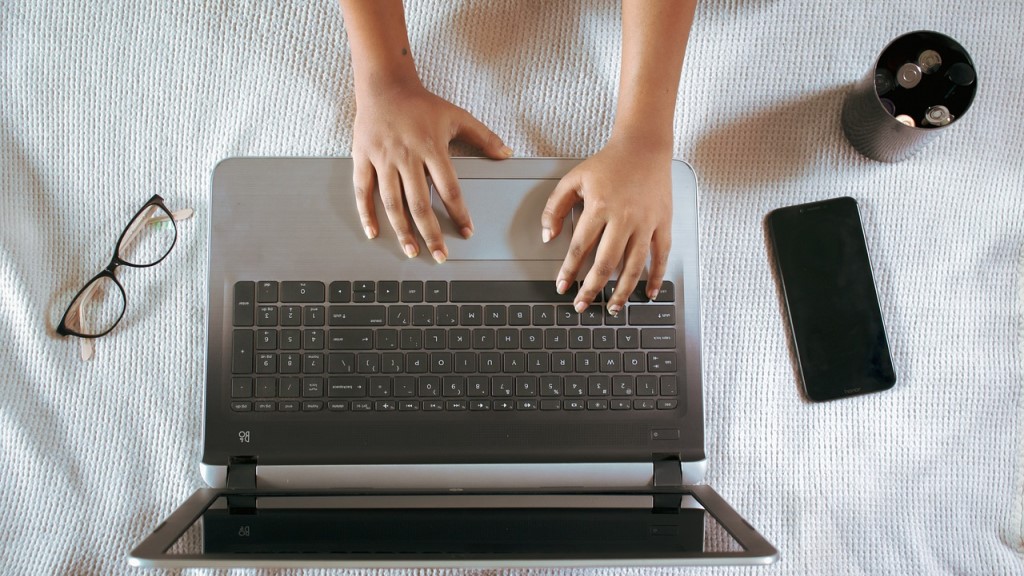 Core Web Vitals measure your page speed and user interaction
Core Web Vitals (CWV) is one of the most important and sometimes overlooked trends in SEO. CWV is a set of factors that Google considers key in a webpage's overall user experience, also known as CWV. Core Web Vitals are made up of three measurements that relate to your page speed and user interaction. They include:
Largest Contentful Paint:
This metric measures how quickly your website's main content loads. It measures the time it takes for the largest image or text block to be rendered within the viewport once the user starts to load a page.
First Input Delay:
This is the length of time it takes for a page to respond once the user interacts with it i.e. by clicking a button or a link.
Cumulative Layout Shift:
A layout shift is a visible movement of an element on a page from one frame to another. You often see this when a page is loading. The cumulative layout shift measures the total time of all unexpected layout shifts that take place when a page is loading.
Google is placing a larger emphasis on passing CWV tests as part of its search ranking criteria. It is a good idea to get your website audited to see how it performs for speed and other Core Web Vitals.

Would You Like More Marketing Advice? Contact Profitworks
If you would like advice about trends in SEO, contact us. Profitworks is here to help businesses like yours increase their sales through innovative and proven marketing tactics. Talk to us today if you have questions about how to get more Google reviews for your business or any other marketing topics. We'd be happy to take the time to discuss the best options for the success of your business.

What Our Customers Are Saying...
"My experience with Profitworks Marketing was very positive. They put together a very clear and strategic marketing plan. They helped me get more focused and come up with a solid plan that will take my business to the next level. Thank you!" - Krystle Marriott