FREE Executive Team Meeting Minutes Template
The Profitworks Executive Team Meeting Minutes Template has everything you need to keep track of these important gatherings.

The template includes a clear outline of all the components of an executive team meeting, including the #1 goal for the meeting, a full agenda, key notes and next step action items. 

If you are interested in getting more customers for your business, download our executive team meeting minutes template today! It will help all members of the team to get on the same page and increase sales for your business.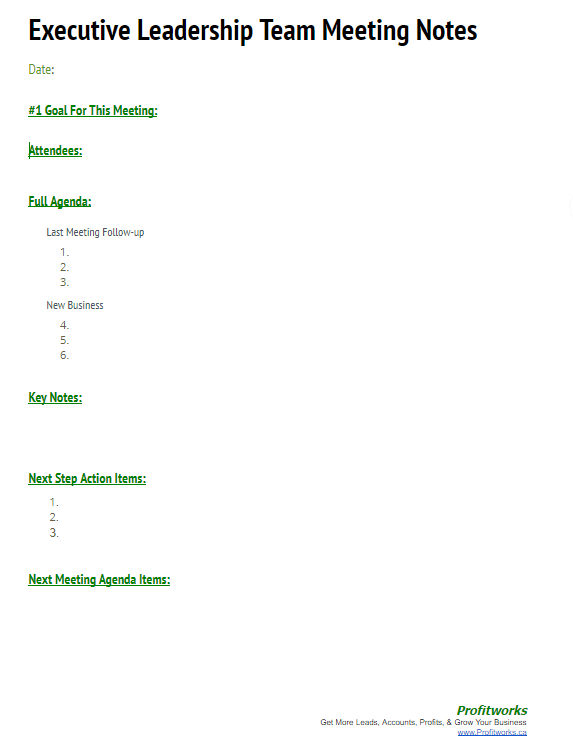 What You Can Expect From The Profitworks Executive Team Meeting Minutes Template
Name the #1 goal for the meeting

List of attendees

Full agenda, including last meeting follow up and new business

Key notes

Next step action items

Next meeting agenda items
Why Every Business Should Have An Executive Team
An Executive Management Team consists of high ranking employees that work together to manage a company or corporation. These individuals oversee the daily operations of a company to ensure efficiency and product satisfaction.
Marketing is what separates successful companies from unsuccessful companies. When a business has great marketing coupled with a great product or service the results can be remarkable. Take a look at all of they large companies you know today. At one point in time they were all small companies...they were not always large. When you look at what all large companies have in common, you will see that all large successful companies have been able to successfully use the power of marketing.
Marketing is a powerful tool that, if done well, can propel your business' success to heights beyond your wildest dreams. In order to be successful at marketing, the very first step requires having a plan. As with anything, if you do not have a plan, the chances of you getting where you want to go or reaching your goals will be low. Put together a team and start creating a plan today, to get the marketing of your business moving in the right direction.
Get out executive team meeting minutes template now because having a marketing plan is critical to your success.