Email Marketing Practices for Local Businesses
Email marketing has been competitively standing its ground as one of the most cost-effective tools, bringing great results to companies worldwide.
Local businesses are enjoying the benefits of email marketing, so why shouldn't you? Keep reading and find out more about how to build an email list, the best practices, and some content ideas!
Choosing an Email Marketing Tool
Whether you are new or experienced in the field of email marketing, you will not be able to do this on your own.
For that reason, a good email marketing tool is needed for you to achieve the best results possible. If you are looking to save money and still enjoy all the benefits – Sender is the right tool for you.
It contains a free forever plan which includes all the necessary features such as:
Automations
Integrations
A/B testing
Analytics
Template library
And much more
As a result, you will be able to craft stunning emails in no time without worrying about the finances.

 Building an Email List
Before you communicate with your local customers, it is important to gather information about them which will become very beneficial when creating your emails.
The data collected will help you segment your audience into categories based on their:
Behavior
Needs
Age
Gender
In that case, you will create emails that are suitable for all the categories in your segmentation and approach the clients in the best manner possible. Let's look into a few ways on how you can gather the email list if you don't have it yet:
Using landing pages
You can place sign-up forms on your landing page (hint: it's super easy to build landing pages with the right landing page builders), where customers interested in your brand can leave their details for further contact. You can arrange pop-ups that will appear at the right time (on arrival to the website, before leaving it, etc.) to trigger the sign-ups.
Here is an example of great pop-up you can build using Sender: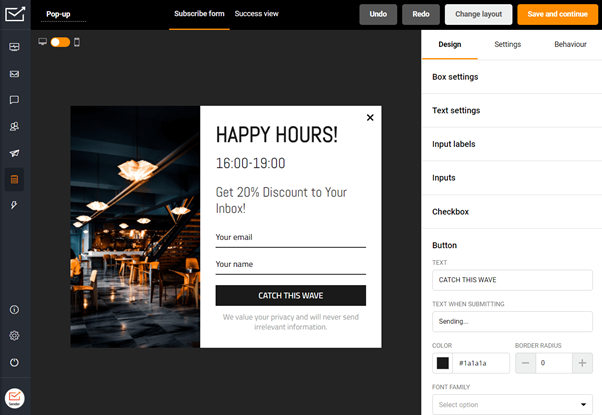 Social media for lead generation
If your social media followers seem to be engaging, you might try to ask them to subscribe to your upcoming emails. Simply leave the sign-up form, which they can fill to receive your latest news and offers.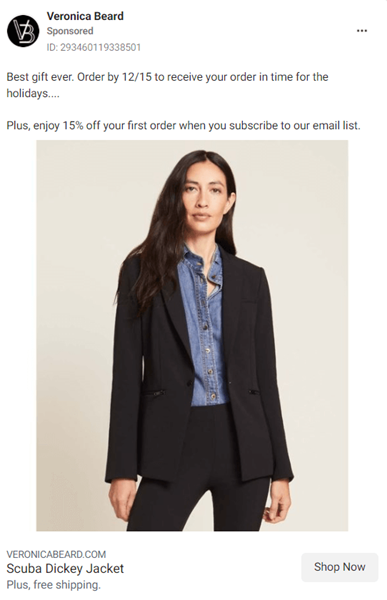 QR codes in your store
Your physical store, café, or restaurant are also excellent places to gather subscribers. You can provide your customers with a QR code that will open the sign-up form. Besides, once you are face-to-face with a client, you can encourage them to register and tell more about the upcoming benefits they will get.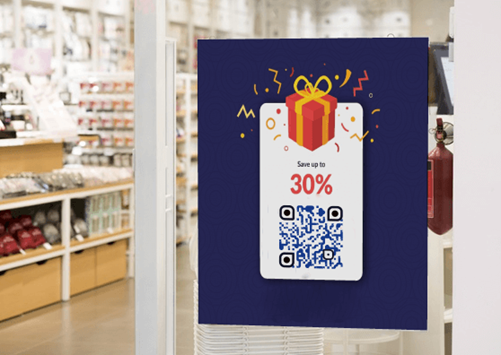 Partnership with other local businesses

You can join forces with other businesses around you to create an email list. For example, if you sell coffee while the business nearby sells cakes and chocolates, this might be a great opportunity to partner up and achieve the goals together. Besides, you will gather more potential clients who have never shopped with you before.
Regardless of the method you decide to choose for email list building, it is always good to motivate your clients with a little encouragement. Offering a small treat or a discount will be advantageous as more people will be willing to sign-up in return for something special.
Best Email Marketing Practices and Content Ideas for Local Businesses
Email marketing is not only about increasing your sales and accomplishing the business goals. In order to do that, you have to give something in return to your subscribers so they would be keen to buy from you or use your services. Below, there are a few strategies that you might want to use for your email marketing and some content suggestions:


1. Send Newsletters (Weekly, Monthly, Annually)
Email newsletters are filled with useful tips and tricks your target market can benefit from. They help to establish solidarity, lend authority and contribute to a long-term customer relationship.

Content Ideas:
Local announcements – talk about the upcoming events, community gatherings, special days, or other important information. Use videos in your emails to make your announcements even more engaging.
How-to tips and tricks – teach your subscribers something related to your business. For example, if you are a coffee shop, you can give tutorials on how to make a great coffee, what coffee beans are the best, the benefits of coffee, and more.
Local guides – share your opinions on the local community and how to improve it and provide guidance on the best places to visit, eat, drink, or shop.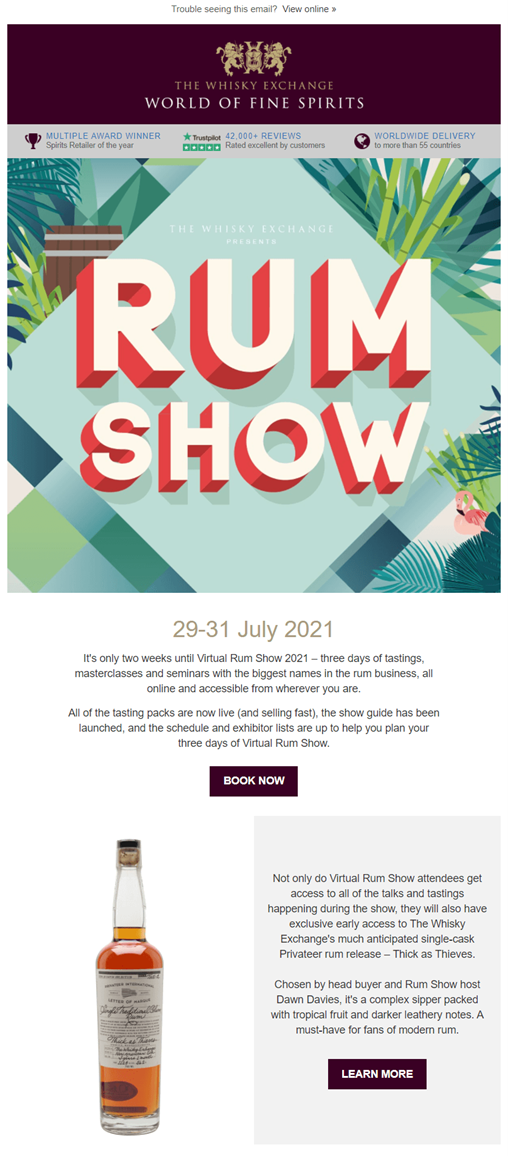 Source: Original The Whisky Exchange email
2. Provide Special Offers and Discounts to Your Customers in Email

Create relationships and build loyalty by providing special offers and discounts to your customers and subscribers. It is good if your offers relate not only to special holidays and days within the year but also to community events and gatherings.

Content Ideas:
Seasonal offers to the local community – you can create unique campaigns and discounts for holidays to celebrate local residents and encourage festivities.
Promotional emails – send limited-time deals to motivate quick sales and purchases. The sense of urgency always encourages people to buy.
Ask for a review – testimonials help businesses improve, so motivate your clients with a gift or a great discount in return for a review.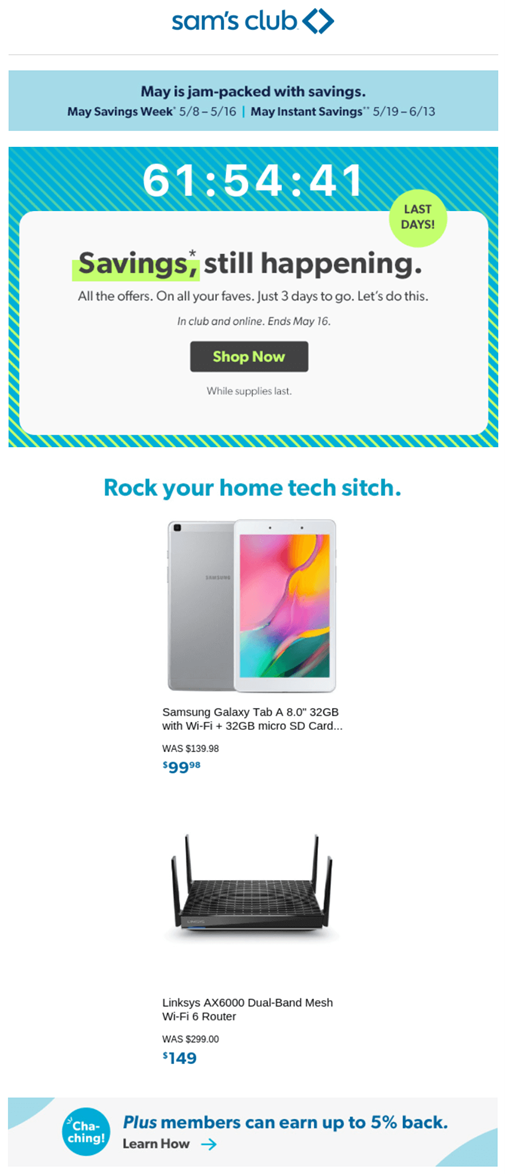 Source: Original Sam's Club email
3. Encourage loyalty

As your focus point is the local community around your business, keeping these residents loyal to their area is important. However, a little encouragement and special attention are needed to showcase that the customers are valued and appreciated.

Content Ideas:
Send gifts – to say thank you for loyalty, award the customers with gifts: a free cup of coffee, 2 drinks for 1, etc.
Extra attention on special days – although all customers deserve attention, loyal ones deserve more. Give more significant discounts or send exclusive offers just for the long-lasting clients.
Birthday wishes – send a card or special deal to celebrate the birthdays of your loyal clients. This extra attention will definitely show how important they are to your business.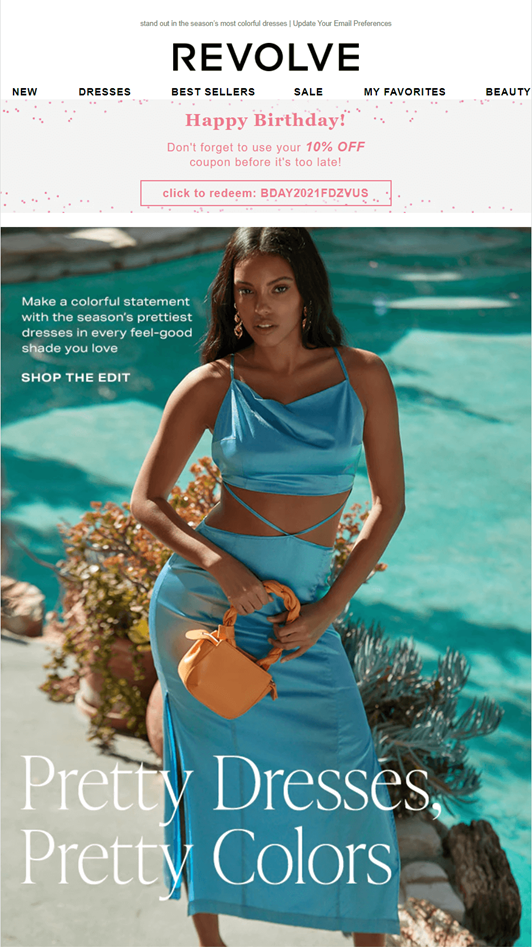 Source: Original Revolve email
It's Time to Take Action with Email Marketing for Your Local Businesses
Remember, the size of your business does not matter when it comes to success in email marketing. Instead, crafting the right strategy and ensuring that customers enjoy the content you provide are keys to victory.

For starters, selecting the right marketing tool is necessary as it will be your partner and best friend throughout this journey. Sender is definitely a good choice if you are looking to save money but still rock in your email marketing game.

Do not forget to build an email list that will be your focus point when sending your campaigns and deals. The more information you have on your audience, the more personalized emails can be crafted.

Lastly, decide on the types of emails you are willing to send to the customers. Ensure that your content focuses on providing value and benefits to the local community so at the end of the day, they become long-lasting loyal customers.
About the contributor: Words and their magic drive Luka. It's her biggest passion and natural habitat. So she lives by the motto - the mind is clearer when you write down what's inside it. Oh! And Luka also manages the content for Sender.net, ensuring that everything is on point.

Grow Your Business with Profitworks!
Profitworks Small Business Services provides website traffic and website conversion optimization services to increase the number of sales generated from a website. The focus of our services is on increasing sales and providing a positive return on investment!
If you are interested in getting new customers for your business, contact us today!
You can also download our Closed-Loop SEO Marketing Services Brochure or our free SEO checklist by clicking on the links!
What Profitworks Customers Are Saying:
"We saw not only an increase in website traffic, but more importantly in the quality of leads. It means we are spending more time on the things that truly make a difference to our business." (Dave Mattingly)
Email marketing is an extremely cost-effective digital marketing strategy that can help create sales for your blinds store. How does it work? Find out in today's podcast.


Details

Kelly Marshall

Hits: 2517
Details

Ian McLaren

Hits: 3315
In this guest post, we take a look at how you can create a targeted email list.
Contact us today if you need assistance getting your email marketing campaign off the ground.
This article will cover some of the most effective ways to bring in more users and maximize your email marketing results. Keep in mind that lead acquisition is just one step of the sales cycle—once a customer joins your list, it's important to follow up with fresh content that gets them interested in your brand and products.
How to Create a Targeted Email List (Guide with Examples)
Marketers often focus on email content, but even the best content strategies won't succeed without a strong targeted email list. 
Furthermore, email has an incredible ROI at roughly 4000%, so it's critical to generate as many subscriptions as possible in order to drive sales.
1. Maintain A Healthy List
You might think that a larger email list is always better, but quality has a greater effect than quantity when it comes to email marketing. Adding disengaged leads who don't care about your brand will only hurt your email performance.
Spam filters use open rate and other metrics to determine whether your content is worthwhile. If most users are ignoring your messages, they'll eventually go straight into your subscribers' spam folders. Email list cleaning is crucial to maintaining strong email deliverability.
Buying leads is, therefore, one of the worst things you can do for your email list. While you'll technically gain subscribers, you'll end up having more trouble reaching the readers who genuinely want to engage with your content. Resist the temptation to pay for contacts—if you can buy them, so can anyone else.
With that in mind, you should try to remove any inactive users from your email list at least annually, and even more frequently if possible. Of course, you can try to bring subscribers back with a re-engagement sequence before deleting their contact information.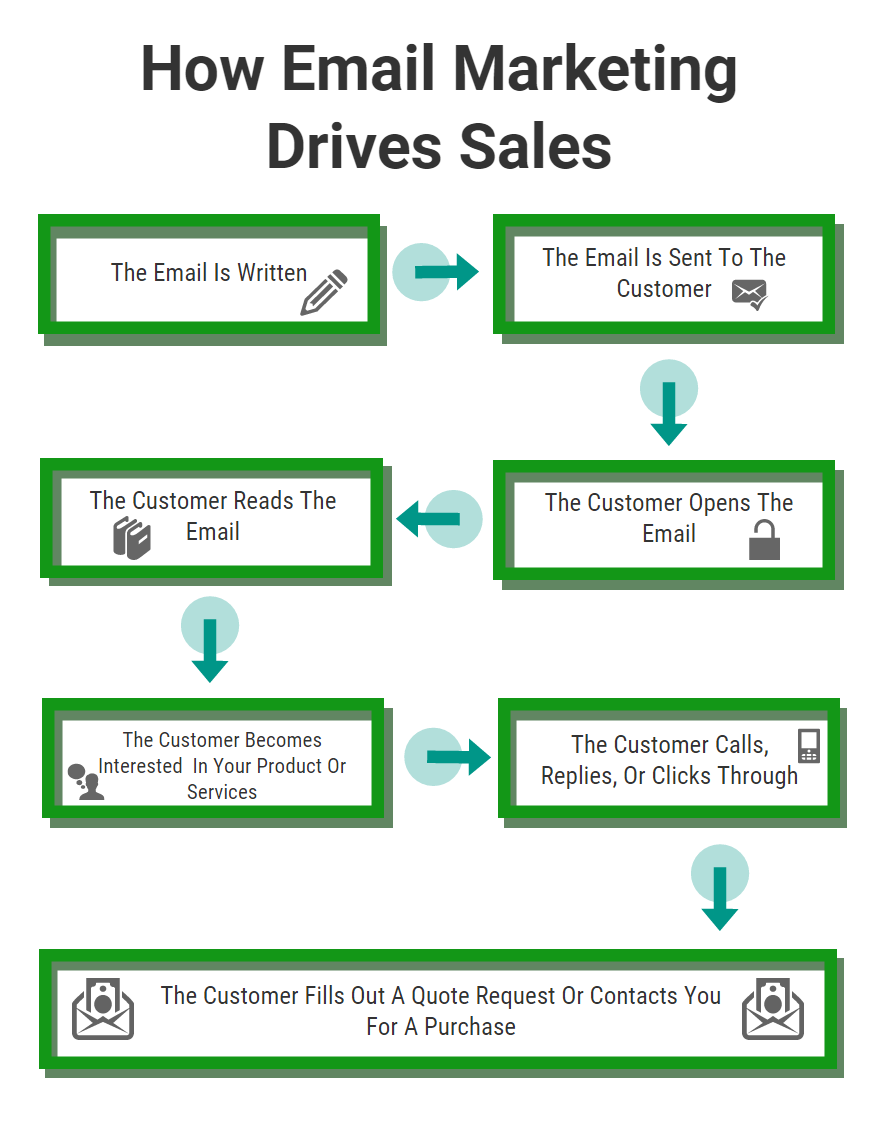 Here's a handy graphic that outlines how a targeted email list can help drive sales.
2. Leverage Marketing Software
Marketing automation is still a relatively new field, and nearly 3 in 10 businesses still haven't automated their marketing practices. Without an email service provider, you'll be at a significant disadvantage compared to other businesses in your niche. These are just a few of the tasks you could streamline through automation:
Design and implement new sign-up forms

Segment sign-up forms based on customer information

Analyze subscription rate for each sign-up form

Develop automated messaging based on customer behaviour
Marketing automation might sound like a useless expense, but it can save you money while helping you increase sales engagement and web traffic. Automating tedious and repetitive tasks will give your team time to spend on other important projects.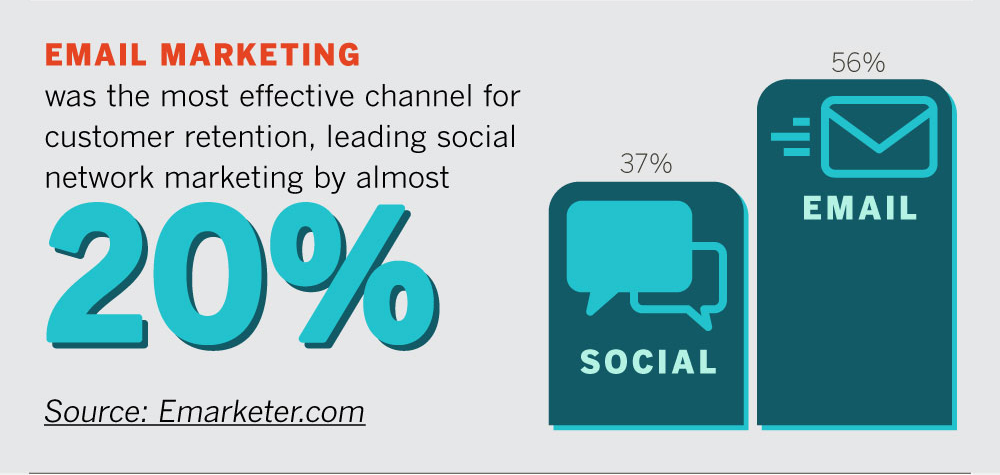 3. Experiment with Different Sign-up Forms
There's nothing wrong with the classic opt-in form, but more interesting visual designs will catch your audience's attention and lead to even more subscriptions. With marketing automation software, you can test out a variety of sign-up content to see what resonates with your audience.
Landing Pages
Dedicated landing pages, for example, focus directly on your email newsletter rather than making the opt-in form one element on a crowded page. They can also be used to offer discounts, gifts, and other perks to users who enter their email address and subscribe to your newsletter.
Customers are substantially more likely to subscribe if they feel like they're getting something in return for their contact information. All things considered, an initial benefit is a small price to pay for a new customer.
Exit-intent Popups
Many programs also give you the ability to add popups to your site for even more subscriptions. Popups are one of the best ways to direct attention to your sign-up form.
While popups are usually associated with intrusive or distracting content, exit-intent popups only appear when a user is about to leave. In other words, they'll help you generate more subscriptions while improving your website's average length of visit.
Like landing pages, popups are a great opportunity to provide exclusive perks for new subscribers. If a reader sees that they could save 10% by entering their email, they may reconsider their decision to leave your site. Don't forget to test different offers to monitor each one's subscription rate.
Interactive Sign-up Content
Any perk can help you get more subscribers, but the ability to win a variety of benefits will give users even more motivation to sign up for your newsletter. The Wheel of Fortune sign-up form, for example, gives each new subscriber one spin for a selection of discounts.

Be creative when trying to add to your targeted email list.
4. Start a Referral Program
No matter how well you optimize your digital marketing practices, there's nothing more efficient than word of mouth referrals. You can generate even more referrals by offering customers a bonus in exchange for introducing friends, family members, and business contacts to your brand.
Attracting new leads is one of the most difficult stages of the sales cycle, so gaining subscribers through referrals is a natural way to build your list and improve your email marketing results. Even something as small as free shipping or access to exclusive content can be enough to incentivize referrals. There are plenty of ideas on how to promote your referral program.
5. Run Online Giveaways For Your Targeted Email List
Giveaways are another highly effective option for increasing shares on social media and other platforms. A single giveaway can bring in tens or even hundreds of subscribers, so even a relatively expensive prize will still lead to a strong ROI.
Along with providing their email address, you can offer additional entries to promote other behaviours such as sharing the giveaway on social media or entering their phone number for SMS marketing.
Make sure to pick a prize that's unique to your audience—if you give out a generic prize like cash or an Amazon gift card, people will sign up regardless of their interest in your brand.
Lead acquisition is just one part of the puzzle, but improving your subscription rate is an incredibly efficient way to increase both sales and traffic. These tactics will help you optimize your email capture practices for more subscriptions on your website and social media pages.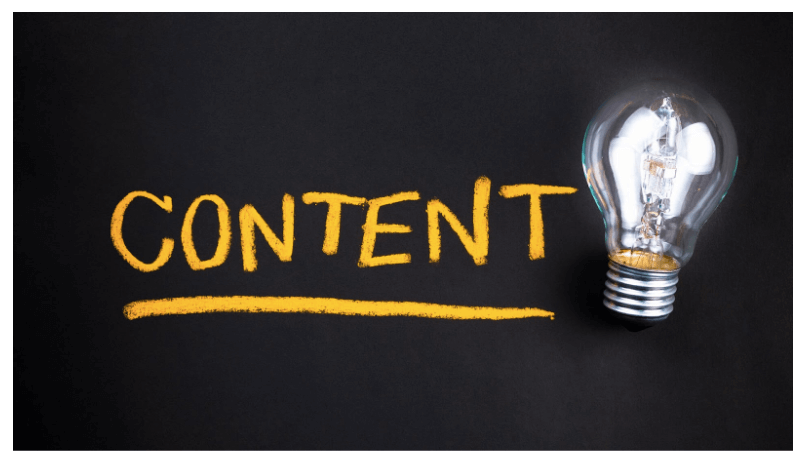 Customers will ultimately be attracted to high-quality content and products.
Why Do Almost All Market Leaders Use A Targeted Email List? They Work!
According to McKinsey & Company Marketing and Sales, email marketing is almost 3 times more effective in acquiring customers than using Facebook and Twitter combined. In addition, the average purchase generated by email is 17% higher than the purchases from social media networks. Market-leading businesses have found that email marketing is a cost-effective way to meet with their customers in a location they visit every day – their email inbox. We challenge you to take one of these ideas and use it for a month and see what kind of results you get.
Email marketing can help your business grow because it:
Strengthens Relationships:  Email is an effective tool to help you communicate with your customers and keep you in the forefront of their minds. People are more likely to buy from someone they know and are in contact with.
Builds Credibility: By sharing helpful and informative content, your emails can increase your credibility with your customers. 
Generates Sales: Every customer is valuable to your business and finding new customers is important. Not everyone who signs up for emails may be ready to purchase, but your emails will help you capture a potential customer's attention and grow a relationship with them so that when they are ready to buy, your business will be foremost in their thoughts.
About the author: Evaldas Mockus is an Experienced Search Engine Optimization (SEO) Specialist with a demonstrated history of working in the information technology and Saas companies. Currently, he is associated with Omnisend, an e-commerce marketing automation platform built for growing e-commerce businesses.
"The importance of Website Optimization in today's competitive market is critical for the growth and development of any company.  We engaged the experts at Profitworks to develop an engine-friendly website, and are seeing the results of an increase in sales from customers who "found us on the web"." - Cathy (Business Owner & Customer)
Click here to learn more about us!
Do you feel you want to build your online presence but you're not quite sure where to start? Here at Profitworks, we offer a FREE website review for anyone who would like to have one, no strings attached! Click the button below to get started today!
Profitworks provides SEO services, website conversion optimization services, and email marketing services with a focus on making our customers the leaders in the markets they operate in.

Become The Leader In Your Market
Details

Kelly Marshall

Hits: 6149
Email Marketing Ideas - 7 Ideas & Examples
It is difficult to find email marketing ideas unless you are subscribed to numerous lists and you have the time to wade through the countless emails to find some good examples you can make use of. That is why we decided to do the "wading" for you. In this blog article and podcast, we are going to introduce you to out top 7 favourite emails and let you know how they could be effectively used in your next email campaign. These should not all be used together on every email, but instead, each one has its own unique purpose. We challenge you to take one of these ideas and use it for a month and see what kind of results you get.
Profitworks provides SEO services and Email Marketing services. If you are new to email marketing or are unhappy with your current email marketing system, check out the Profitworks Free Guide To Starting Email Marketing for help. It includes answers to the most common email marketing questions and challenges, reviews of leading email software providers, and easy to follow instructions to get you started.