Could you grow your sales by 50% using a CRM sofware system? In this article I take a look at what a CRM system is, what the goal of having a CRM system should be and compare some of the most common CRM systems on the market. If it is a leading CRM option for small businesses it is included in this article. Which CRM system is best for your business? Contact us now to find out.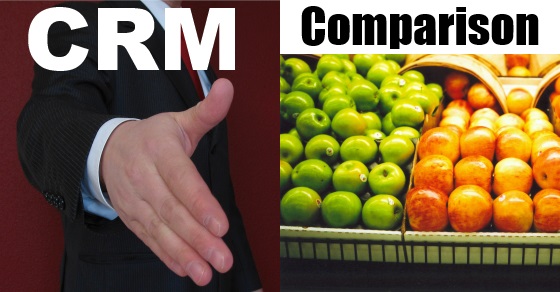 Get Sales & Marketing Insights To Grow Your Business

The Executive Summary
- CRM systems are used to organize customer and prospect data, increase customer retention, improve customer service and increase sales
- for every dollar spent on a CRM system it should increase profit by five dollars
- good CRM systems take very little time to update, have a low total cost of ownership and generate a healthy ROI
- the CRM that is best for you business will depend on the specific situation and nature of your business
- for a large portion of small businesses building their own CRM system in google docs is the best solution
What Is A CRM System
CRM stands for Customer Relationship Management. A CRM system is a software program that uses technology to organize, automate and synchronize sales, marketing, customer support and technical support. Click here to read more about CRM systems on Wikipedia.
What Is The Goal Of A CRM System
The goals of any CRM system added by a business should be to accomplish one or multiple of the below
- increase sales
- increase customer retention
- save time by increasing organization
- improve customer support
Why You Should Have A CRM
Having a CRM should significantly increase sales. The average return from implementing a CRM system is $6 for every $1 spent on the CRM. That is an ROI of 500%. In addition on average it increases sales by 41%, increases customer retention by 21% and reduces sales and marketing expenses by 23%.
Source: http://www.trackvia.com/blog/infographics/crm-a-solution-for-success-infographic
What A Good CRM Does
- takes very little time to update (the average field sales manager spends 1.5 hours a day updating CRM system which is not good)
- has a low total cost of ownership (click here to learn more)
- generates a healthy ROI (a sales increase that generates significant additional profit above the total cost of the CRM system)
Our Review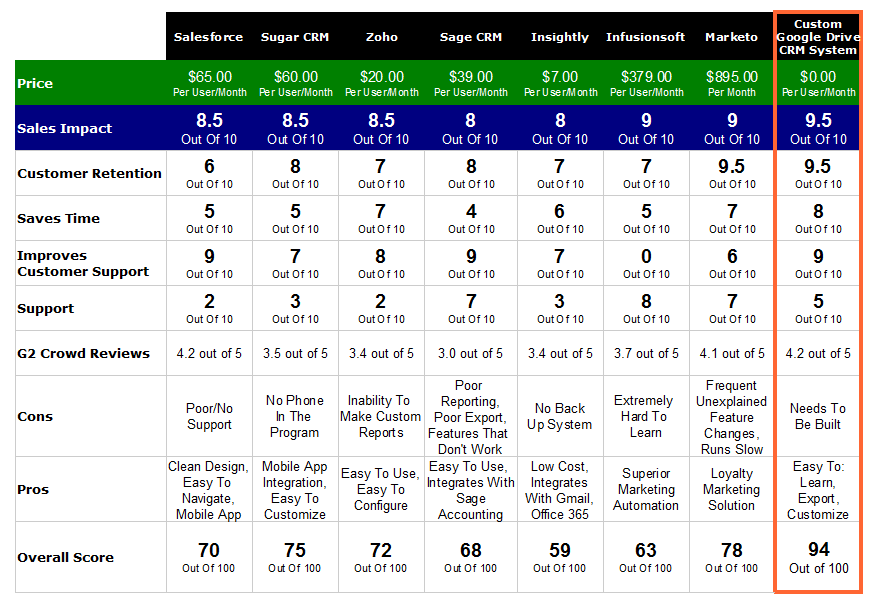 Sources:
http://crm-software-review.toptenreviews.com/zoho-review.html
http://www.g2crowd.com/products/zoho-crm/reviews
Our Conclusion
From the above analysis we have concluded that the best CRM system for most small businesses will probably be to build their own CRM system in google docs. The main benefits of doing this is that it is the lowest cost option, it is easy to customize and it is easy to export data/create reports. For more details on how to do this here is a great article I wrote for Software Advice on how to "Create A CRM System Using Google Docs" .
Looking to improve your sales forces effectiveness? Sales training options for your staff - Click Here
At Profitworks we focus on ROI transparency. For each of the sales or marketing programs we execute for our clients we report back to them on the ROI for the program. We are driven by delivering positive ROI for our clients. We provide these services for companies that sell their products or services to other businesses (ie. like an HR consulting firm that sells its services to businesses). We do not provide our services for companies that sell their products or services to individuals (ie. businesses like a restaurant). To learn more about Profitworksclick here. Feel free to connect with me onGoogle+ or if you are interested in getting insights on how to get new customers for your small businesses click the "Send Me Free Sales Insights" button below. My name is Chris R. Keller and I work at Profitworks Small Business Services.
Other Articles You Might Be Interested In
1. The Key To Improving Sales Closing Rates
2. The SPIN Selling Process Summary
3. How To Build Trust With Your Customers
4. Positive vs Problem Buyers - How To Increase Sales With Each