As a follow up to my article Where RIM's Blackberry Mobile Fusion For Small Business Went Wrong I am going to provide more ideas for Blackberry for how they can improve their business. Being a Waterloo resident I would like to help this company that is such a large part of our community. The best way I figure I can help is provide ideas to help increase sales. I am not sure if any blackberry executives will read this but if they do feel free to use any of the ideas I have presented. They were put here specifically for you to use, if you wish.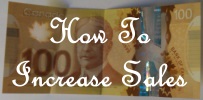 The Big Idea
With any businesses there is a set number of ways it can increase business. Those ways are
1. Generate more leads and more new customers
2. Sell more to current or past customers
3. Increase the average purchase price per transaction (the easiest way to do this is to sell more items at the point of sale)
I am going to work through this model using Blackberry as an example and give them some ideas along the way. The same way I am doing this for their business is the same way you can do it for your own business as well.
Generate More Leads And More New Customers
More Leads:
The best way to generate more leads is to focus on the marketing methods that work best. As per my previous article the marketing methods for small business with the best return on investment are Cross promotions, RFPs, a website, search engine optimization, email marketing, bing ads, google adwords and telephone marketing. If you are able to generate more leads and maintain your closing ratio, you will increase the number of customers and total sales for your business. The most effective marketing methods and how Blackberry could use them better are listed below.
Website Content Creation and Search Engine Optimization - I am sure Blackberry is doing some search engine optimization and I can see they are doing a pretty good job of adding content to their website. They have a Blackberry blog, support blog and a Blackberry developer forum. All things that are constantly adding content to their website and getting them more traffic. As noted in the article The Importance Of Adding Content To Driving Website Traffic, adding content regularly is key to increasing your rankings, traffic and sales from a website. The one thing they may not be doing with their website is doing conversion tracking, but for all I know they are doing this as well. The one place for SEO they may be able to improve is by writing better meta descriptions. This is the text below the link in search results. This text is critical to enticing people to click and get traffic to a website. For example, currently for their Blackberry 10 page the meta description is "Experience the new Blackberry Z10, BlackBerry Q10 & BlackBerry 10 for Business. - Global".

The text is not bad but more could be done to generate interest, communicate a point of difference and entice clicks. Any example might be "Experience the new Blackberry Z10, BlackBerry Q10 & BlackBerry 10 for Business. The only mobile system with face to face communication. Learn more now.". The only way to know for sure though would be to test and track it.
Email Marketing - I have to say that Blackberry is starting to get better at email marketing since writing the article Where RIM's Blackberry Mobile Fusion For Business Went Wrong. I can tell they are starting to create segmented lists and send information to these lists. Recently I have got emails about Blackberry 10 for business and various emails about developer related events and opportunities. I am hoping by now they are starting to generate lists of existing customers and prospects of people looking to buy their phone as well as list for contacts at retailers like Verizon, etc and sending marketing emails to all of these groups. Looking at how they do individual emails I think they have lots of room for improvement as well. Where I think they could improve to increase open rate is changing the from address to being from an actual person and the from name to list that person's name and title. There emails are still picture heavy at the top which means many people may not open them as many email previews block images. Images should be put lower down in the email if at all. Finally to increase open rate they should be addressing emails to me instead of as "Dear Valued Vendor". To increase click through rate I would advise including more links within the content of the email. Right now most of the links are at the bottom of the email and some people may not read that far. Finally they should be A/B page testing the conversion rate of their email marketing landing pages to be constantly improving the conversion from the email marketing they are doing.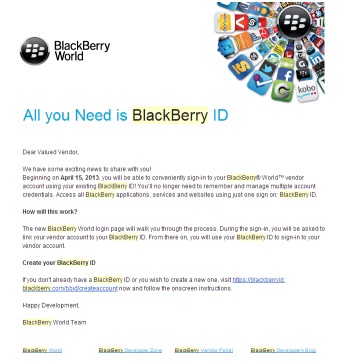 Referrals - Blackberry is doing some good work here but there is room for improvement. What has worked well to generate referrals is the free BBM between all blackberries. I think there are ways to increase referrals even further though. One great idea might be to offer $25.00 in free apps to both the referrer and referee, like the example from what I believe to be the best referral program ever. Another idea would be to periodically push a survey out through the blackberry devices asking users to rate their satisfaction in a quick 3 questions survey. One of these questions would be "Would you recommend Blackberry to a friend or family member". Having them answer this question will do two things. One let you know if they are happy with Blackberry and two, if they say yes, it reminds them to refer Blackberry to people. It acts as a psychological reinforcement to refer Blackberry. Finally, anytime Blackberry solves an end users support question or they add a new customer, somehow in that process they should ask if they know of anyone else would be interested in their service. If they mention someone then ask them to tell that person about Blackberry.
Free Model - A great way to generate more leads is to offer a free product with only some of the full product features or that ends after a certain time period. Blackberry is currently using a version of this model with offering a free 60 day trial of Blackberry Enterprise Service 10. This is the product that used to be Mobile Fusion. I think this could be improved though by going to a free forever model that would up sell clients to additional needed services. A great option for Blackberry might be to offer a basic version of Blackberry Enterprise Service 10 that for additional features you need to pay for. This would allow them to capture a high percentage of the mobile enterprise management market and develop those customers into paying customers over future years. In addition this would create a communication channel with those organizations to sell them other Blackberry products.
Google Adwords & Bing Ads - Blackberry is doing advertising on Google Adwords. When you type in blackberry an ad from Blackberry comes up. Blackberry is most likely not advertising on Bing. I tried many searches and could not find a single ad. I am not sure what approach they are taking but given the keywords they are coming up for the and cost those keywords most likely are I am going to assume they are paying too much for their Google Adwords advertising for it to have a positive ROI. What I would recommend is that they advertising on both Google and Bing, but before doing so read the section "Keys To Optimizing Google Adwords Marketing Effort" from the article Are Ads On Google (Google Adwords) An Effective And Profitable Marketing Method. Then use the same ideas and apply them to the Bing Ads as well.
More New Customers:
Sell a new product to a new target segment - Blackberry has done a fairly good job of doing this recently. By launching into the tablet market quickly and launching mobile fusion for the mobile device management. I also think what they are doing by expanding into the mobile enterprise management is excellent. I think they are doing a great job here and need to really be pushing Blackberry 10 enterprise and focusing on it as I believe this product has great potential and will also be a key strategic piece that can give them lots of valuable information on businesses to help them excel in the business segment. The only idea I might have for them to expand into would be to provide full device management services in addition to their device management product BlackBerry Enterprise Service 10. By doing this they would better understand some of the challenges of their customers and help them better understand how their products compare to Apple and Android in the eyes of the customer.  In addition this would play on their strength and image of being the best solution for businesses.
Enter a new segment with an existing product - The one area where I think Blackberry would have great opportunity to use this strategy would be to enter the school boards with Blackberry Enterprise 10. This would give them valuable information on school boards for if and when cell phones are used for teaching.
Enter a new geographic area with an existing product - Blackberry has done a very good job expanding their presence in the key region of Latin America, which now accounts for about 19% of their sales. They have also done a good job expanding into Asia. What I would be suggesting to Blackberry is to find a plan to get Blackberry 10 distributed to all provinces and regions in China given it is such a large country and Mexico given it is such a business focused country (refer to this chart). It is also noted that Blackberry 10 is still not available yet in South America. I am sure this is on Blackberry's plan but this should be a priority for them and they should have launched Blackberry 10 in South America the day it was initially launched anywhere.
Invent a new usage for one of your existing products - This one is hard to come up with and the only idea I might have is marketing their tablet as a sales force tool, developing applications that would aid sales people in closing sales when meeting with customers. If they can come up with a new usage for any of the their products though, this would be a sure fire way to increase sales.
Capture a greater market share in current market - For Blackberry to do this all I can say is they need to improve their marketing. It is clear from the statements from the company that they are aware of this and they have made good strides recently to improve in this area. The only further advice I would have for them is to make sure they are putting the most focus on the most effective marketing methods and that they are tracking the sales results from each campaign and marketing medium to better understand what is working and what is not. Not just looking at metrics like awareness and purchase intent but tracking actual sales results.
Sell More To Current Or Past Customers
Sell A New Product:
What I would recommend in this arena is that Blackberry should use their strengths (device quality/reliability, enterprise grade service and technology) to offer a service to provide outsourced mobile device services. This would not just be a mobile enterprise management software tool but the actual service of IT support for mobile users and mobile network mangers and implementation. Blackberry could also potentially provide a very valuable service if they could design services for their clients that utilize the customers existing wifi network to place VOIP calls instead of an outside carrier. The challenge with this last option is that they would have to find a way to do it in where they would not be sabotaging their relationships with the various cell phone providers (ie Rogers, Verizon, Virgin etc). Blackberry may also want to look into developing its own apps for its phone that they can sell. Given they already control the platform of the operating system it might make sense to create and sell some business related apps or even personal use apps.
Sell More Of An Existing Product:
Here again I think Blackberry has their greatest opportunity. I think they are doing a great job of targeting the emerging markets in the world to drive sales growth of existing products. Again I think there is great opportunity to sell more in North America but as previously discussed they need better marketing. To read more about this read my other article Where RIM's Blackberry Mobile Fusion For Small Business Went Wrong. In general they need to be communicating their strengths better in their marketing, doing a better job of leveraging every prospect and customer interaction to do marketing and do a better job of lead capture.
Cross Sell:
Here I would suggest that Blackberry users should be pushed ads through the device for tablets. In addition tablet users should see ads for phones. If Blackberry knows a user is an IT manager they should be sending them ads for Blackberry Enterprise on their phone. Right within the Blackberry 10 Enterprise their should also be ads and marketing for the newest Blackberry phones and tablets. There are really endless opportunities for where Blackberry can cross sell its services and products and I don't think they are utilizing this to its full potential.
Up Sell:
For upselling what I would be recommending is that Blackberry should be looking to up sell existing customers to its newest phones and the premium models that drive the most profit for them. This should include a integrated marketing approach of email, google adwords remarketing, direct mail and marketing through the device itself that is going to existing customers that Blackberry knows is using old models. I would target this marketing only to go to these customers. I am sure Blackberry has its users information like email address and mailing address to be able to do this. If they don't it should be easy for them to be able to get it. In this marketing I would strictly focus on communicating why they should up grade to the newest model and give them incentives to do so.
Sell When Customers Leave:
Blackberry should potentially look to sell mobile enterprise services when they lose a business customer. I am sure for large accounts they would be notified of this from the customer and for other smaller accounts they could probably monitor when the devices are no longer being used. They could then use this information to trigger that they should approach those businesses to let them know they thank them for their previous business, are sad to see them leave, and to ask if they are interested in Blackberry's mobile device management service.
Increase The Average Purchase Price Per Transaction
Raise Prices:
I would say Blackberry is doing a good job of raising their prices over time and charging more for their phones. Where I think they could improve is with the next tablet that they launch. They should raise the prices above the price of their first tablet and make the price in line with the highest priced products on the market. With the next tablet Blackberry will have the operating system, features and hardware quality to warrant a higher price. In combination with this is that I would also offer a low priced, minimal features model to compete in the low cost tablet market to win more people to the Blackberry platform.
Sell More Items Per Transaction At Point Of Sale:
Blackberry should look to offer additional products and services that they can sell with their phones. I am thinking this could be something like selling an online storage service or antivirus software. It could also be offering special bundle pricing for people to purchase a tablet with a phone.
My name is Chris R. Keller. I work at Profitworks Small Business Services helping various B2B small businesses in Waterloo and Kitchener Ontario generate new customers via our full marketing service solution. Feel free to connect with me on Google+ or if you are just interested in getting new customers for your small businesses enter your email in the box provided below and click the "Send Me Free Marketing Insights" button.

Other Articles You Might Be Interested In
1. The Best Referral Program Ever - How To Get $50 Free For You And Your Friends
2. Email Marketing Campaign Tips
3. Small Business Marketing - 5 Key Components
4. The Marketing Methods For Small Businesses With The Best Return On Investment