So what is the best day to send an email campaign? This is a great question to ask because by simply picking the optimal day to send your email campaign you may be able to increase the results from the campaign by anywhere from 25% to 100%. That means if you are currently getting $5,000 in sales to new customers every time you send out an email message, finding the best day to send out your email could result in an additional $1,000 to $5,000 in sales.
To determine what is the best day to send an email the best metric to use would be the amount of additional revenue generated from each email. Unfortunately given the nature of email campaigns it is often difficult to determine what email within the campaign caused a sale. If you test sending your emails on different days, there is no way to attribute the additional sales to a specific day of the week that an email was sent. The other challenge is that email marketing can often take a long time to nurture a lead and convert it to a sale. The only way to compare days using this metric of additional sales generated would be to execute two identical programs to seven lists of similar prospects over the course of a year, having the seven lists each assigned to always be sent on one of the seven days of the week. This would allow for a true analysis of what day of the week is best to send emails. Unfortunately the data source I am using for this analysis does not have this information. Setting up a test like this would be very time intensive and require diligent execution over the course of a year. Hopefully next year I will be able to complete a test like this to see the results and see if they confirm what I have found below using a different method.
Given the set of data I do have, the next best method is to take a look at the total number of impressions per emails sent and its correlation to the day of the week. The data set I am using for this analysis is of 186 different email marketing messages that were sent to over 21,000 recipients.
Why Impressions Per Email Sent
The reason why I feel impressions per email sent is a better metric than open rate or click through rate is that not all benefits of an email marketing campaign are captured by opens or clicks. The benefits of email marketing is really how many additional sales the email marketing campaign creates. This impact can result from someone reading the email and calling the company, reading the email and telling someone else about your product or service and that other person buys from you or from your email message being forwarded to someone else who buys from you. Looking at open rates or click through rates do not reflect these additional impacts of email marketing. On the other hand the amount of times an email marketing message is read in total has a direct correlation to sales.
A great example to illustrate this point is an example of two identical campaigns each with an open rate of 10% and click through rate of 1%. The only difference for the two campaigns is with campaign A each person that opens the email reads it twice and with campaign B each person that opens the email reads it only once. Campaign A will be much more effective at generating sales then campaign B because you are getting twice the number of impressions and people are reading your marketing message twice as much with Campaign A don't you think? Now using either open rate or click through rate as the metric to measure success you assume these two campaigns to be equal when they are actually not. By tracking impressions you also capture the impact of any additional reads of your message if your email is forwarded to anyone else.
Impressions Per Email Sent By Day Of Send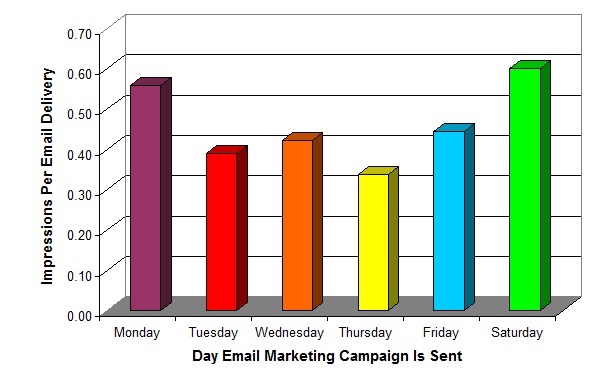 As you can see from the above graph Saturdays are actually the best time to send emails for business to business marketing emails. Even though most people don't check their work emails during the weekends it looks like there are enough people that check them on Saturdays, combined with people that will check weekend emails during the early part of the week to make it the best day. This makes sense as most people will check their emails sometime Monday or Tuesday morning and during this check, they will look at all emails, even those from the weekend. In essence you are getting the combined benefit of people that read emails on the weekend and early in the week. Most people increase the amount of emails they skip reading as the week goes on. This actually matches up with results and testing completed by larger companies like Future Shop and ebay. If you watch you will notice that you get emails from companies that have done extensive testing on email marketing on Saturday mornings at 6:30 am.
Summary
Try sending marketing emails for your company on Saturdays. As always don't just blindly switch to this day. Instead test Saturday and probably Monday as well versus the day you currently send out your marketing emails on. Track the results and see which one gives you the best result. Based on this data though you should expect to see an 8% to 78% improvement in results, depending on what day you currently send your email marketing messages on.
If you are a business that does not use email marketing I would highly recommend you take advantage of this tool. It can be a great marketing tool and is often referred to as the top return on investment marketing initiative for businesses. If you don't know where to start sign up for Aweber orConstant Contact. Both systems are low cost, easy to learn and very effective to use. I think Aweber also has an offer on right now where you can sign up for $1 for a one month trial. Forwebsites built on Joomlathe email marketing programAcymailing is also a great option.
Other Related Articles You Might Be Interested In
2. Best Time Of Day To Send B2B Emails
3. Email Marketing Guidelines & Best Practices
4. Small Business Marketing - 5 Key Components
My name is Chris R. Keller. I work at Profitworks Small Business Services helping various B2B small businesses in Waterloo and Kitchener Ontario generate new customers. Feel free to connect with me on Google+ or if you are just interested in getting new customers for your B2B small businesses enter your email in the box provided below and click the "Send Me Free Updates" button.
Get Customers Blog - Go To Blog Homepage
I hope you have enjoyed this article titled "Best Day To Send Email Campaign". As always I love to feature guest posts on my blog. If you would like to write an article that is on a topic that is related to getting new customers, and have expertise to share, I would love to feature you. If you are interested just contact me and let me know what you would like to write on.