Welcome to our first customer income and marketing ROI report. The idea for this kind of a blog post and its format comes from Pat Flynn of The Smart Passive Income Blog. Thanks Pat for the idea. In this article I review the results Profitworks has been able to accomplish for a specific customer over the course of a year. These are real numbers for a real customer (customer name and details on what they sell have been omitted to protect their privacy).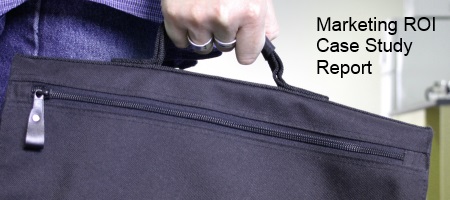 Customer Background
Goal Of Project: Add new customers to the business
Location: This particular customer services south western Ontario
Nature Of Business: This particular customers operates in a very competitive market. They offer services that are provided to businesses on a regular basis providing recurring revenue.
Customer Since: August 2010
Marketing Strategy Implemented By Profitworks
Marketing Message: Focus of marketing message was to communicate their superior service and being a locally owned business
Marketing Mediums: Direct Mail, Telephone Marketing, Networking, Email, Google Adwords and their Website
Marketing Tactics: Promotion of new product Profitworks added to their portfolio, free trial of their service, open contract (vs some competitors that require a fixed length contract), product demo event, guerrilla marketing attention getting mail parcel, collecting and using customer testimonials
P.S. If you need a marketing plan for your business our marketing plan template is a great resource and is super easy to use even if you have never completed a marketing plan before. Click here to get it.
Sales Breakdown Since Working With Profitworks
All Time Sales From New Customers Delivered By Profitworks = $157,499
To Date Contribution Margin Generated By Profitworks = $56,669
All Time Costs (Profitworks Fees & Marketing Expenses) = $40,017
To Date Profit Generated By Profitworks = $16,652
All Time ROI working with Profitworks = +42%
2010 Total Revenue = $816,367 (started working with them August 2010)
2011 Total Revenue = $893,463
2012 Total Revenue = $1,001,000
2013 Total Revenue = $1,238,357
Sales Breakdown For Current Year = $1,238,357
One Time Revenues = $76,655
Repeat Recurring Revenue Customers = $1,039,332
New Customers = $122,481
.......Customer Referrals = $61,212
.......Direct Mail = $37,135 (Profitworks)
.......Inside Sales = $16,266
.......Telephone Marketing = $3,820 (Profitworks)
.......Networking = $2,165 (Profitworks)
.......Supplier Referrals = $1,881
......Email = $0 (Profitworks)
......Google Adwords = $0 (Profitworks)
......Website = $0 (Profitworks) - not available*
*Website efforts significantly impacted inside sales. It is unclear the exact amount it impacted inside sales so it has been conservatively marked as $0.
Total Sales As Direct Result From Working With Profitworks = $43,120
Additional Contribution Margin From Profitworks New Customers = $13,415
Additional Contribution Margin From Profitworks Customers Generated In Previous Years = $9,061
Total Contribution Margin From Profitworks = $23,016
Total Costs (Profitworks Fees & Marketing Expenses) = $17,988
Additional Profit from working with Profitworks for 2013 = $5,028*
*The following sales increase impacts have been omitted from the above number because it is unclear to the exact amount of sales increase generated: the increase to inside sales (from the website activities and corresponding increases in website traffic), the increase to customer referrals (from email marketing) as well as sales increase with existing customers (from sales of new product Profitworks introduced to the portfolio)
Going forward as the additional contribution grows from customers added in previous years grows the total profit generated. In future years total profit from Profitworks will increase as will the ROI. Check back to this blog next year to see the results again for 2014 and how it impacts the total return.
Annual Results Analysis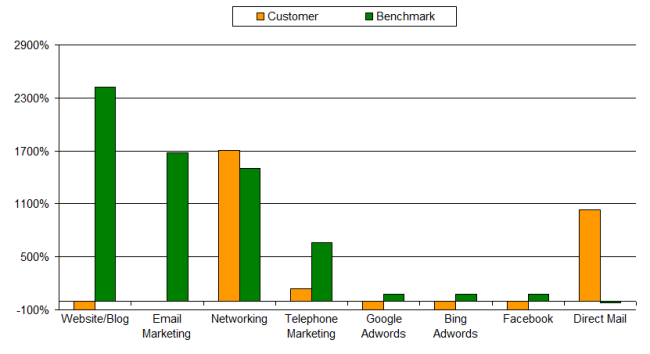 Note: Benchmarks are the averages for Profitworks' Customerrs
Need Your Own Marketing Plan For Your Business? - Click Here
Website
For this particular customer we need to work on increasing the results from their website. The tracking also needs to improve as there are definitely sales being generated from the website that are not being tracked but we also know that the results we are getting are not what they should be. We have done a good job increasing traffic as traffic to their website has increased +1,072%. In order to make improvements in sales from the website we need to add more pictures and call to action buttons to high traffic pages, directing more traffic to the pages that are working to convert, conducting A/B page test for the highest traffic page to increase conversion of that page and adding more video tip pages. (click here to learn about our website traffic and sales services)
Direct Mail
The results we are getting from direct mail are excellent. Going forward we will work to increase the amount of direct mail we do and continue to test new versions of the direct mail to see if we can further increase results.
Telephone Marketing
We are getting some decent results here but there is room for further improvement. To further improve the results we are going to be slightly changing the target list and increasing the frequency to that list. Over the year we will work to build relationships with the prospects and provide information that will be helpful to them. In addition we are going to start tracking what are the most common problems prospects have with our competitors to use this information in our marketing strategy.
Networking
We generated decent results while putting little to no effort into this area. For the coming year we will put together a networking plan to better take advantage of this marketing and sales opportunity.
Email
The results from this marketing method are disappointing. Our plan to turn this around in the year ahead is to increase the number of links in the emails to website pages we know have a good conversion rate and sending content in the emails that are closer related to a purchase decision or content that would warrant a meeting.
Guerrilla Marketing Mail Parcel
This tactic was sending an odd shaped box by courier delivery to prospects at their office to get their attention and have them contact us. This tactic got no response and took a lot of time to execute. I am not sure this tactic will be used again as it took up far too much time to execute to get no results. If we were to revisit this approach we would need to create a better trigger within the box to get them interested in meeting with us.
Google Adwords
In order to start generating higher returns from Google Adwords we need to get the website pages converting at a higher rate and point the Google ads to these pages. We also know that this company is very successful at winning rural business so we have added more rural keywords to their campaigns. The amount we will spend on this initiative will be very small until we get it to start to show a consistent positive ROI. If you are reviewing Google Adwords for your business I would suggest reading this article "Are Ads On Google An Effective And Profitable Marketing Method?".
Top 3 Learnings In The Year
1. Increasing Website Traffic Is Not Enough
What we learned this year on this client is that even if you dramatically increase traffic (even +1,072%) that alone is not enough to drive sales from a website. To get sales from a traffic increase you have to have a strong plan for how you will entice those website visitors to contact you to start a conversation that you can then use to sell products or services to them. (click here to learn about our website traffic and sales services)
2. Adding New Products That The Market Desires Is A Great Way To Grow Sales
In 2011 Profitworks assisted this customer in adding a new product to their portfolio. Since 2011 that product has grown to about 25% of total sales and is accounting for about 40% of new sales. When people think about growing sales they often think about advertising, but in many cases the easiest way to increase sales might be to slightly improve what you are offering or add an additional product or service that you can sell to your existing customer base.
3. A Compelling Picture And Enticing Offer Are Critical To Making Direct Mail Effective
When we first started doing direct mail for this client we found that we were getting a negative return on investment because we were sending them out and not getting any responses. What we determined was that we were missing a compelling picture and an enticing offer. For the picture we originally used just the product but when we changed it to a picture of a smiling person using the product we got a much higher response rate. That picture was much more attention getting. We also realized that our offer was weak. I would not respond to the offer if we were in the customers shoes. So we put together an offer on the mailer that it would be hard for prospects not to be interested in. Think of the golden rule (do unto others as you would have them do unto you - Luke 6:31). This rule is critically important to direct mail. If you would not want to get your direct mail piece in the mail form another company, don't send it. Instead we learned that when you are doing direct mail make the offer what I like to call a "no brainer" where it is impossible for the recipient of the direct mail piece to not see how the offer will benefit them and is something so compelling that they will without a doubt want to take advantage of it. Make it so that they are happy that you sent them the direct mail piece and don't just see it as junk mail. In addition the offer needs to appeal to every recipient. If your offer is specialized and the offer is only applicable to <50% of the direct mail recipients you will have terrible results. As an extra bonus we also learned that sending direct mail to the same prospects repeatedly has a better return than sending to new prospects each time you send them. This is because it creates repetition and someone may not contact you after seeing the mail piece only once but many contact you after the 3rd or 4th time.
My name is Chris R. Keller. I work at Profitworks Small Business Services helping various B2B small businesses in Waterloo and Kitchener Ontario generate new customers via our full marketing & sales service, our website traffic and sales service and our marketing plan services. Feel free to connect with me on Google+ or learning more about Profitworks by visiting our Google+ Page. If you are interested in getting new customers for your small businesses enter your email in the box provided below and click the "Send Me Free Marketing Insights" button.
Other Articles You Might Be Interested In
1. The Marketing Methods For Small Businesses With The Best Return On Investment
3. Small Business Marketing - 5 Key Components
4. How To Write A Marketing Plan For A Small Business In 7 Easy Steps