Want to learn how to do direct mail that works? So do I, that is why I am tracking all of the direct mail campaigns and reporting on what works and what does not work. Writing down what I am learning helps my learning process. Hopefully from this exercise other small business owners or marketers can benefit from this information as well.
Below are three completely different direct mail campaigns that were all done for the same client of mine. Which of the below three direct mailers do you think achieved the highest number of contacts....what about the greatest lift in sales?
Direct Mailer #1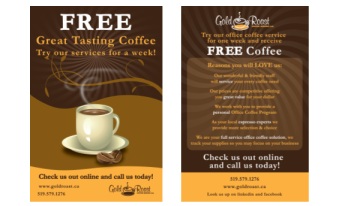 Results
Leads = 7
Customers = 1
ROI = 69%
Direct Mailer #2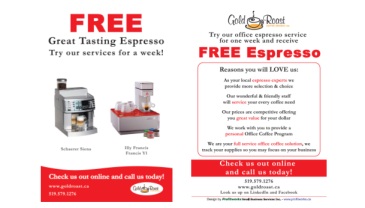 Results
Leads = 0
Customers = 0
ROI = 0%
Direct Mailer #3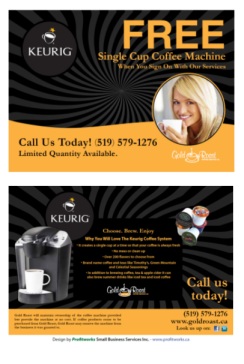 Results
Leads = 14

Customers = 6

ROI = 177%
Note: ROI is calculated on only 2 years worth of the recurring revenues, which could in fact occur for many more than 2 years
It is clear that direct mailer #3 was by far the most successful. I still don't know for sure why the different designs performed differently but I do have a few assumptions. It is important to note that all 3 direct mailers were delivered to the same target.
So what can be learned?
I think the first place to look is at the direct mailer that performed the worst. From this design I see two flaws. One I think the offer (Free Espresso) was not interesting or even understood by a large portion of the target. Only 50% of the Canadian population drinks espresso so already half of the people receiving the information will not be interested. The second flaw I see is that this mailer does not have a single point of focus that is attractive to the eye and someones emotions. In both of the other direct mailers there is a single focal image. In the first direct mailer it is a picture of a warm cup of coffee which evokes emotions of relaxation. In the third direct mailer it includes an image of a smiling lady, which creates emotions of happiness and comfort. In the espresso mailer the focal images are split between two images of different machines, diluting their impact. The machine images are also not as visually appealing as the other images and they do not evoke any emotion or feelings within the viewer.
Looking at the most successful version I think I also learned a few things as well. It appears a larger call to action is important to getting a higher contact rate. As you can see, design #3 had by far the largest call to action. I think the fact that the brand logos were prominent but not over powering also helped with the success of the third direct mailer. Although from these results I can not conclude this for certain, my thought is that they have validity to the piece. In addition I think there is value in including the logo for increasing brand recognition and awareness. From this campaign we did have some people contact us through our website instead of calling us, as per the call to action. This makes it clear that including a website is beneficial, but that the website text does not need to be large. It appears if people are interested they will read the small print to get your website address. It appears that a "call this number" call to action may have more impact than direct people online. The first direct mailer gave people the call to action to "check us out online and call us today" and it received a lower contact rate. Then again, this lower contact rate may have been due to the other design factors.
Summary Of Keys For Direct Mailer Success
1. Ensure your offer appeals to almost everyone to whom you will be distributing it, not only a portion of your audience
2. A single focal image that is attractive to the eye and creates emotions within the viewer
3. A large and clear call to action
4. Branding must be visible but not overpowering
5. Your website must be present but it can be very small
To be successful competing against large companies, small businesses need to learn marketing if they want to stand a chance. Marketing is a powerful tool that large companies invest millions of dollars in, even within your market. Marketing is not easy, is hard work and takes time to develop. There will be many failures along the way (as demonstrated by direct mailer #2). The key to being successful is the track everything you do, learn from your mistakes and improve going forward. If you are always improving you can eventually out perform large companies at their own game. Small companies have the ability to be more efficient, flexible and innovative give the large structure of large corporations which are slow, inflexible and often lag at adopting new marketing tools or technologies. You just need the plan and the knowledge. If you don't have a marketing plan, download our free marketing plan template to get started today.
Other Related Article You Might Be Interested In
My name is Chris R. Keller. I work at Profitworks Small Business Services helping various B2B small businesses in Waterloo and Kitchener Ontario generate new customers. Feel free to connect with me on Google+ or if you are just interested in getting new customers for your B2B small businesses enter your email in the box provided below and click the "Send Me Free Updates" button.
Get Customers Blog - Go To Blog Homepage
I hope you have enjoyed this article on how to do direct mail that works. If after reading this article and you have conducted your own direct mail campaigns, let me know your results. Just send me an email with a picture of your direct mailer and details on your results and I will feature it on this blog. Be sure to check back to see the results of other direct mail campaigns to see what you can learn!