Search engine optimization has proven itself to be a highly effective marketing tool, and because of its success a lot of businesses have hired individuals or companies to provide SEO services. One of the problems many business people run into when hiring these consultants is that they're unsure of how to audit them. Like other marketing services, it's incredibly important to audit your SEO company to ensure they're providing you with the maximum return on investment, and that their efforts are being focused in the correct areas. As important as it is for the SEO company to understand your priorities as a business, you should want to learn theirs as well. Here are a few tips which can help you learn to successfully audit the SEO company that works for you. If you would like us to perform a free audit of your current SEO company email us with "SEO Audit" as the subject line. Email us at This email address is being protected from spambots. You need JavaScript enabled to view it..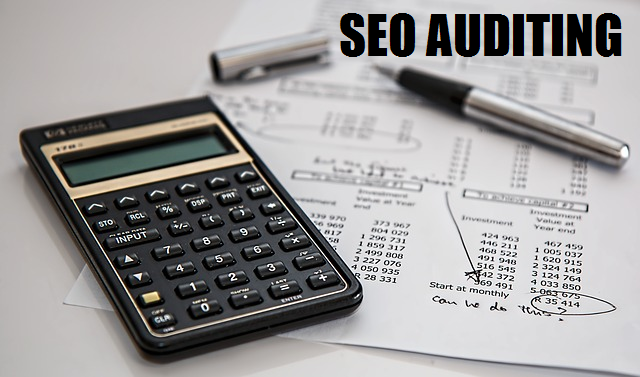 Executive Summary
 - Determine whether you have similar goals
 - Ensure that their work is accurate to your recommendations and needs
 - Ensure your SEO company provides regular reporting and reporting you can understand
 - Check how they keep themselves up to date with Google algorithm change
 - Analyze your sales numbers to see if your SEO company is showing positive results
Sales & Marketing ROI Podcast: Episode #17
How Google Algorithm Updates Impact Your Website Rankings And Traffic. Click the link below to listen to the podcast. 

Subscribe our podcast now - click here
View a full listing of all our podcasts - click here
1. Determine Whether You Have Similar Goals
One of the most important parts of having a successful relationship with an SEO consultant is to determine whether or not you have similar goals for your company. Particularly you may want to determine how each of you defines success. If your SEO consultant defines success in a different manner than they may not be the right fit for you.
2. Ensure That Their Work Is Accurate To Your Recommendations And Needs
You know your target market better than anyone else and this includes your SEO company. This makes it incredibly important that you effectively communicate with them on what you believe are the best people to target, and also what elements of your company you would like to focus on most often in the messaging on your website.
Your SEO company should be able to make suggestions as to what keywords and audiences they believe would be best to target as well. This includes discussing which ways both parties believe all that newfound website traffic is converted to sales. When auditing, ensure your consultant is following these plans accurately by comparing what was discussed in your previous meetings to what work they have done.
3. Ensure Your SEO Company Provides Regular Reporting And Reporting You Can Understand
Any good SEO company should be able to walk you through their findings and reports with ease. Without being able to understand their reports, you'll never have a full understanding of what services are working best for you. To ensure that these reports go smoothly your SEO company should be willing to help you understand certain metrics that will be used, as well as take advice on what types of software you would prefer to use and how you want information reported.
4. Check How They Keep Themselves Up To Date With Google Algorithm Changes
One of the best ways to determine whether your SEO company is committed to being the best is to look into whether or not they spend time keeping up to date with new SEO techniques and changes in the industry. Do they keep track of search engines often changing algorithms? Do they spend time researching, experimenting and innovating to improve their methods? How often per year do they make improvements to their service that you are notified about?
5. Analyze Your Sales Numbers To See If Your SEO Company Is Showing Positive Results
Below is a scorecard for the average B2B (business-to-business) small business.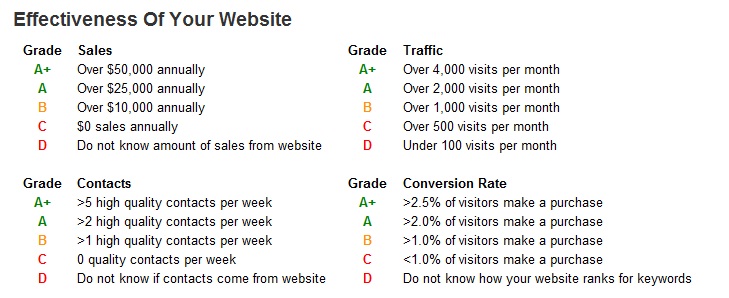 To get a template to conduct a complete review of your Website and Search Engine Optimization click here. 
This is the part that most businesses are concerned with. At the end of the day, you want to know what your return on investment is, as well as which areas are you seeing the highest returns. Ensure your SEO company is able to provide you with information such as which keywords are most effective in generating sales and what amount of your website traffic is coming from referral, paid, social and direct traffic sources. These types of follow-throughs should be performed on a regularly scheduled basis (once every week, or month) to be ensured you understand what work is being done. If your SEO company isn't doing this for you already it may be time to move on.
Sources: http://searchenginewatch.com/sew/how-to/2344094/how-to-audit-your-seo-ppc-agency-or-consultant
Get A Free Review Of Your Website From One Of Our Website Conversion Experts
Complete With Our Top 5 Recommended Changes Specific To Your Website To Improve Sales
What is the Return on Investment from SEO?
Profitworks heavily focuses on tracking returns on investment and delivering a positive return on investment for all of its clients. From our experience most good marketing programs usually return a return on investment of between 100% to 200%. SEO usually returns above average returns on investment versus other marketing methods. It has been our experience that usually good SEO services generate a return on investment of 200% to 300%. Or another way of stating it would be that it usually generates $2.00 to $3.00 for every dollar spent on SEO services
What Is SEO (Search Engine Optimization)
If you don't know what SEO is I will describe it here. If you already know what it is reading this paragraph will not be a good use of your time and I would suggest you skip forward to the next paragraph. SEO stands for Search Engine Optimization. SEO is the process of maximizing the number of visitors to a particular website by ensuring that the site appears high on the list of results returned by a search engine. To learn more about what SEO is, click here or to watch a video that explains it click here. 
"Profitworks has delivered on every commitment made. Instead of paying per click, they have rebuilt our content to organically rise to the top of the search page." - Tim (Business Owner & Proiftworks Customer)
Read More About What Our Customers Say
Profitworks Small Business Services provides website traffic and website conversion optimization services which increase the number of sales generated from a website. The focus of our services is on increasing sales and providing a positive return on investment. To learn more about Profitworks click here. Feel free to connect with us on Google+ or if you are just interested in getting new customers for your businesses feel free to click the "Get It Now" Button above.
Other Articles You Might Be Interested In
1. Marketing Company Performance Appraisal 101- How To Audit Your Marketing Company
2. Is Search Engine Optimization Worth The Money?
3. Building The Best SEO Company
4. SEO vs PPC - Why SEO Gets The Better Return On Investment