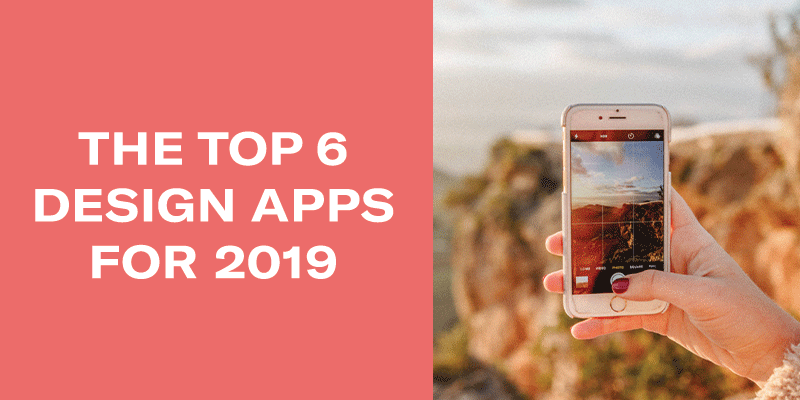 When it comes to creating beautiful designs on the go, there's nothing more convenient than pulling out your iPhone on a busy subway, city bus, or sidewalk and getting to work. With thousands of apps to sort through, though, it's not always clear which apps for graphic designers are actually worth downloading.
We've done the research so that you don't have to. Based on reviews and recommendations from talented designers, we've compiled 6 of the best free iPhone apps that you can start using in and outside of the studio to get the job done—fast.
Do you run a graphic design business you're looking to grow? At Profitworks, we're a team of marketing experts committed to helping our clients become leaders in their market. Contact us today to learn more about how we can help.

The Top 6 iPhone Apps for Graphic Designers in 2019
1. Over
Over is a designer's dream. With options to create graphics using templates or from scratch, the app provides access to royalty-free photos, colours, fonts, vectors, and more. The app also provides an option to schedule posts to Facebook, Instagram, Snapchat, and more to simplify the process of growing your business or personal brand.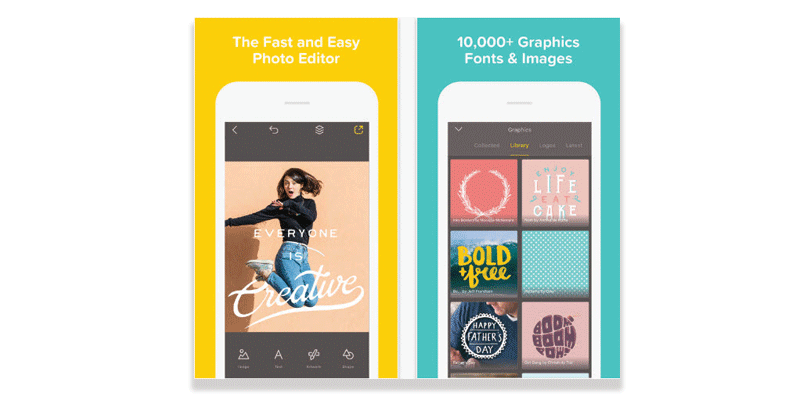 The team at Over is made up of designers, branding experts, and social media mavens that provide tips, templates, and trends to equip users of their app to stand out on social media. The tool is extremely easy to use and most features are completely free!
2. InShot 
InShot is a photo and video editor that packs a serious punch. Featured by Google Play, the free app allows you to trim and add music to video, fit to any aspect ratio, add filters and moving text, change speeds, and more. The editor also supports and exports in HD video, meaning you can upload to your YouTube Channel, Instagram story, and website without losing that crystal clear quality.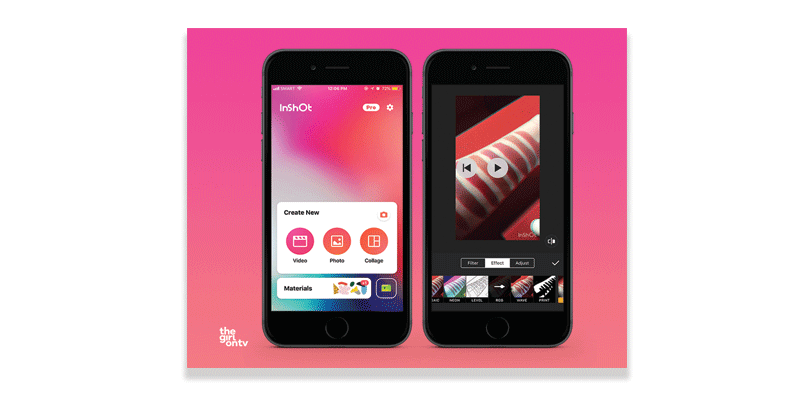 The tools for photos are just powerful. Users can add filters, graphics, text, borders, backgrounds, and blurs, making for one powerful photo editing tool. With a vertical editor designed for Instagram stories, InShot is an incredible way to make your profile pop.
3. Adobe Spark Post 
What's better than having Adobe apps downloaded to your laptop? Adobe apps downloaded to your iPhone--for free. Adobe Spark Post is designed to help users create branded graphics and images for social media with zero training required. The tool has templates and layouts to make designing easy, with countless fonts, colours, and filters to make graphics pop.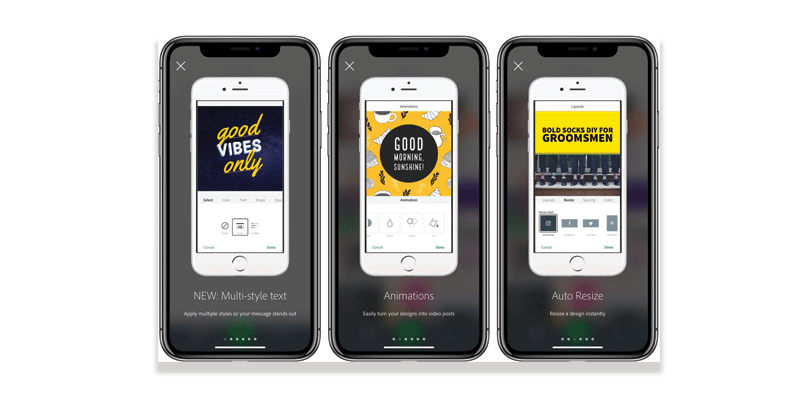 4. Assembly
Let's face it, creating vectors can be time-consuming, frustrating, and difficult. Assembly is a game-changing iPhone app for any designer that is looking to create vectors and logos in half the time, with way less software. In addition to pre-designed elements, users can also manipulate and create their own vectors with tools to cut, combine, and intersect shapes.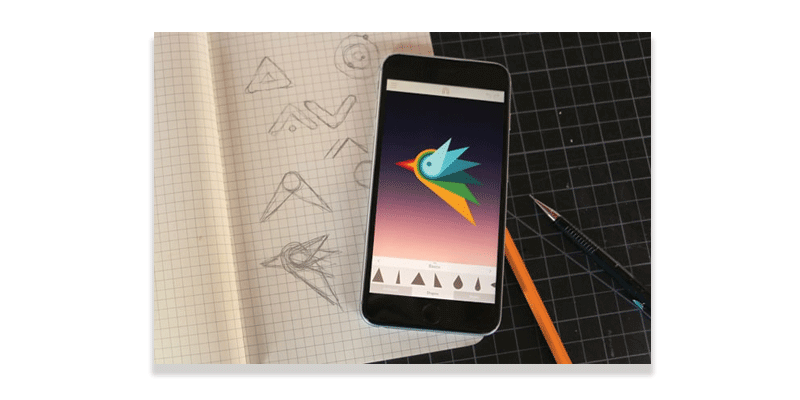 One of the best parts about Assembly is that the vectors created can be used in other platforms, too. After designing, simply export your vector as a PNG, SVG, JPG, or PDF file and import it into another platform to finish designing.
5. Paper
Sick of having a design idea in your head on the go with no way to get them on paper before they're gone? With Paper, an app created by FiftyThree Designs, you'll always have a sketchbook on hand if you have your iPhone or iPad.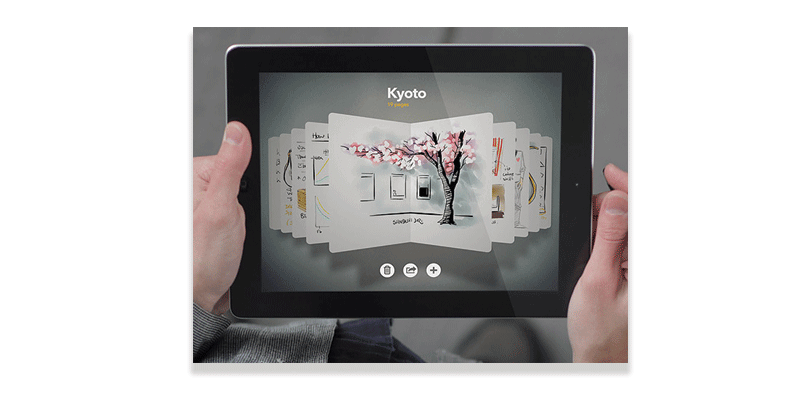 Paper is a sketching and drawing app that features several drawing tools including brushes, pencils, markers, highlighters, and more. The simple interface provides full-screen options to emulate the sketching experience and make usage feel as similar to a traditional notebook as possible. Although the app is free, users can upgrade to a paid version for $12 a year that allows customization of brush sizes, unique sketching templates, and more.
6. Snapseed
Last but not least is Snapseed. Now owned by Google, Snapseed is a professional editing platform with the ability to fine-tune images using several tools and filters. Boasting 29 features (and counting), this app allows for precise photo editing and includes general tips and tricks from photographers to improve.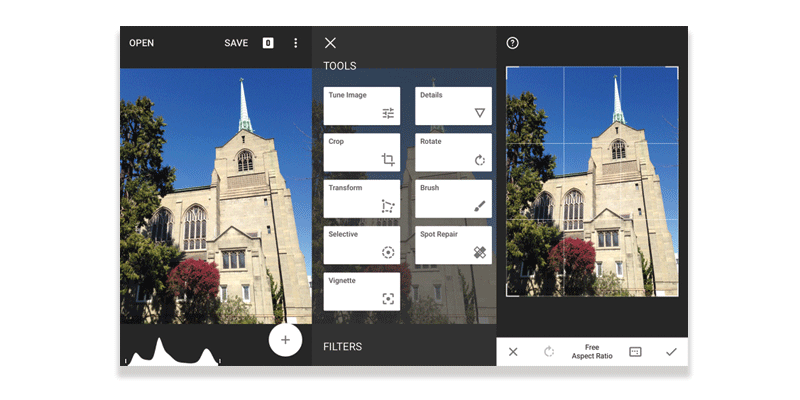 One of the best features of Snapseed, though, is the ability to save filters that you have created for images in the past. You're one step closer to the Instagram page of your dreams with your own custom presets on Snapseed.
Design Away


Now that you're equipped with some of the best iPhone apps the design world has to offer, we hope you're feel equipped to tackle the new year. With these 6 apps, you can design more efficiently and affordably than ever before, meeting your personal goals and deadlines in no time. 2019 is going to be your year—we know it!
Wondering how Profitworks can help you grow your small business? Contact our team today to find out how we can help you achieve the marketing results you're looking for.