Today we are going to take a look at accounting firm marketing and outline 4 ways that your firm can stand out online.
Having an effective online presence is important in today's market. The team at Profitworks has over 17 years of experience helping businesses from dozens of industries grow their revenue faster and we'd love to help yours too.
We'll give you a detailed breakdown of the key things that you can do to ensure that your accounting firm has an effective and ever-growing online presence.
 Accounting Firm Marketing: How to Stand Out
1. Show Your Current and Online Customers that You Care
Loyalty:
According to Emarsys.com, it is five times easier to keep an existing customer than it is to acquire a new one, so focusing on your current customers is an important accounting firm marketing tactic. You want your current customers to keep using your services and even add to those services. In fact, your loyal customers will spend 67% more on products and services than your new customers.
Word of Mouth:
If you have a loyal customer base that is happy with the services you provide for them, then they are more likely to tell others about your firm. Word of mouth is one of the most powerful marketing tools available to you. The reason it is so successful is that it is marketing that comes from a trustworthy source that is familiar to you, i.e. your friends and family. You are more likely to hire an accounting firm that was recommended to you by someone you know well.
The following TEDx Talks video from the London Business School gives a great explanation of how word of mouth really works.
 
2. Develop a Comprehensive Portfolio

Another great accounting firm marketing tip is to make sure that you highlight your portfolio and/or case studies on your website. This is a technique that the top accounting firms use.
For example, KPMG has over 300 case studies that you can look at on their website. These case studies, called "Insights", help show their "understanding of complex business challenges faced by companies around the world". They also demonstrate to potential customers that they will be able to understand and help them with their services. Case studies are a great way for you to highlight your successes in the past and to build trust with potential clients.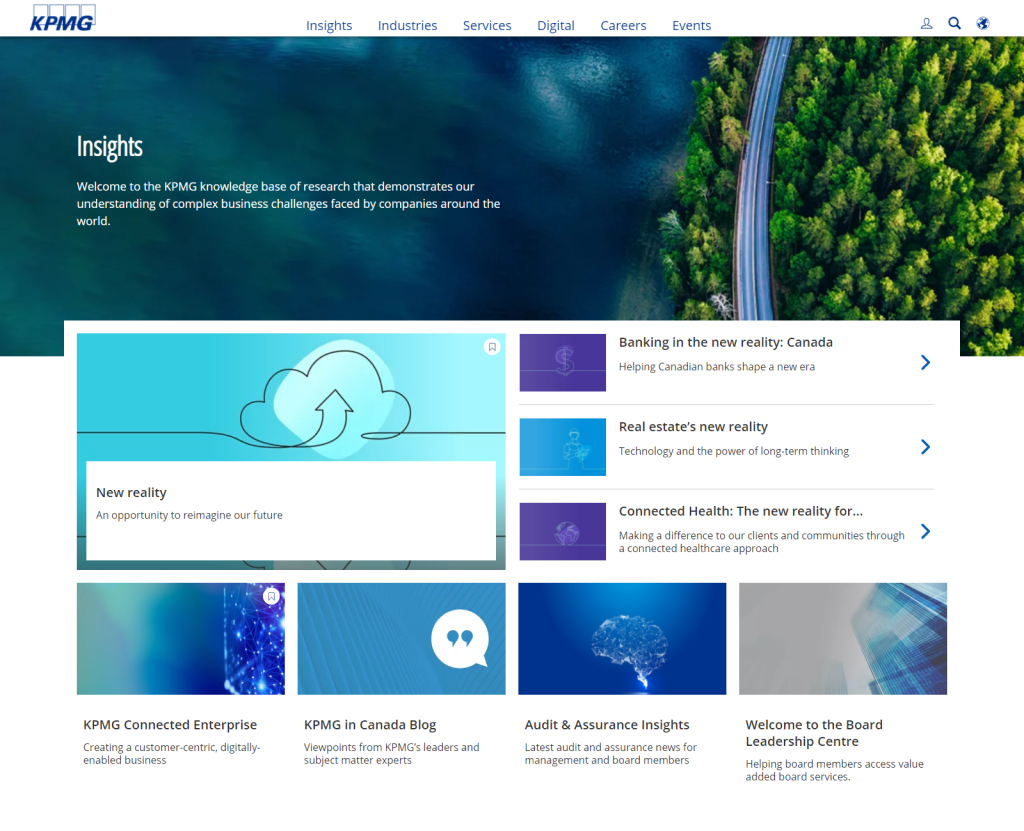 3. Build Your Brand with a Blog, Podcast or YouTube Channel
To build your accounting firm marketing brand online, you should use as many online resources as you can, including blogs, podcasts, and YouTube channels. This will help you reach a wider audience of potential clients. Make sure that you are consistent with your branding over each of these avenues.
Blogs:
If you want to attract new clients, you need to get found on the internet. Most new clients are searching for accounting services online. Creating lots of high-quality content to post on your website is one of the most effective ways to help you rise to the top of search engine results.

Podcasts:
Podcasts are very popular for busy business owners who want to listen to the latest trends while they are on the go. Producing short, informative podcasts on topics that would resonate with your target audience is another great way to build your brand and your reputation in the accounting industry.
Youtube Channels:
Videos are a great way to build your brand as they can be much more engaging and attract attention more effectively than text. Deloitte Canada uses this technique to their advantage with a very thorough Youtube channel that features hundreds of videos in both French and English, covering important accounting-related topics. This type of accounting firm marketing is one way in which Deloitte Canada positions themselves as an authority in their field.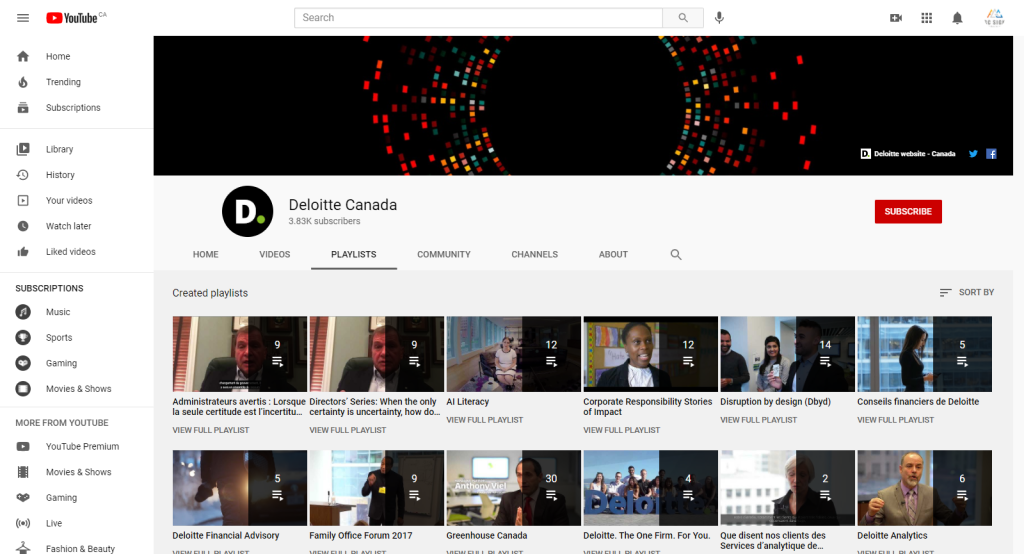 4. Create a Professional Online Image
One of the most important accounting firm marketing tools that you need in order to stand out online is an incredibly professional-looking and easy-to-navigate website. Here are some examples of some great marketing websites and what makes them so appealing.

Design Highlights
Great choice of colours: The soft blues give you the sense that you can trust this firm
Clean layout: It's not cluttered which makes it easy to navigate.
Clear call to action buttons: You know right away how you can contact this firm.
Online chat to answer your questions immediately: This is a very convenient feature that caters to the busy business person who doesn't have time to wait around.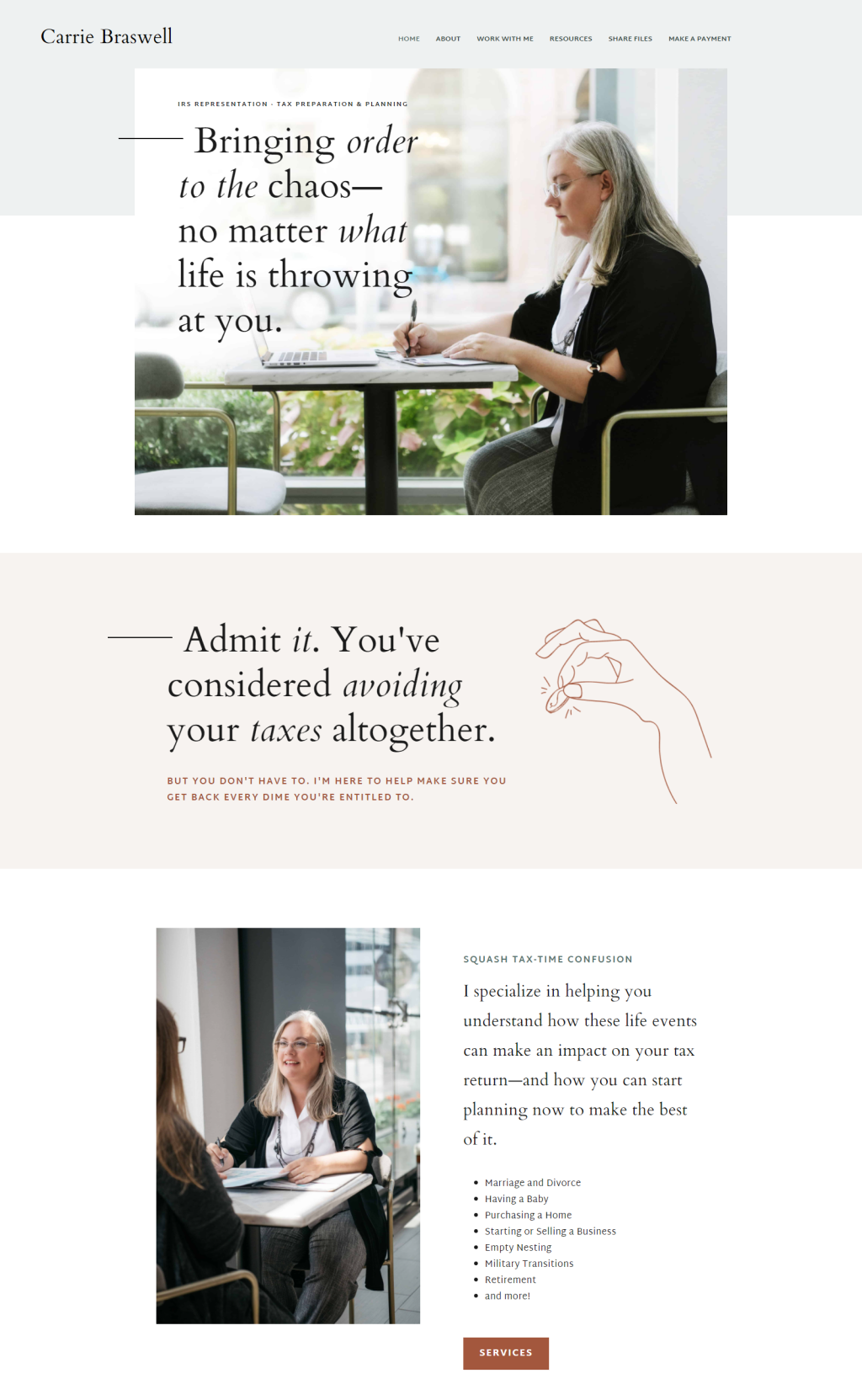 Design Highlights
Benefit-Centred: This accountant takes a very unique approach that focuses on the benefits to her clients.
Very personal: It's like you are actually meeting the person who will be doing your taxes.
Simple: The design is very simple, yet it has a very professional appearance.


Design Highlights
Edgey Yet Professional: This website does a great job at breaking down the "stuffy" stereotype often associated with accounting firms, while still coming across as very professional.
Clever Use of Animation: As you scroll down the homepage, there are subtle animated elements that attract your attention.
Modern Colours: The colour pallet is also less traditional and will resonate with a younger audience.

You Can Trust Profitworks with Your Accounting Firm Marketing

If your accounting firm is looking to stand out online, we can help you with any or all of these 4 strategies. Profitworks Small Business Services provides digital marketing solutions including website design and website traffic and website conversion optimization services which increase the number of sales generated from a website.
The focus of our services is on increasing sales and providing a positive return on investment. To learn more about Profitworks click here and set up a time to discuss how we can help you grow your accounting firm online.

"We saw not only an increase in website traffic, but more importantly in the quality of leads. It means we are spending more time on the things that truly make a difference to our business."
- Dave Mattingly