Are you seeing a massive decline in your sales conversions? If you answered "yes," then you need to revisit your eCommerce marketing strategies.
After all, if you want your products to sell like crazy, you'll need to use ways that will make them as relevant, valuable, and unique (to an extent) to your target market as possible. However, finding the best-fitting marketing strategies that will help you ultimately increase your profits isn't always a cakewalk. Profitworks can help!
eCommerce Marketing Strategies To Stay Ahead of Your Competitors and Drive Your Sales Through the Roof
Whether you are starting your email marketing campaigns or integrating AI into your marketing efforts, it's crucial to use the right approach to help you meet your business goals.  
The good news is, we've narrowed down the search to help you find the right eCommerce strategies to stay ahead of your competitors and boost your sales. 
Here we go!
1. Use an omnichannel approach
Beating your competition isn't just about making your products better than what your competitors have to offer. It's also about providing integrated and seamless shopping experiences for your customers. 
In other words, be where your customers are, instead of making them go through hoops to get your products.
This is why channel integration is essential for your eCommerce website. With an omnichannel strategy, customers (and potential customers) are more likely to purchase if they don't have to leave the platform they are currently interacting with to view product details.
One of the best ways to offer a unified customer journey is by making all your touchpoints shoppable.

For instance, you can create shoppable posts on your Instagram account. Here's an example of what it looks like when your customers click on your shoppable posts using their mobile devices.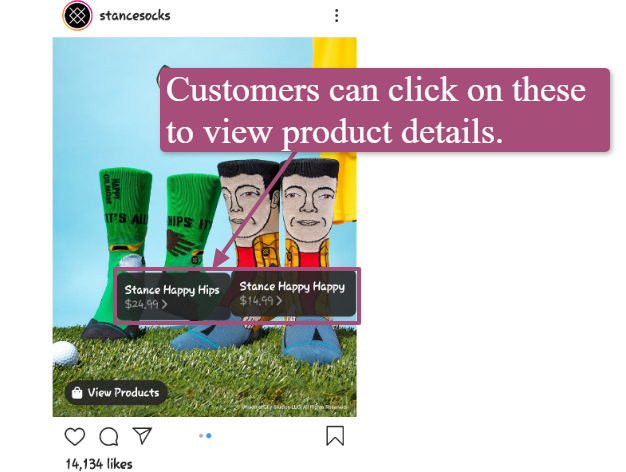 With shoppable posts, your customers can view your products and their details without leaving Instagram, making the customer buying experience more seamless.

Through omnichannel eCommerce marketing strategies, you can provide a unified shopping experience for your customers -- allowing them to get to your products more conveniently in whatever channel they choose.
2. Offer interactive product visualization
Studies show that around 87% percent of modern consumers prefer to experience and see a product before purchasing and will go to physical stores to achieve this. After all, people want to know that the product meets their needs -- including the size, colour, design, and more before clicking on that "Buy Now" button. 
To help overcome this, you'll need to take the brick-and-mortar store customer experience to your online store by providing interactive product visualizations on your eCommerce website. 
For instance, you can create 360-degree product images for your online store using software or plugins that you can integrate into your eCommerce platform. With plugins like 360 Product Rotation for WordPress, you can create 360° views of your products and display them on your eCommerce website. Using the plugin's 360° product view creator, you can upload your photos and configure the design and rotation of your images.
This allows your customers to have unique interactions with your products and a sense of the physical store experience.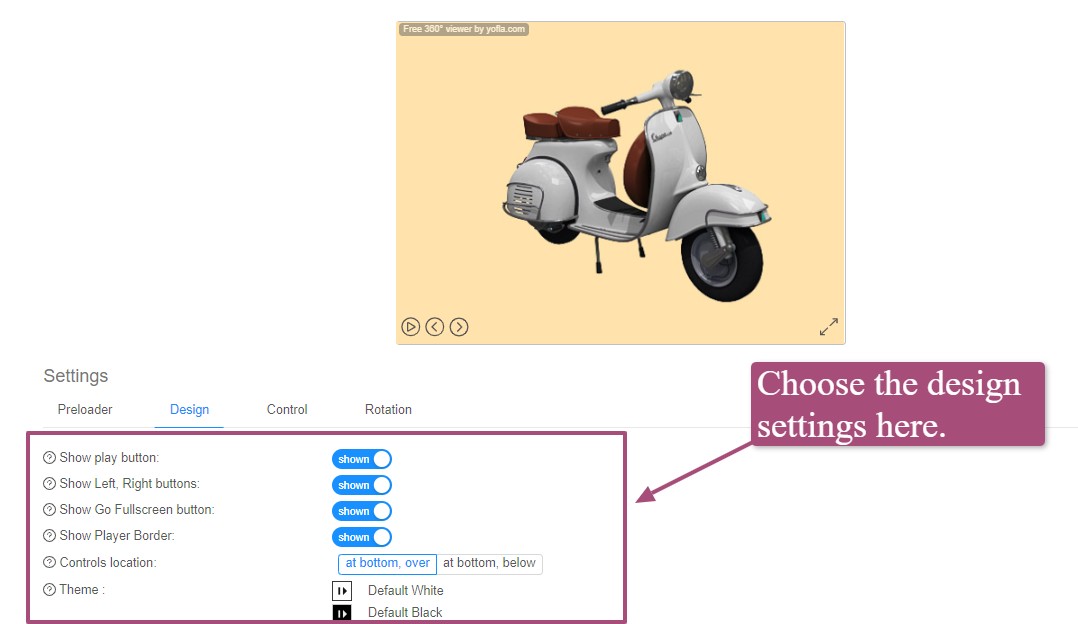 Interactive visualizations like this let your customers view and rotate your product images. 
3. Create consistent and unique content
Unique content is crucial for your brand to stand out from your competitors. But to help your target audience remember you, you'll need to be consistent as well. That is why providing value to your customers -- and not just promoting your products -- is important.  
To do this, you'll need to understand your customers better.
What are the pain points of your target audience? How can your products help solve their problems? Answering these questions in your content will help you offer something that your potential customers can resonate with.  
Before creating your content, you can find out what your target audience is searching for online, optimize for those keywords in your content, and use SEO strategies. 
By implementing SEO basics for small business owners, you can help improve your website's ranking on search engine results pages -- making it easier for your would-be customers to find your content.  
Once you know what keywords to optimize for, you can start publishing relevant content like "How to" articles and buzzworthy posts that your target audience can relate with, thereby increasing your sales opportunities. 
4. Streamline your social media campaigns
There are currently 3.8 billion social media users worldwide -- making social networks a goldmine of engagement opportunities for your eCommerce business. However, you'll need to develop the right approach to engage your followers successfully and turn your social media audience into paying customers.
After all, if you can't, let's say, post regularly on Instagram or Facebook, your brand could get drowned out in the sea of other businesses in your industry. To keep this from happening, you can use Buffer to stay on top of your social media management activities.
For starters, you can use the platform to schedule your posts.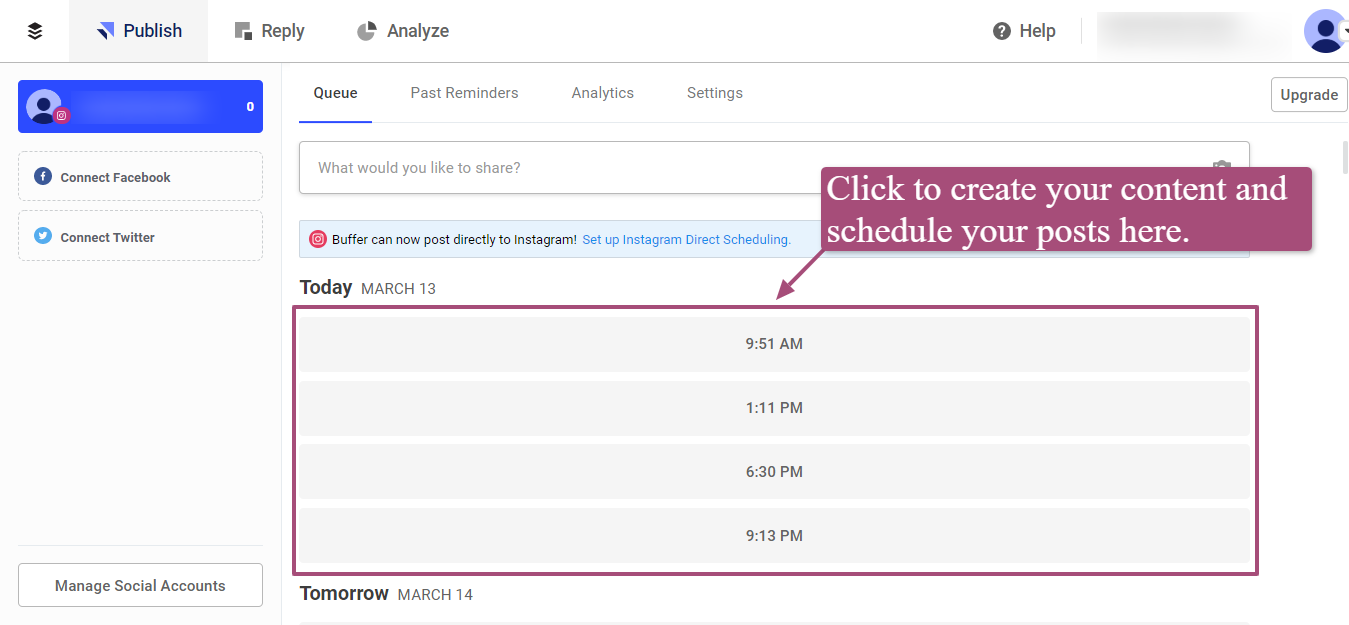 The tool also offers an analytics feature that can help you measure the performance of your social media content.
With social media management tools like this, scheduling your posts, collaborating with your social media marketing team, and creating engaging content becomes more streamlined. This way, your brand can remain relevant, you don't miss out on engagement opportunities, and you can connect with your audience, and turn your followers into customers.
5. Build designated landing pages
It's not enough that you draw in traffic to your eCommerce website, but you'll also need to make the journey worthwhile by getting your site visitors to your products quickly.

If your specific product ads lead to your homepage instead of a landing page, your customers will get frustrated, abandon your site in seconds, and might even go to your competitors. Building specific landing pages can provide a solution by directing your website visitors right to where they can make contact with you or purchase your products.
Here are a few tips on creating high-converting landing pages that can stand out from your competitors and improve your sales.
Provide user-friendly designs

. The only clickable elements on your landing pages should direct your visitors to your CTAs. 

Try removing or hiding unnecessary elements in that part of the customer journey (like your social media icons, navigation bar, or other distracting web page components). 
All your buttons should lead to your call to action goals

. Your landing page should have a single purpose -- your call to action button.

If you must have multiple buttons, ensure that they all lead to the same goals. Otherwise, they can distract your visitors from acting on your calls to action. 
Additionally, conducting an SEO audit process is an excellent way to help ensure that your landing pages are also optimizing for the right keywords and driving traffic to your website. 
Use the right strategies, beat out your competitors.
There might not be a perfect set of eCommerce marketing strategies, but by using the ones that best fit your business, you'll have better chances of running a successful online store. 
Plus, these tips can be your starting point to establishing an eCommerce business that sells effectively and gains a competitive edge.

Although it can take a bit of an effort to find the right approach for your eCommerce business, it's worth finding out the eCommerce marketing strategies that will drive your sales.
Need help with eCommerce Marketing Strategies? Trust Profitworks!
Profitworks Small Business Services provides website traffic and website conversion optimization services to increase the number of sales generated from a website. The focus of our services is on increasing sales and providing a positive return on investment.
What Profitworks customers are saying:
"I've worked with multiple members of their team on a number of websites and it could not have gone smoother. I look forward to working with you guys (and gals) in the future!" (Charles Chavez)
We have developed strategies to increase your sales in an ongoing and continually increasing manner; that's what we call Closed-Loop SEO. This unique approach to SEO means that we're not satisfied until you've seen the impact our efforts have on your revenue. Access our Closed-Loop SEO For Beginners brochure by clicking on the button below.

What Profitworks customers are saying:
"The importance of Website Optimization in today's competitive market is critical for the growth and development of any company.  We engaged the experts at Profitworks to develop an engine-friendly website, and are seeing the results of an increase in sales from customers who "found us on the web"." - Cathy (Business Owner & Customer)
To learn more about Profitworks, click here. And if you are interested in getting new customers for your business, contact us today!