In this article, we are going to discuss how to approach online pool service marketing.
It begins with the best possible website, extends to social media, and can include email campaigns and paid advertising initiatives. Here at Profitworks, we specialize in getting our clients' websites to the top of the Google rankings in order to increase leads and sales. Let us put our expertise to good use by building up your pool service business - contact us today to get started.
Let's dive in and take a look at the essentials of pool service marketing!
Pool Service Marketing: A Beginner's Guide to Digital Marketing For Pool Companies
As the owner of pool service companies looking to grow your online presence and increase sales, begin by implementing the following marketing initiatives.
1. Create A Website
The starting point for online marking efforts is a business website. It's not only a valuable information resource, it's also the first impression most customers have of your business.  Additionally, if you sell pool products, it's an eCommerce point of sale.
A professional and optimized website is therefore very much worth the investment; you want to look professional, communicate value, and quickly help people find what they need.  
Here's how the process works in very simple steps:
Register a domain, ideally something like "your company name" dot com. 
Set up your website through a host such as Wordpress or Squarespace.

Design your website.

Finish by adding content.
Once you have a professional-looking website, then you can start adding elements that will make it easier for customers to find you and contact you for your services.

Click this banner to learn more about building a website!
2. Optimize For Search Engines
In order to drive traffic to your website, you'll want to show up for "pool service" marketing and related searches in your local area.
There are three ways to dominate the search results.
1. Pay-per-click advertising: This is a quick and easy way to get your message out there. You can pay to run ads through auction-based systems like Google Ads and Bing Ads, which is now accessed via Microsoft. The main advantage here is that you show in the top positions (reserved for paid ads) in search results, but the downside is you have to pay for it.  
2. Set up and rank for Google My Business: This is the maps listing and review platform Google uses for geo-targeted searches.  This is a free option you can optimize with your company's information, location, and business hours, as well as by getting customer reviews.
3. Organic website listings: You want your website to generate organic traffic because these are basically free clicks. Ranking is gained by optimizing your website for keywords, getting your content linked on leading websites, generating social media traffic, and adding high-quality content to your blog.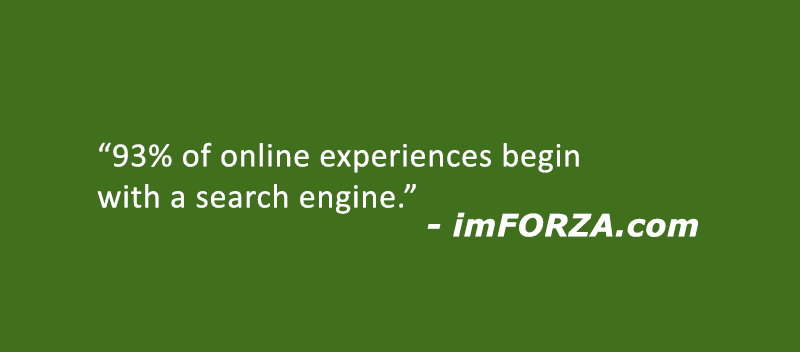 You can read more about effective SEO techniques here.
3. Run An Email Campaign
With the influx of companies using social media outlets such as Facebook, Youtube, and Twitter to market online these days, why should you even bother to use email marketing? Well, the easy answer to that question is that email marketing has proven time and time again to be one of the most effective methods of small business marketing.
According to econsulty.com, email marketing was actually marked as the best channel in terms of return on investment in 2014. 68% of those involved in email marketing claimed the method produced either excellent or good ROI, while on the other hand the ever-growing field of social media marketing actually had one of the lowest ROI satisfaction rankings.
You can check out more on the topic of which marketing methods have the best ROI here.
Despite the fact that companies are seeing results from their email marketing, small business are only spending approximately 16% of their marketing budget on emails. Why is email marketing so effective, and why aren't more people committing to it? Here are our top 6 reasons why email marketing services have such a good return on investment.

4. Get on Facebook To Boost Pool Service Marketing
Facebook marketing is becoming more and more prominent, and for good reason, according to Pew Research:
79% of online Americans are on Facebook

That's 68% of ALL Americans

75% of them go on the site every day
In other words, it's a huge opportunity for pool service advertising. Note, however, that while Facebook certainly can provide a positive ROI, a lot goes into planning and executing an effective campaign. While you may be comfortable using Facebook itself, building Facebook advertising campaigns is a completely different thing.
We understand the unique needs of small businesses and are committed to seeing them flourish. With over 15 years of marketing experience, our experts don't just design world-class marketing strategies with precise targeting, they also execute them skillfully.
5. Consider Paid Ads For Pool Service Marketing
Pay-per-click advertising was mentioned above, but let's dig in a bit deeper. 
PPC is the process of paying in order to be displayed on a Google search in the form of an advertisement. These are the ads noted with the yellow "Ad" icon at the top of the search results as well as all of the results in the far right-hand column. Anyone can set up an AdWords budget of a set amount per month.
With a Google AdWords PPC advertising account, you can tell Google which keywords you would like to be shown for and then Google will display that user's website in the paid/sponsored section of Google searches matching those keywords. Part of the AdWords budget is used up every time a searcher clicks on the ad. Google will display the ad enough the max out the budget every month, but never go over.
Note: PPC will go as far as your budget goes. The more you spend the more traffic you will get. If you cancel your PPC plan all of that traffic will instantly disappear. With an SEO solution, there is no limit to the amount of traffic your site can receive. Additionally, organic clicks represent 90% of the overall distribution with paid clicks coming in at 6%, so consider this a short term fix and not a long-term solution.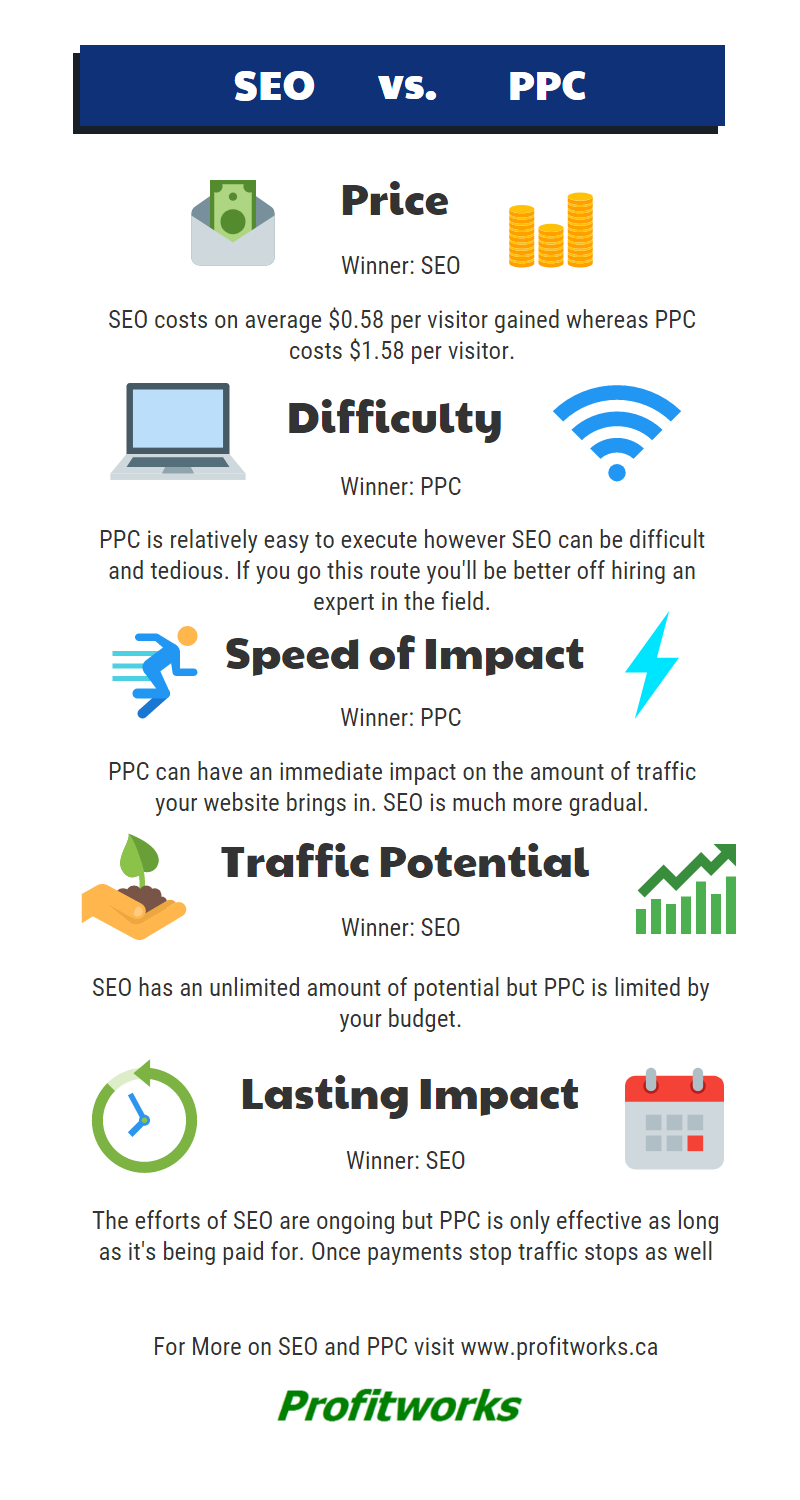 Diving into pool service marketing? Profitworks can help!
Profitworks Small Business Services provides website traffic and website conversion optimization services to increase the number of sales generated from a website. The focus of our services is on increasing sales and providing a positive return on investment.
We have developed strategies to increase your sales in an ongoing and continually increasing manner; that's what we call Closed-Loop SEO. This unique approach to SEO means that we're not satisfied until you've seen the impact our efforts have on your revenue. Access our Closed-Loop SEO For Beginners brochure by clicking on the button below.

What Profitworks customers are saying:
"The importance of Website Optimization in today's competitive market is critical for the growth and development of any company.  We engaged the experts at Profitworks to develop an engine-friendly website, and are seeing the results of an increase in sales from customers who "found us on the web"." - Cathy (Business Owner & Customer)
To learn more about Profitworks, click here. And if you are interested in getting new customers for your business, contact us today!