Author Bio: Danish Wadhwa holds expertise in social media strategy, LinkedIn marketing & social media marketing trainer, digital marketing author and SEO consultant for global organizations. He dives deep into the latest technologies and helps you understand them through his simplified writings.
In this technological world, organizations prefer to automate their processes to reduce operative cost, boost processing speed and reliability of tasks. As per the research conducted by Forrester, it is predicted that 90% of the operational cost can be reduced by automating the business processes.
To be in the race of this competitive marketing world, you need to focus on more than one task at a single time. Team members are using marketing and automation tools like constant contact, HubSpot, Pardot, etc. to provide the right information to their leads at the right time for building a strong customer relationship.
Business process automation is not just about developing good relationships with clients. It's also about generating revenue and enhancing your business productivity.
From all the marketing, sales and automation tools in the market, HubSpot is the most preferred tool due to its effective services and free features such as contact management, automation, integration, marketing, and many others. HubSpot Integration and automation features help you in managing your valuable time by optimizing the content, migrating the data from one tool to another, etc.  Therefore, it can be said that marketing methods will help you to nurture more leads and generate more ROI.
Do you know the reason behind using the HubSpot tool to automate the business processes such as sending emails, schedule meetings, etc?
The simple answer is HubSpot Workflows!
HubSpot's Workflow feature will allow you to automate and schedule all your marketing and sales process especially by generating automatic emails.
Most of the organizations are in the favor to implement marketing automation tool because according to the Forrester report, they can increase 10% of their sales pipeline.

Let's take a look at 7 simple steps by following which you can use workflow and automate your task to nurture your leads.



7 Simple Steps to Use Hubspot Workflows


Step-1: Create a HubSpot Account and Navigate to Workflows
Click on

HubSpot.com

and create your HubSpot Account.

Navigate to Automation tab and click on Workflows.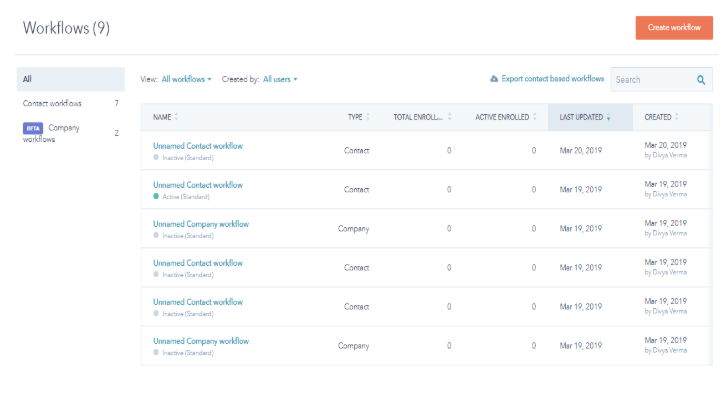 This will lead you to the completion of the first step.
Step-2: Select the Type and Set up the enrollment triggers in Workflow
Once you visit the Workflow dashboard, choose your workflow type like contact based workflow according to your requirements.
Naming your workflow is essential which need not to be missed because if you didn't add the name, it would be difficult for you to re-evaluate the same workflow again.
Click on the pencil icon and enter an accurate name to your workflow. Now, press Create Workflow button.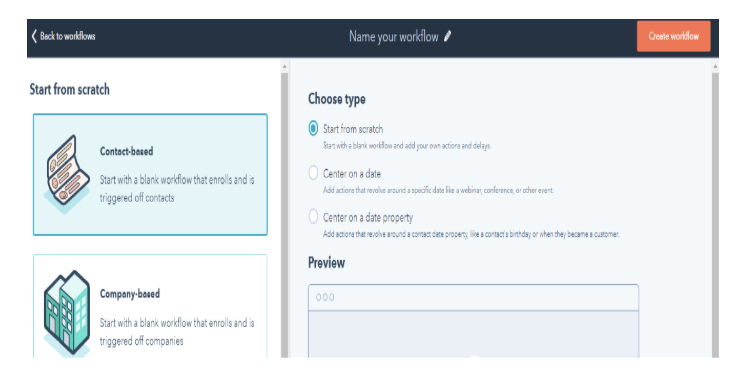 You also need to learn about setting enrollment triggers in your Workflows as it is the base of your workflow.
To mitigate the common mistakes and enroll the objects automatically, Click on

Set enrollment trigger button

to fulfill specific trigger criteria.

It depends on your choice that which trigger criteria you want to select. You will get many options from which you need to choose one, such as:
 

Contact Property

Company Property

Deal property

Activity

List membership

Form submission

Marketing and Email activity

Import

Email subscription

Event

Page view

Workflow status

Call-to-Action

 
To learn more about these triggers, click here. Done with this section? Keep on reading!


Step-3: Evaluate the difference between AND VS OR logic
This is the phase where you need to differentiate between AND and OR logic to set triggers successfully.
Let's start with "AND":
We use AND filter if we need to identify the objects so that you can meet specific criteria to set the list of filters in the workflow. Suppose, if you want to add another state of the form in the same segment then use ADD button.
Let me clarify you with an example if you want to search for the contact with a company domain name and annual revenue more than 10000, click on ADD before adding the second filter.
Let's move to "OR" logic.
Remember to use OR logic if you want to identify the objects which meet at least one criteria from the set of filters.
Clear with the logic?
Now, click on the button from and/or to create the workflow. Then you need to select trigger criteria and property.

Once you are done with all the clicks, Click on the save button.

Are you finding a way to add more actions to your workflow? Go to the next step...


Step-4: Choose the actions for your workflow
Saved the first action? Want to add another?


Click on

plus icon +

on the dashboard.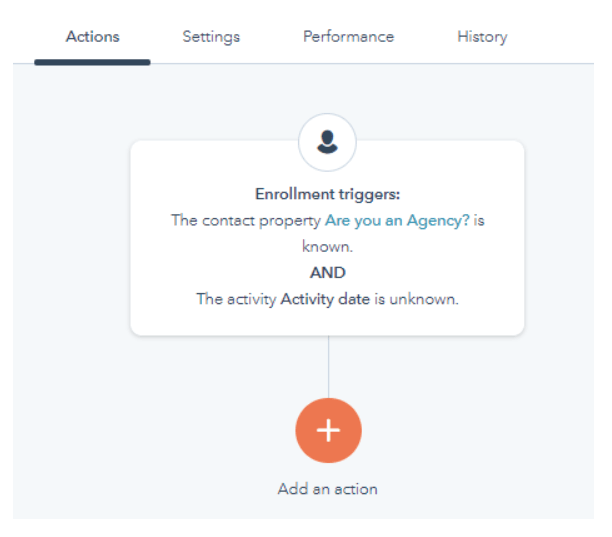 Now, Select the actions which will be executed for enrolled objects. Actions which are selected to improve your workflow are for:

 

Building blocks

Productivity

Marketing

Sales

Service

Contact Properties

Company Properties

Triggers

Visit the link and learn deeply about these actions so that you can go for the right one.
Step-5: Understand and use If/then branches in workflows
Before you proceed further and use the Workflow feature, let's get familiar with if/then branches.
If/then actions are used to get enrolled with the objects that are down in the list or used to set the conditions in your workflow.
Let's know more about If/Then branch with an example.
If you want the person to visit the contact us page only after entering the form, use if./then branch.
The user will direct to the contact us page only if all the other conditions are fulfilled. Suppose if the user has missed some state, then he/she would not be able to view the next path.
Do you want to apply this action in your workflow?
Click on the plus icon and select if/then branch.

Have you selected the properties? click on the

Save button

.

Create the new action in Yes or No, according to your workflow process.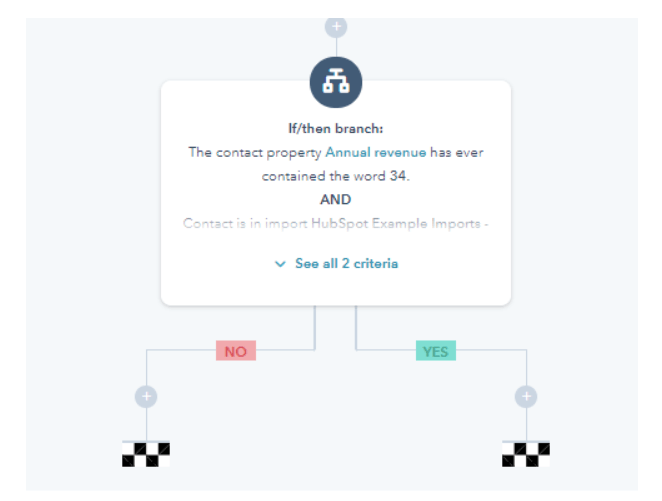 You should know that testing of if/then branch can be done by adding shorter delays to your workflow by enrolling the test object manually.
Now, let's grasp some more knowledge about enrolling the objects manually.

Step-6: Learn manual objects enrollment into workflows
Suppose you want to enroll objects in contact-based workflows manually, follow the same steps till naming the workflow.
Navigate to the upper right side and click on the

enroll button

. A dialog box will appear on your screen.

Click on the enroll button and the list from the drop-down menu.

If you want to enroll multiple contacts manually, an option is still provided by HubSpot.

Select the checkbox and enter the contact name from the search box.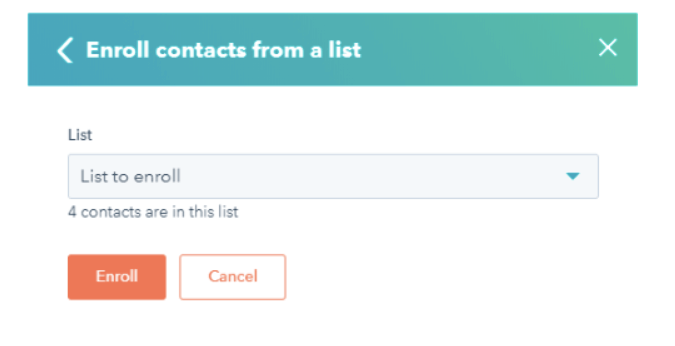 You can also select the contact name to enroll them in your workflow.
Now, you are at the closing stage of your workflow.
Step-7: Save and turn your workflow on
To use the created workflow and automate your task, you need to first save it because this is the foremost important step.
If you have not saved your created workflow, it will not work. All your efforts will be squandered.

Once all the property values are selected, click on Save and Turn on your workflow to review the task automation.
The Benefits of HubSpot Workflows
By using HubSpot Workflows, you can nurture your campaigns, convert your happy customers into your leading promoters, engage and delight more with your customers, automatic updating contacts and deals in the database as per the client's information.
This is just the start of all that can be done with Hubspot Workflows. In addition to emails, you can automate other actions such as update life cycle stage of contacts, removing or updating contact property value, editing contact information from the list, and another administrative task to effectively manage your prospects and marketing processes.
Are you new to the term HubSpot Workflow? Want to know about the steps for using Workflows in HubSpot?
Before you move to the steps, you must know that-
In addition to sales, you can automate various, including:
Contact-based

Company based

Deal based

Ticket based

Quote based
By selecting a specific type of workflow, you can start to develop workflows and automate your activities.
For example, you can create the workflow to automatically escalate the ticket if it is viewed for more than 50 days. Likewise, you can also develop workflows to create tasks for your sales representatives to enter deals at a particular stage.
Watch Your Sales Productivity and Revenue Grow
We hope all of the basic information added in this blog will help you and your team members to nurture more leads and perform your business activities effectively and efficiently. HubSpot workflows will also lead you to measure your results accurately.
So, use the workflow feature in HubSpot and watch your sales productivity and revenue grow!