What Can Bulk SMS Do For Your Business?
Mobile phone usage has continued every month to reach new highs. According to the Digital in 2017 Global Overview, more than half of the world uses smartphones and almost two-third of the world's population owns a mobile phone. The report indicates that over fifty percent of online traffic is through mobile phones.
These statistics are clearly indicating that bulk SMS services are worth taking a look at to see if they can generate a positive ROI for businesses. With Bulk SMS businesses can can reach out to large numbers of customers and potential customers instantly. The only limit on how many people you can reach is the number of people you have cell phone numbers for (and approval from them to send the bulk SMS messages).
Over 98% Open & Read Rate
According to the Dynmark Report, more than 98% mobile phone user's open and read their SMS within 4 minutes of its delivery (http://blog.dynmark.com/top-10-reasons-to-use-sms). No other means of communication has this kind of high open and read rates. This also means that SMS marketing is read by a very large portion of people you send it to.
Bulk SMS Marketing Campaign Example - Home Depot
Below is an example of how Home Depot gets people to sign up for their SMS marketing. You will notice how they offer $5.00 off to sign up for their SMS list. Once the person is added to the list they get regular promotions, offers and how to DIY garden project information tips regularly via SMS text sent to their phone.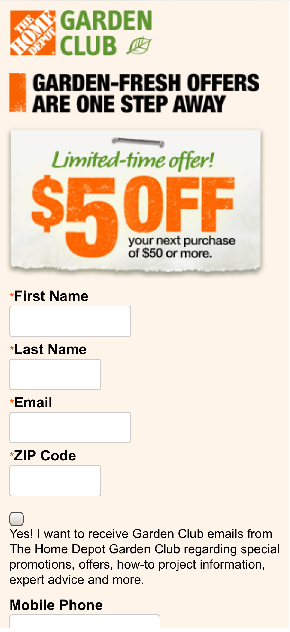 (Image Source: http://mobilemarketingengine.com/wp-content/uploads/2015/06/IMG_1464.png)
The Big Benefits Of Bulk SMS for Your Business:
1. Open and Read Rates Of Over 98%
As we said earlier, the biggest advantage is that you will get high open and read rates with Bulk SMS. Over 98% recipients open and read the text messages within the 4 minutes of its delivery. In contrast, the open rate of e-mail marketing is between 20-30 percent (http://www.experian.com/marketing-services/email-benchmark-q1-2016.html)
Therefore, using SMS marketnig will ensure a high percentage of people see your marketing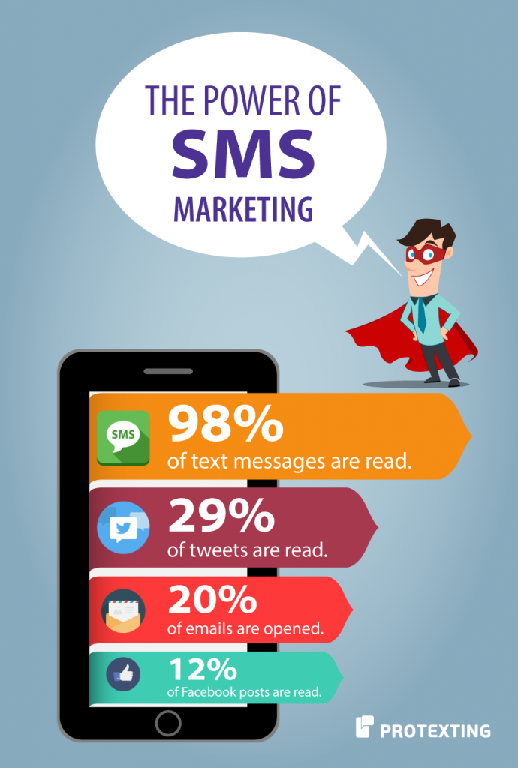 (Image Source: https://www.protexting.com/blog/2015/01/the-power-of-sms-marketing/)
2. Flexibility – It Can Be Scheduled And Sent Any Time On Short Notice
Today, in this rapidly changing environment, every business should be able to target their customers in a matter of minutes and also get their desired results. Bulk SMS can be used to drive sales of specific items on specific days to clear out extra stock or to feature new stock arrivals.
3. High ROI and Low Cost (Can Cost As Little As Under $100 Per Send)
Other ways of promotions (TV commercials, newspaper ads, and other outdoor advertising) can be too expensive for small businesses. On the other hand, Bulk SMS Marketing services are comparatively quite cheaper than the other forms. It requires very low-level setup costs and low pay per use costs. For example, you can target more than 1000 customers in minutes with the cost of under $100.
4. An Easy Tool To Stay In Contact & Retain Existing Customers
With the help of SMS, you have the luxury of targeting interested audiences. SMS marketing is based on getting the customer's permission with opt in and opt out features. Once you have this permission you cand send them message on a regular basis to keep your company top of mind, present them with offers to try and get them to buy additional products or services, or remind them of what they have purchased from you to increase product usage. It is a great way to establish a strong relationship with the customer. The fact that people check their phones so often makes SMS a great marketing tool. Some would go as far as saying there are more people in the world who use mobile phones than people who own toothbrushes. Check out this crazy report here http://60secondmarketer.com/blog/2011/10/18/more-mobile-phones-than-toothbrushes/

Some Other Key Points About Bulk SMS:
1. How SMS Can Be Used To Drive Revenue:
SMS can be used to drive revenue by notifying customers of special offers, or simply notifying customers and prospective customers of new products/services you are now offering. Typically free samples, Buy 1 get one free, or high % off deals work the best. What will work best for your business will take some testing as each industry and business is different?
Keep in mind that how you word your text message is a very important aspect in getting maximum responses. Studies show that the first 30 or less words of your SMS will make or break your success. You will also need to test send times to see what works best with your market. Different send times can have a huge impact on the success of your SMS sends to drive revenue.
2. The Best SMS Marketing Solution
Based on our reseach it looks like the least expensive company we could find is https://www.cheapesttexting.com/pricing/
When we looked at reviews we found that http://www.slicktext.com/pricing.php had really good reviews.
We have also used http://trumpia.com/sms-pricing.php and were prety happy with their service
3. How To Grow Your SMS Marketing List:
- Email: Emails are the best source to get the contact numbers of your customers. A great way to use email to get SMS subscribers is to send your e-mail contact list an email with a special offer if they join your SMS list.
- Social Media: Today everyone has accounts on various social media sites like Facebook, Instagram, Twitter. To use social media to grow your SMS list you can post your short codes, with a special offer to join your SMS list along with keywords on social media. If you can include something in your offer that is beneficial for your followers to share it with their network of friends, that will result in even better results.
- Website: This is also one of the best methods to grow your text marketing list. Include a precise call to action on your website to promote signups to your SMS list.
- TV Advertising: Though this is effective, it is expensive. You can promote your SMS campaign by including a call to action in your ad directing customers to message your keyword to get more information.
- Billboards: Billboards again are a way to grow your SMS list. If you make a good plan with a valuable offer, you will get good returns.
4. Industries Where SMS Marketing Comes Out As The Most Useful Tool for Marketing:
There are so many industries benefited hugely by using SMS Marketing. Some of the top notch industries among them are retail industries such as Restaurants, Hotels, Salons, Clothing Stores and Merchandise Stores. Below is an example of how Macy's uses SMS Marketing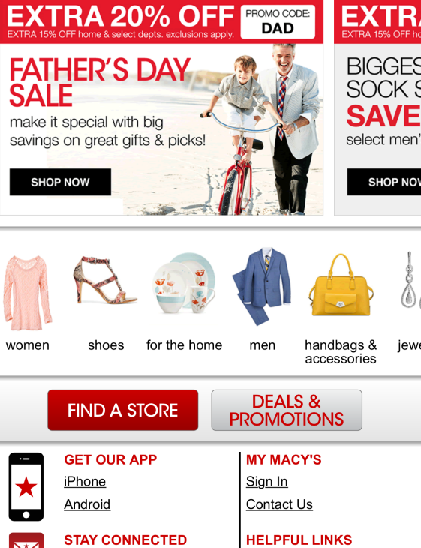 (Image Sources: http://mobilemarketingengine.com/wp-content/uploads/2015/06/IMG_1646-576x1024.png and
http://mobilemarketingengine.com/wp-content/uploads/2015/06/offersgetamacyappfirst_1101085.jpg)
How A Specific Business Used SMS Marketing And What It Did For Their Business:
Julep was able to build a mobile marketing database of more than 5,000 customers during the first 24 hours of their mobile marketing campaign. To generate over 5,000 mobile opt-ins, Julep created an exciting initial text message offer, rewarding customers with 50% off their next nail polish purchase for joining their "Julep Mobile Insider Club". To promote their new campaign, Julep sent emails to their pre-existing email database of customers, and posted information about the new mobile marketing campaign on various social media profiles.
One SMS promotion sent to mobile subscribers about their new Kai nail polish color generated a 34.23% click-through rate, and an astounding 17.44% purchase conversion rate based on subscribers that clicked on the link. In addition to Julep generating significant click-through and purchase conversion rates, their subscriber churn for this SMS promotion was a mere 00.90%. Click here to see the full case study.
More Examples of Effective Bulk SMS Marketing
To read about further examples of how companies have successfully used SMS marketing see below:
https://www.tatango.com/blog/10-amazing-retail-mobile-marketing-examples/
http://mobilemarketingengine.com/11-mobile-marketing-examples-all-independent-retailers-should-mimic/

Become The Leader In Your Market
Other Articles You Might Be Interested In