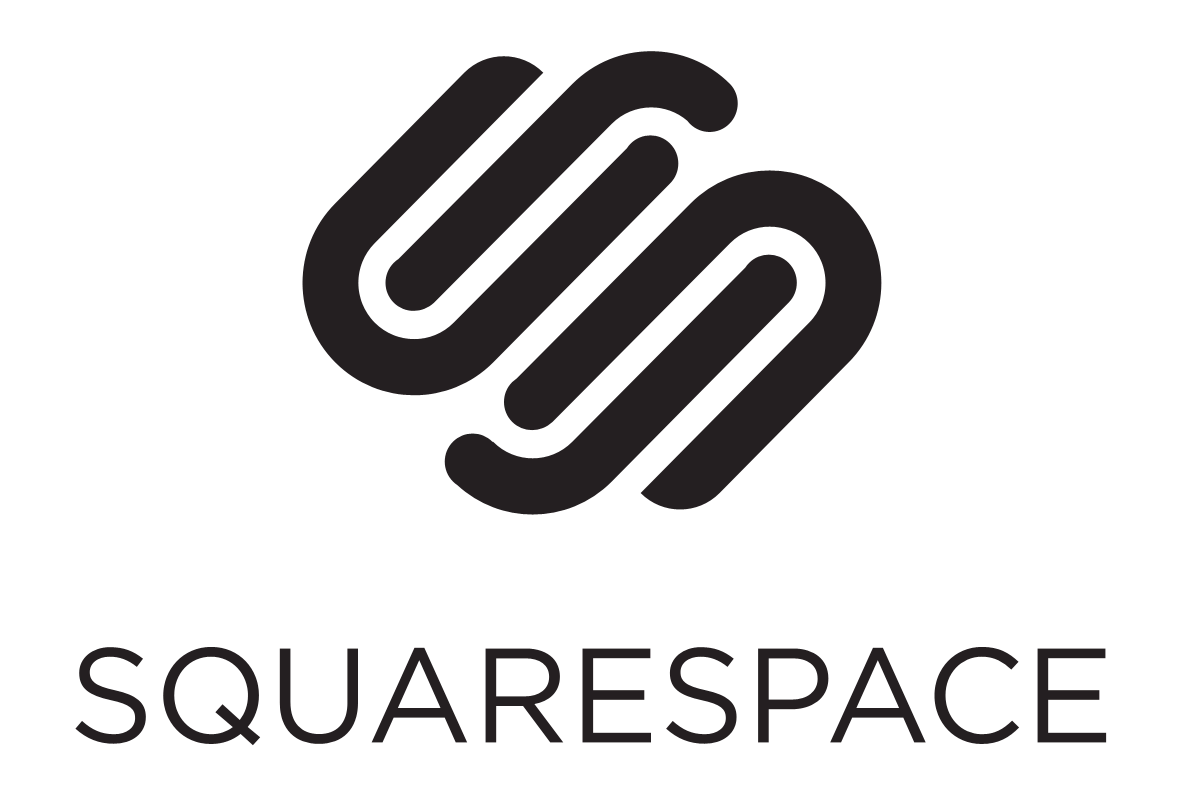 11 SEO Hacks to Attract More Traffic to a Squarespace Website
With 3.79 million subscribers, Squarespace is growing like crazy. No wonder you may want to consider this platform for setting up your own website. If you opt for it, you may wonder, "How do I do SEO for my Squarespace website?" 
Is it different from WordPress SEO? What are the Squarespace SEO best practices? 
Luckily, we've come up with a list of proven SEO hacks that can help you attract more traffic to your Squarespace website. 
Are you ready? 
Great! Here comes our first hack for you. 
1. Form Semantic Core (Kernel) 
Semantic core, aka semantic kernel, is super important for SEO. Why? That's because it helps you develop a better site structure, resulting in a better user experience (UX).  
Moreover, semantic core (if done right) can help Google understand how relevant your site is to the main topic you've created it for. 
Most importantly, if you collect a semantic core properly, you'll develop a more effective SEO strategy and get a better ROI. 
Here are the steps of creating a great semantic core
Analyze your competitors. You can get the

Competitor Review

report by

Profitworks

or with SE Ranking

Competitor Research tool

that extracts organic and paid competitor data. Using SE Ranking, pay attention to the number of common keywords to define your primary competitors. Once you spot your competitors, analyze the keywords they rank for, check SERP positions, their top pages, and PPC strategy.
2. Do keyword research and collect all the keywords related to your business, products, or services. Create a list of potential keywords and analyze them. Start with the search engine (Google Autocomplete, for example). I need to enter the keywords into the search bar and see what pops up. There are many browser extensions like Ubersuggest and Keywords Everywhere that allow you to analyze the particular keyword by not leaving the search results.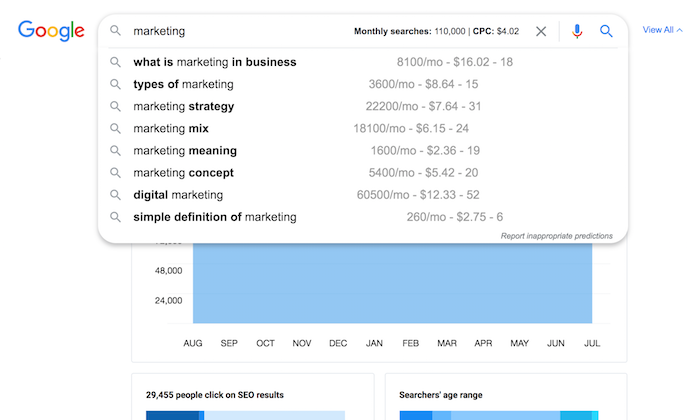 3. Group these keywords into clusters taking into account their search intent and search volume. Mind that your keywords must match people's search intent.
2. Use Semantic Keyword Clustering to Get the Max Out of Your SEO Efforts 
Once you find all the keywords related to your business, you need to group them into clusters. Why should you do this? Well, with proper clustering, you don't have to create hundreds of pages for every single keyword. Instead, you can group relevant keywords semantically and put them on the same page. 
The problem with keyword clustering? If you do it manually trying to group keywords in a Google sheet, it's going to take you a lot of time. Here's the manual by Moz so you can check it by yourself. Moreover, there is no guarantee that you'll group keywords properly. The solution? Luckily, you can use SEO tools like Google Keyword Planner, Serpstat, or SE Ranking to do keyword clustering for you.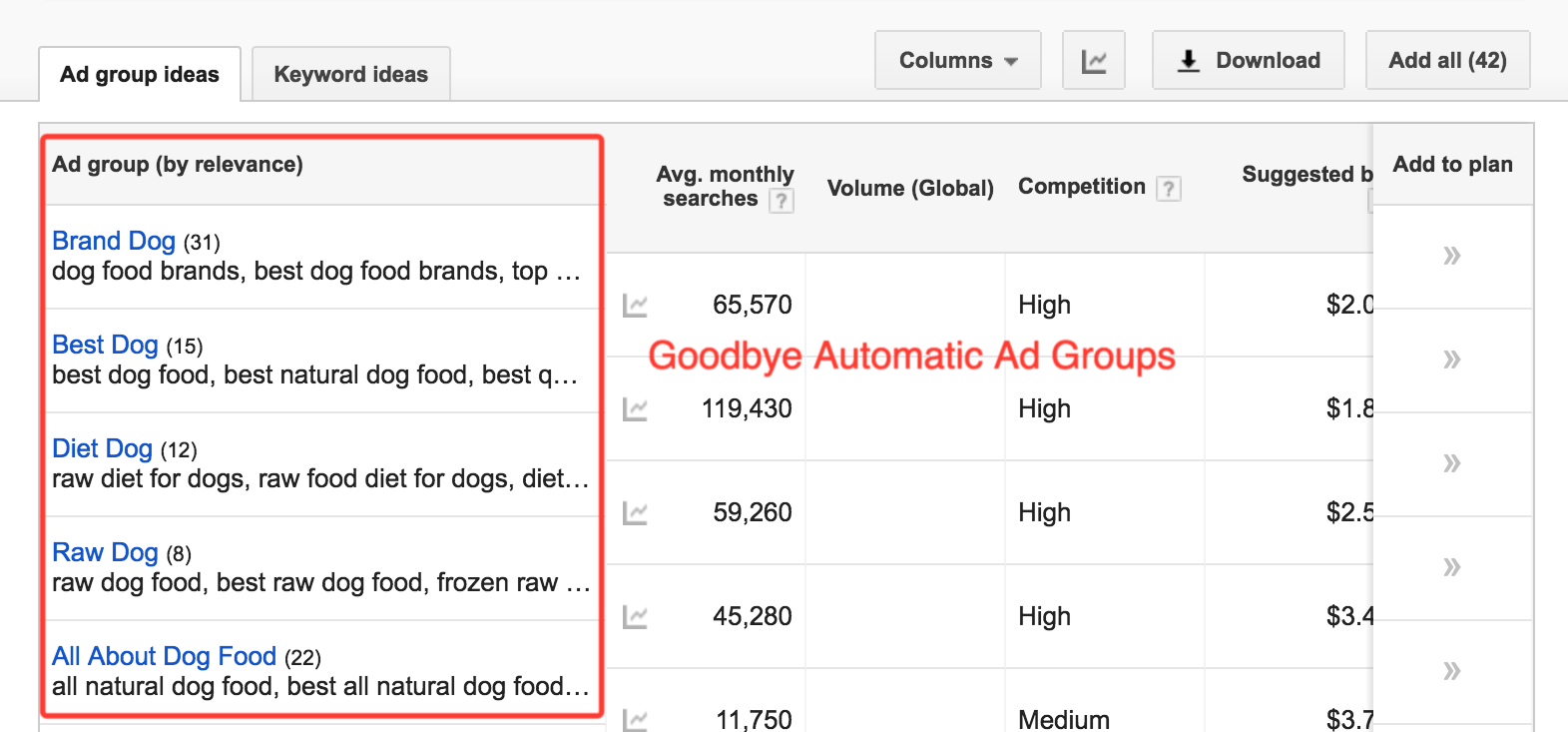 Once you cluster the keywords, score them to understand which clusters can potentially collect more traffic with less investment. To evaluate clusters and their impact, first of all, assess how relevant they are to your business. 
Do they reflect the products or services you offer? Do they have commercial or informational intent behind them? Will you get potential clients if you rank pages for these keywords in Google? 
The next thing you need to pay attention to is the Keyword Difficulty of the keywords in the cluster. Ideally, you should look for low, competitive keywords (KD 0-20). It will allow you to save time and money on ranking your pages in Google. 
3. Spot Referral Opportunities to Get More Links 
Link building should always be an essential part of your SEO strategy. Good links can help you rank your pages faster in Google. Here's one great method to get links for the Squarespace website.  
Use SimilarWeb to look at the main referral sites of competitors by the number of traffic. You'll see only five top referring sites in a free version, so you will need to do additional competitor research here to gain more data.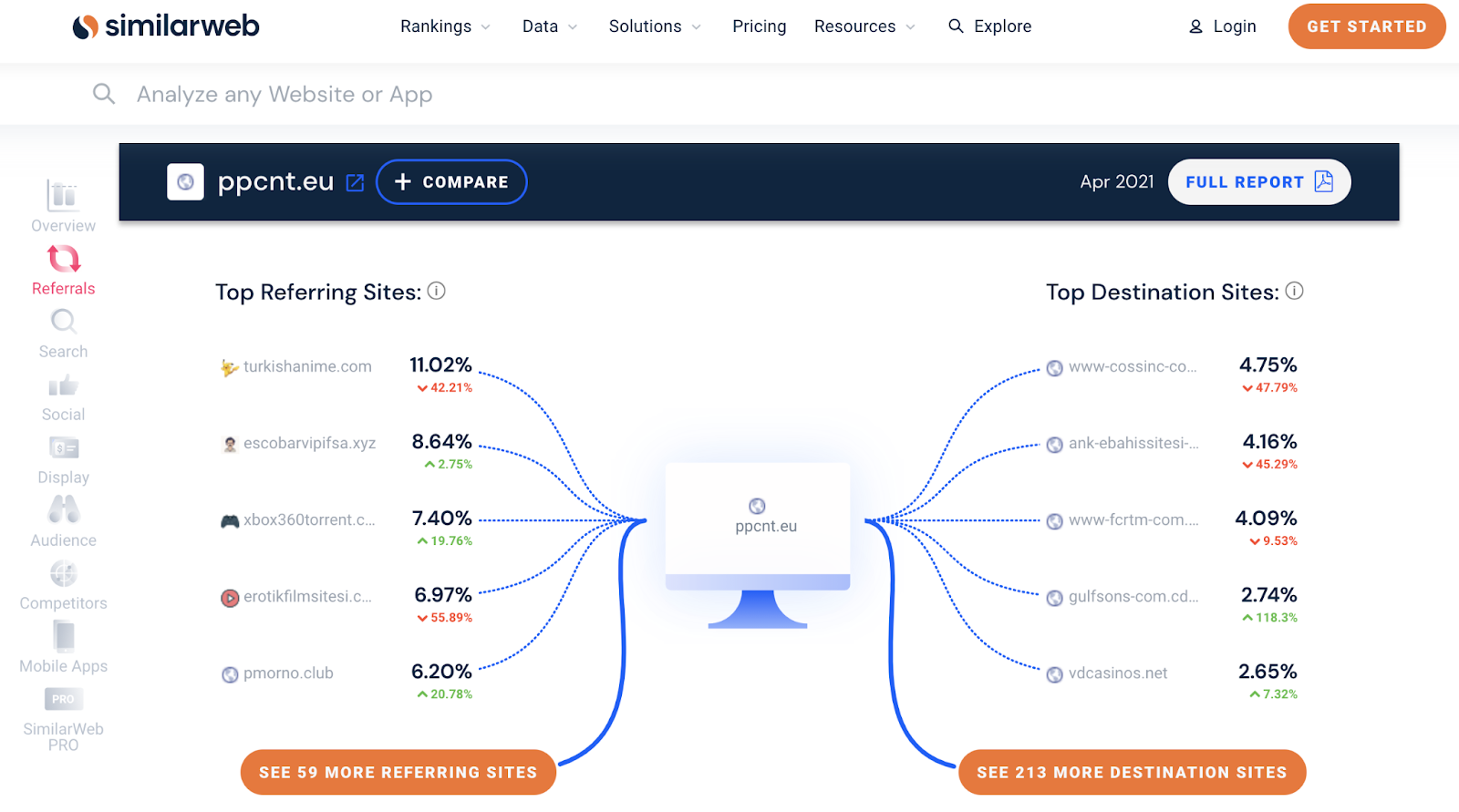 Get the list of the sites that drive the largest amount of traffic. Analyze the content they've linked to and create even better content. Reach out to them with your content and try to landing links from them. 
4. Choose High-Frequency & Low-Competitive Requests to Collect Cold Traffic
Here's another great hack. Find keywords with high volume and low keyword difficulty along with longtail keywords related to your business. Create pages with great content around them that matches the search intent. Build links to them to get traffic. 
Usually, it is easier to rank them. Once you get traffic to these pages, it will be easier to rank other pages on your website. 
Don't forget to use interlinking in a smart way. It can help other pages get more link juice and traffic too.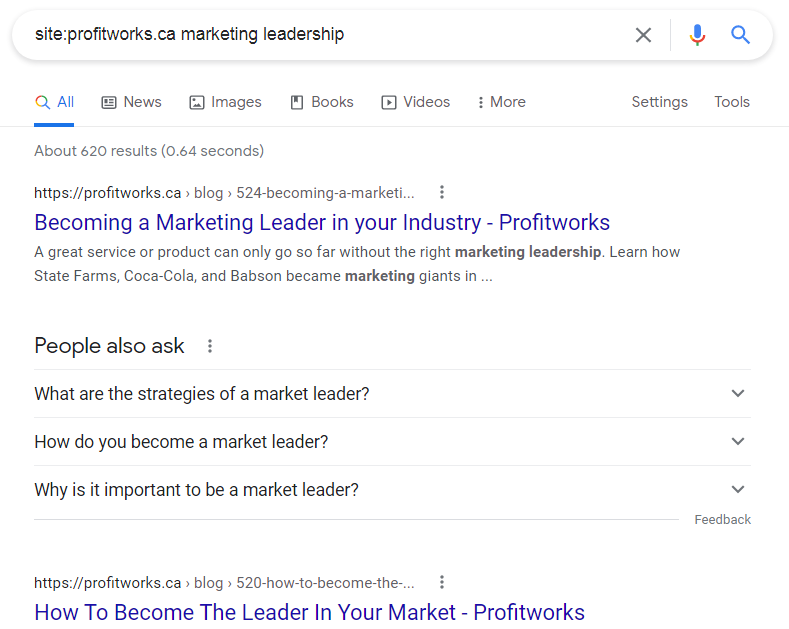 If you put such a query in Google, it will show various pages on the Squarespace site related to this keyword. Pick the first one and link out it.  
5. Use Catalogs & Profiles to Attract Referral Traffic
Links from relevant catalogs can also help you boost your traffic. Just make sure you go for high-quality catalog sites with good SEO metrics like DA, PA, TF, CF, traffic, etc. A great thing about good relevant catalogs is that you can get some referral traffic from them as well. 
Ideally, you want to get backlinks from catalogs ranking for keywords related to your niche, services, or products. This way, you can boost your link juice and referral traffic at the same time. 
There are tones of listings that help you to find catalogs and business directories for a start. Some SEO platforms also have their own lists. For example, SE Ranking has the base by regions.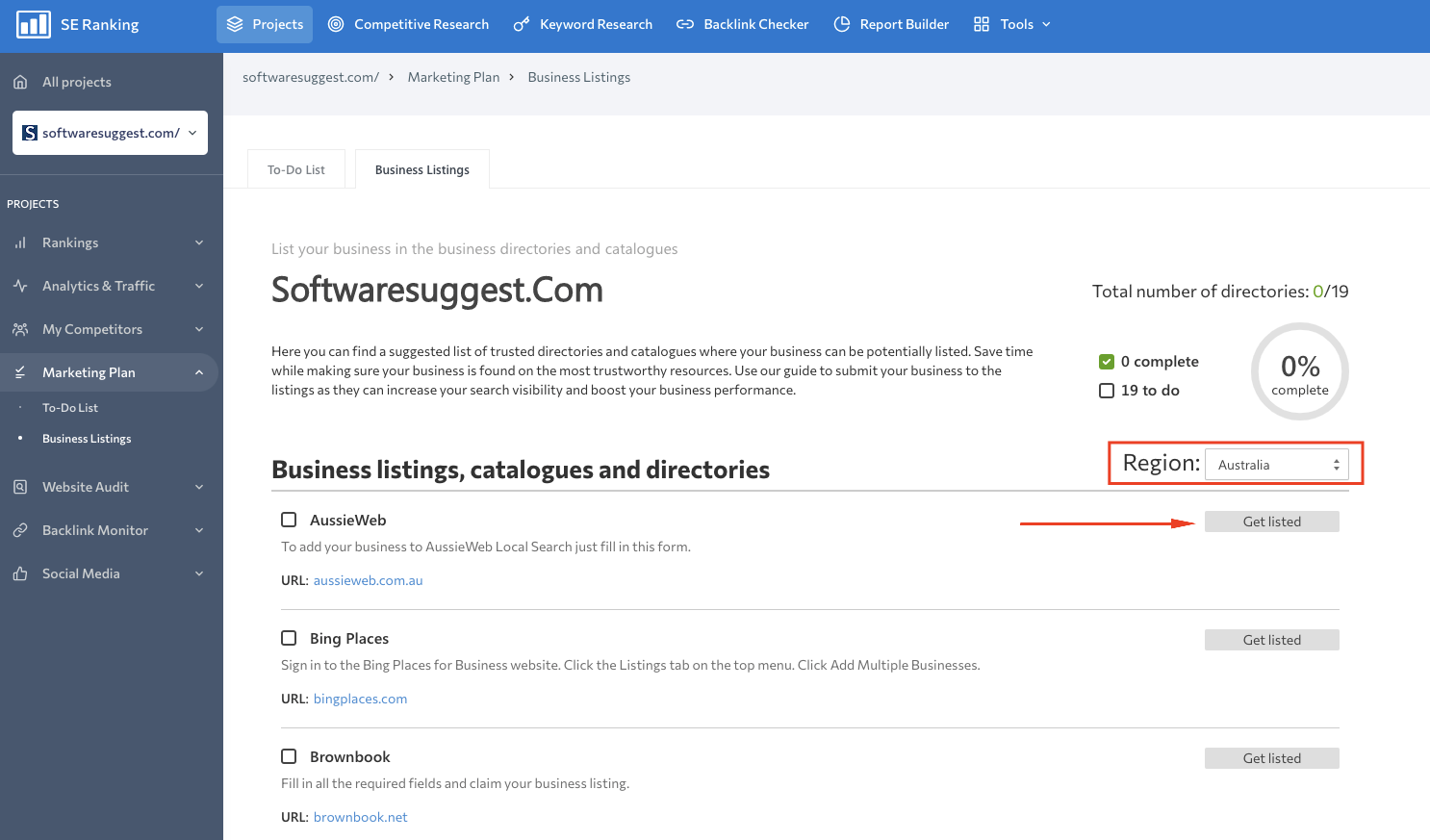 6. Repurpose Your Best Performing Content 
If you dig into data, you may notice that only 20% of your content attracts 80% of traffic and engagement. Why not take it one step further? 
Once you find the best performing content on your website, you can repurpose it into video, infographics, or even create a podcast around it. In this way, you save time on research to create new content. This is an excellent strategy for promoting your content on different channels. Here are a couple of more ideas:
Turn blog posts into podcasts, online courses, and webinars

Extract company/product/customer data to create case studies

Take your old blog posts and create an ultimate guide

Gather information from interviews to create an ebook

Apply testimonials for your social media content plan

Utilize company statistics for uniques social media posts

Use your visual content for Pinterest board

Create newsletters and email marketing campaigns to promote content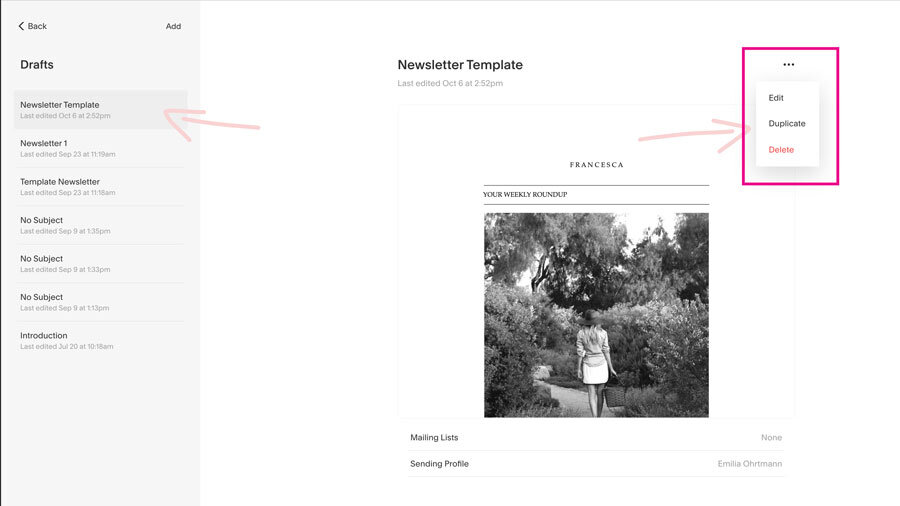 Decide how you want to experiment with your content and select appropriate tools. Those could be ebooks (Designrr, Blurb), graphic design tools (Piktochart, Canva, Visme), newsletter software (Moosend, Mailchimp), audio creation (Audacity), video creation software (Animoto, Headliner), etc.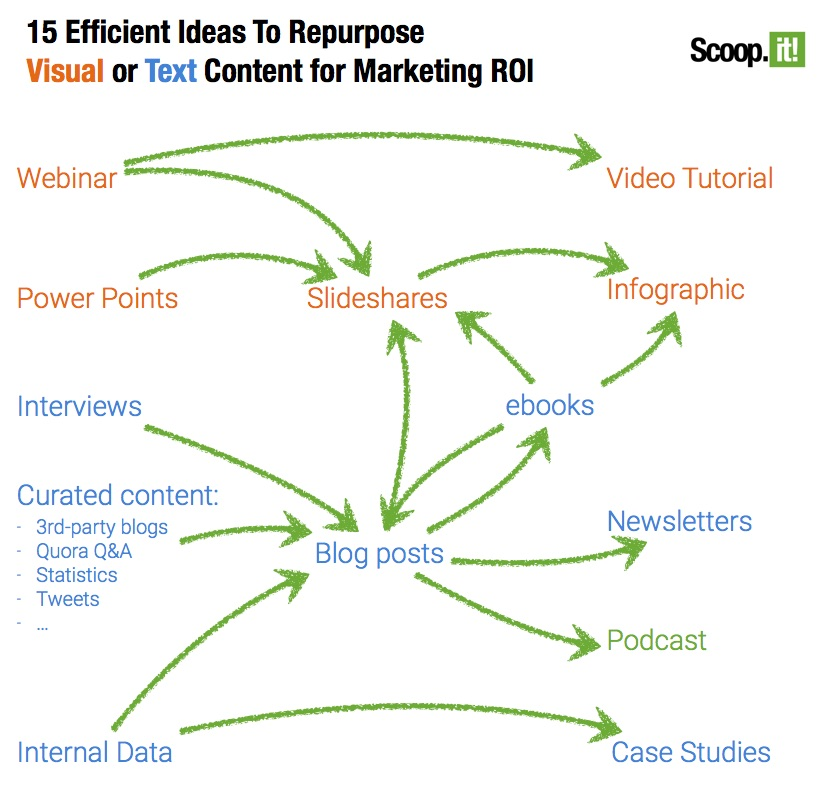 Thus, you kill two birds with one stone. You save on the content creation part. You get more traffic and engagement from repurposed content. 
7. Fix Broken Links
Broken links can harm your SEO as they stop the flow of link equity on the website. In addition, they are bad for the user experience as once customers get 404 pages on your site, and they may hop back to the SERPs immediately and click on other search results. Visitors can get frustrated when they see a broken link and never come back to your site.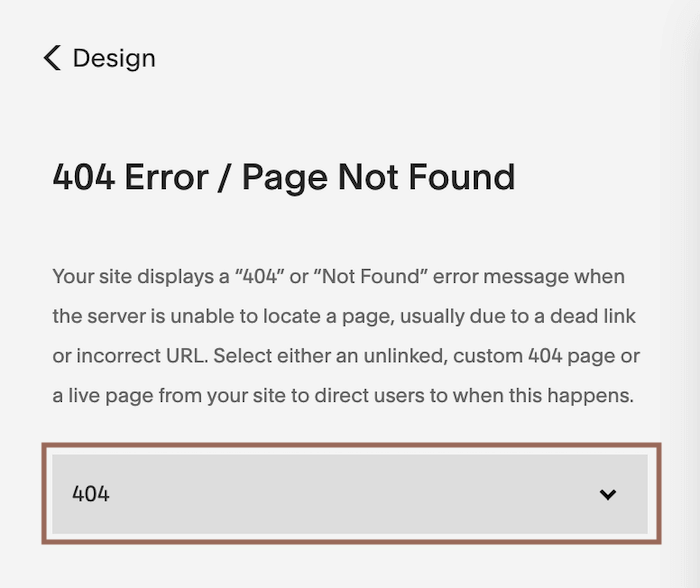 It can hurt your rankings. Indeed, it can cause a drop in rankings and traffic as Google sees that users are not happy with your site. Moreover, it has a negative impact on the link equity (distribution of links) on your website. That's why, due to broken links, you can lose traffic and potential clients. 
The good news is that you can fix your website quickly with the help of automated tools like Screaming Frog and Ahrefs.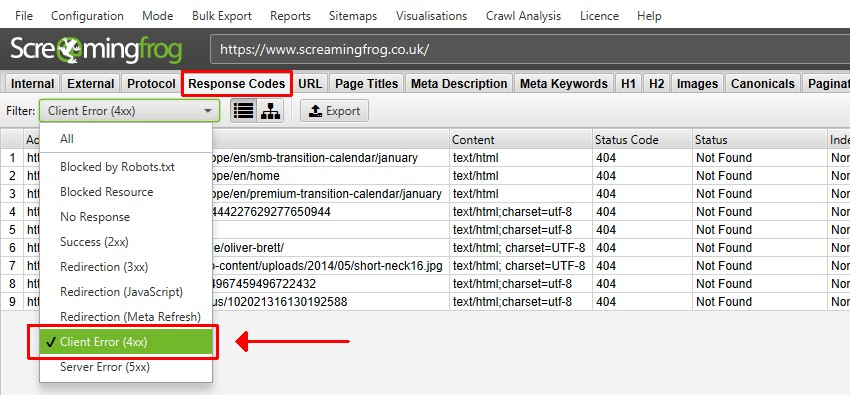 Here are four ways how you can fix broken links: 
You can create new content and put it on broken pages.

You can use 301 redirects to point visitors to another relevant page on your website.

You can delete the page from your site.

If a typo causes a broken link, you can fix it by correcting the typo.

Customize the 404 pages if there are no other options. At Squarespace, choose Design - NotFound/404 Page and select your custom page. Check on the

ideas

on how to make the most of the 404 Error Page.
8. Monitor Top Exit Pages & Eliminate Errors
If you go to the Google Analytics dashboard and click on the Behavior - Site Content - All Pages, it will show you all the pages on your website along with how many views they get, average time on a page, bounce rate, and % exit. 
Why should you care about it? Google uses RankBrain (an AI-based algorithm) to analyze user behavior on Squarespace site and drop or pump your rankings accordingly. Of course, if many users exit your pages fast without spending a lot of time on them, this can be a signal for RankBrain to lower your page in SERPs.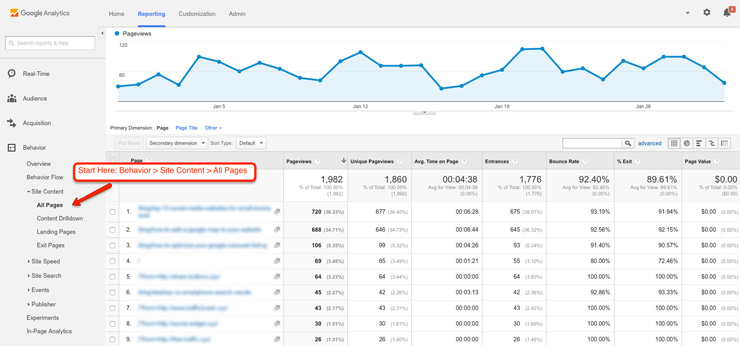 In this case, you'll need to focus on the % Exit column. Have a look at pages with the highest %. Then check them and try to understand why people leave them. Here are a few reasons why they can leave your web page.
Bad web-design. 

The quality of content is not that good. 

Your page is not relevant to the search intent of people. 

Users don't find all the answers to their questions related to the search query they enter in Google.

It takes too long to load your pages. People don't like to wait. 

Your content is not easy to scan or ready (formatting issues). 
That's where you need to work on adding, deleting, or tweaking different things on your page. For example, you may change the color of a button and see how it works. You may add a video to make people stay longer on the page, etc. 
At last, mind that you can always add Google Analytics to Squarespace. Here's how the dashboard looks like.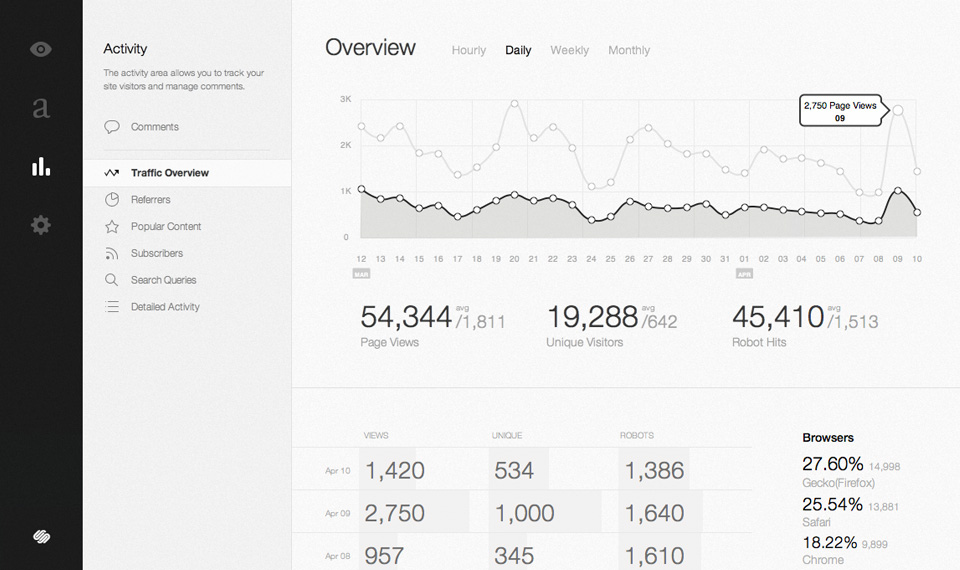 9. Track Brand Mentions and Turn Them into Backlinks
Brand mentions are references that you can find about your company (in news, reviews, articles, or social media.) It's important to monitor them as they are related to the reputation of your brand. With brand mentions, you can get more attention to your brand, resulting in traffic to your site, links, and even sales.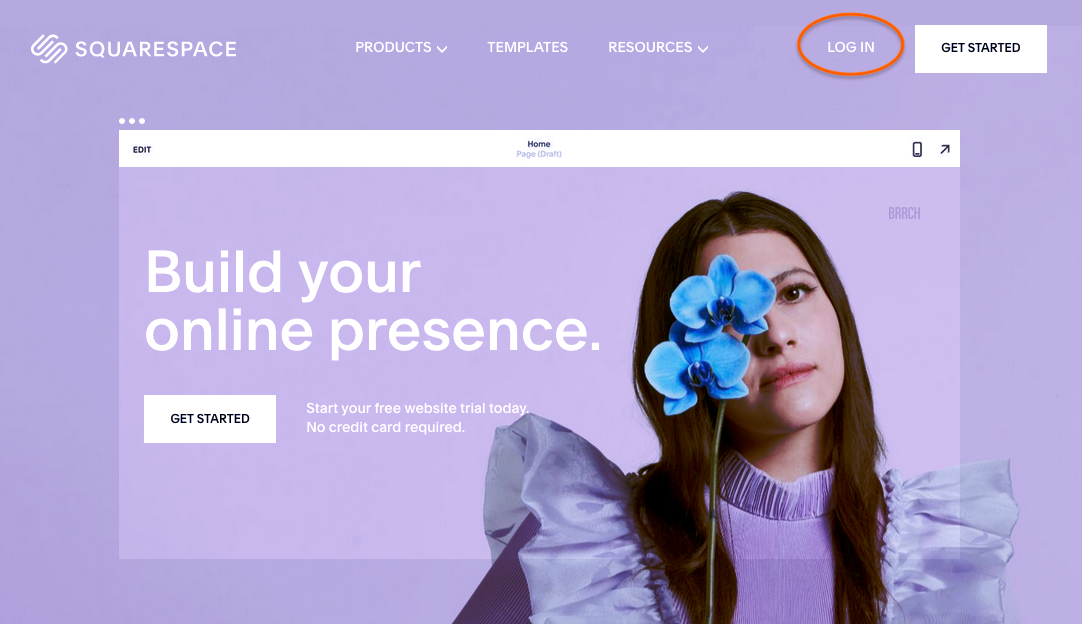 This is another low-hanging fruit that you should take advantage of in terms of link building. 
Find mentions of your brand on other websites. Reach out to website owners and ask them to link out to your Squarespace site. It is easy to do if you have a subscription to one of those lools - Awario, Hootsuite, or Mention.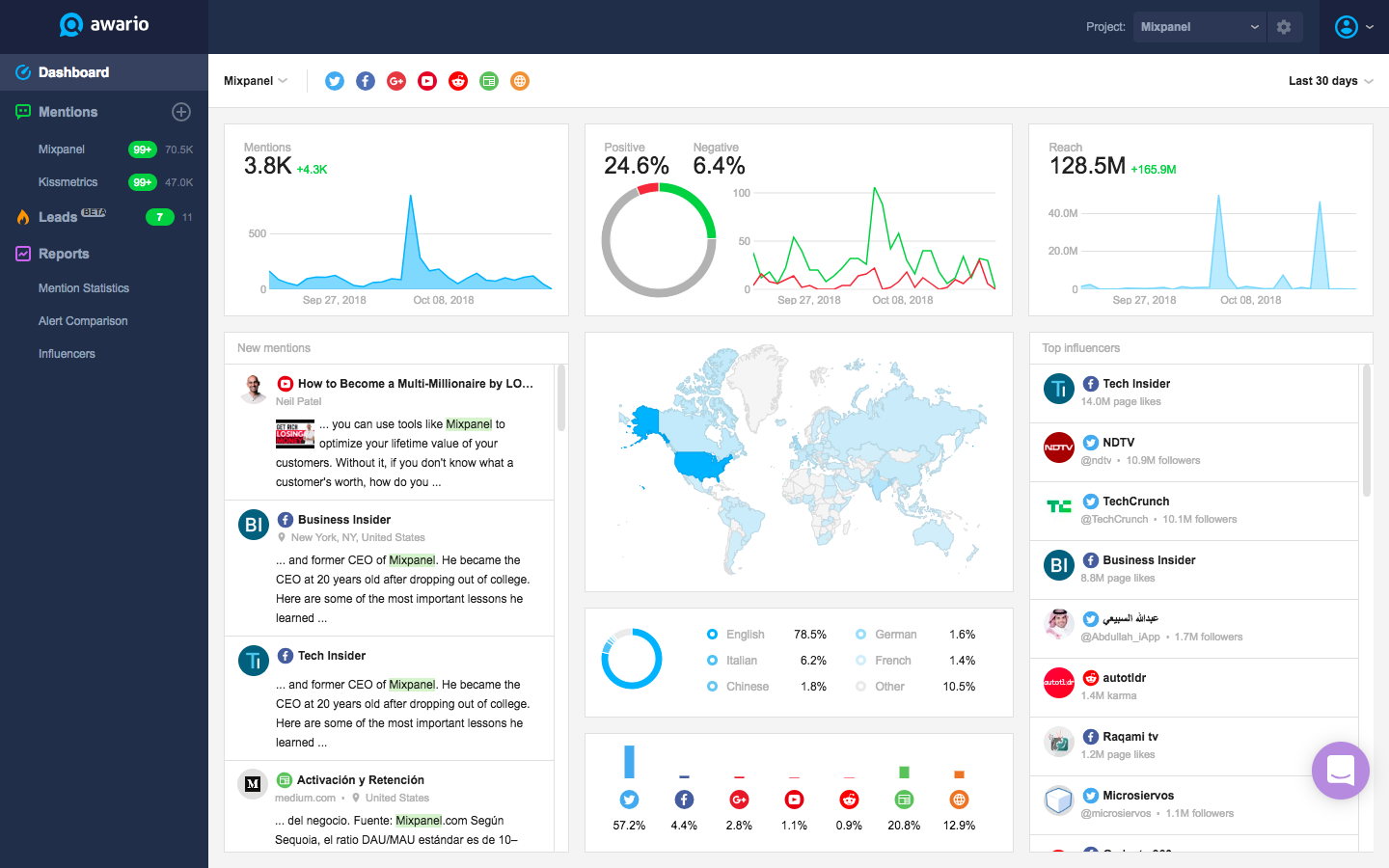 However, before implementing this tactic of getting backlinks, make sure you analyze the sites properly. Look at the metrics of the websites like TF and Moz Spam score. Analyze their backlink profiles. Also, keep in mind that it's always better to get backlinks from relevant sites to your niche. 
Once you evaluate all the link-building opportunities, you just need to invest your time in sending emails to website owners. 
10. Create a Multi-Language Website 
Now, this hack is not for people with new websites.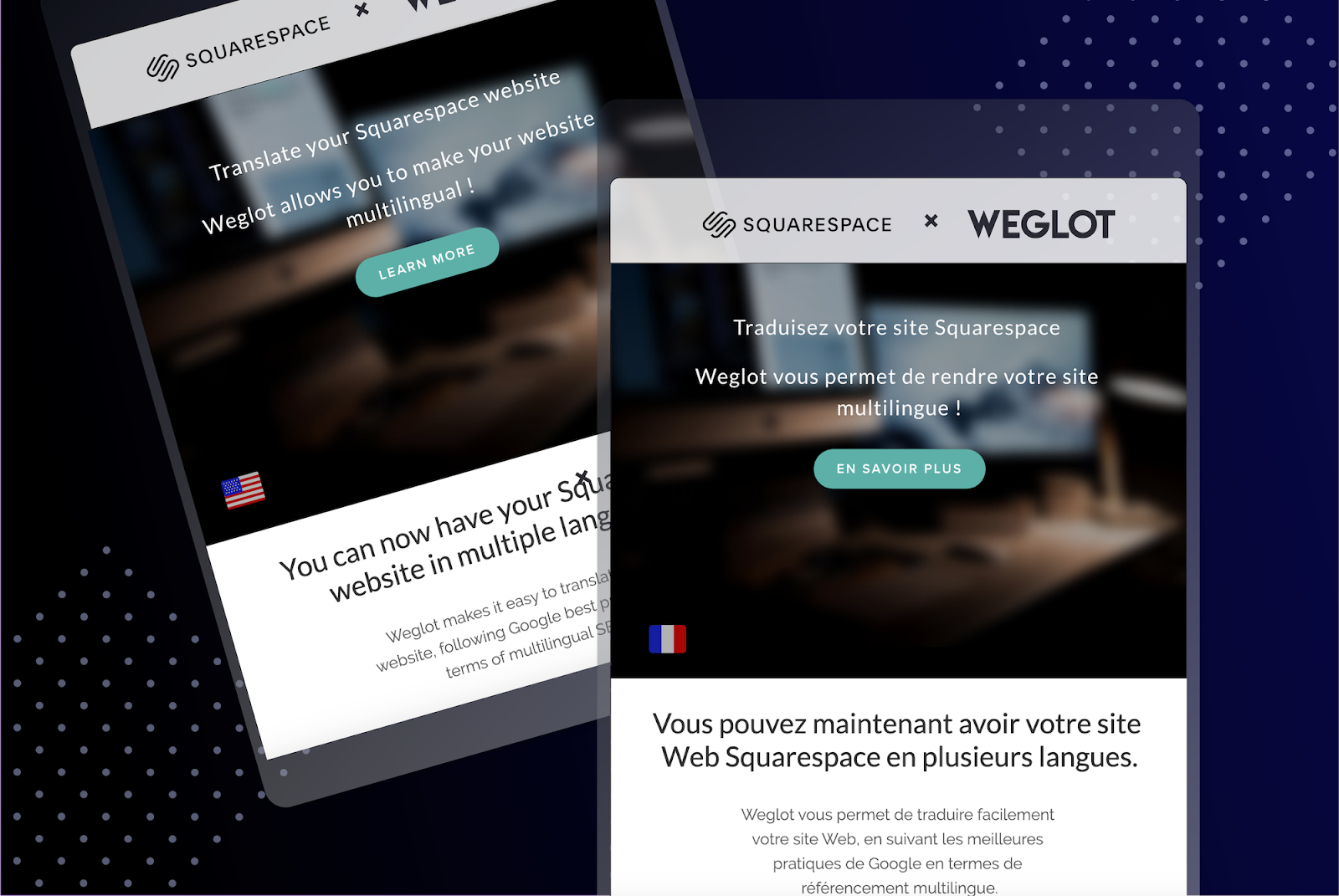 However, if you have a decent presence and your website gets traffic from different countries, you should definitely turn your site into a multi-language website. And here's why. 
Creating a multi-language Squarespace website can help you expand into new markets and get new visits organically from different countries. It means more potential clients and sales for your business. Not bad, right?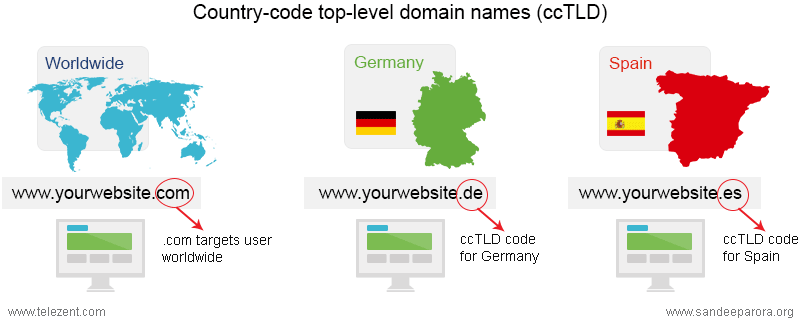 How do you do it the right way? 
Use the following Multilingual SEO tips to get everything set properly:
Set up a multilingual XML sitemap. Make sure Google can crawl all the pages on your site. Mind that Squarespace automatically creates and links a proper sitemap.xml

Set up the hreflang attribute to clearly explain to Google when it should demonstrate which language version to your visitors. 

Install a language switcher that looks good and is easy to use. It improves the UX of your site. 

You can translate your site automatically with the help of Google Translate. However, make sure you hire someone to edit the automatic translation. Why? That's because

Google views automatically translated pages as low-quality pages

and even spam.

Make sure you also translate and

change

your slugs, meta titles, and meta descriptions for all the pages on the Squarespace website. Pay attention to the quality of meta titles and meta descriptions. To get more clicks and visits from search engines, they should be well-written and catchy. 
11. Estimate Traffic Quality
Estimating the quality of your traffic is another great hack that can help you maximize your marketing efforts. 
Once you find out top sources that drive traffic to your Squarespace website and the quality of traffic they generate for you, you'll be able to adjust your site accordingly to get higher conversions. It will enable you to make better marketing and business decisions. No doubt it's super important in these uncertain times. 
But how do you estimate the quality of your traffic? Here are the steps. 
Open your Google Analytics account and go to the Acquisition section.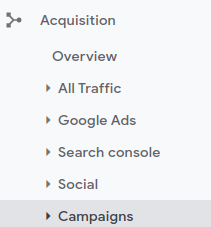 Click on the Overview section. It will show you your top traffic channels and the amount of traffic they drive to your site. 

For a more detailed breakdown, proceed to the Source/Medium section. There you'll see how many users each source drives to your site.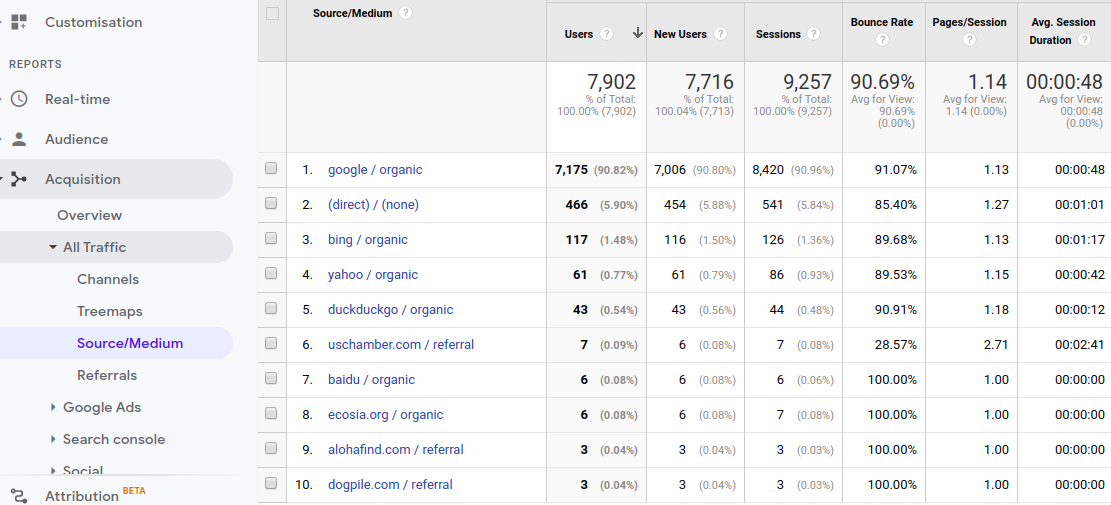 More importantly, there, you'll be able to see how these users are interacting with your website. This way, you'll evaluate the quality of visitors that you get from all the sources and point out the top 3 sources of traffic for your website. It allows you to understand in which marketing channels you should invest more to get better ROI. 
If you see that organic traffic makes the most of your overall traffic, you should double-dip on your SEO strategy and invest more in it. If organic traffic brings you high-quality leads, you should pour some more cash into link building, On-Page SEO, and content creation, taking into account the ROI you will get out of it.
If you run Google Ads, you can use the insights from Google Analytics to improve your paid advertising campaign results. For this, check the Google Ads section and analyze the data you'll see there. 
If you see that social media networks bring you a good amount of traffic, why not analyze the posts that generate the largest number of clicks and replicate them? 
Wrapping It Up
Hopefully, with these actionable SEO tips at your fingertips, you'll be able to rank your Squarespace website higher in Google and get more visitors. 
Make sure you not only read these hacks but implement them. 
Have any other ideas on how to attract more traffic to a Squarespace website? Great! Let us know in the comments below. 
Author bio: Alina Tytarenko is part of the marketing team at SE Ranking. She likes sharing her experience in marketing techniques, link building, content marketing, and SEO with readers. Alina is constantly trying to figure out the secret to being in four different places at the same time.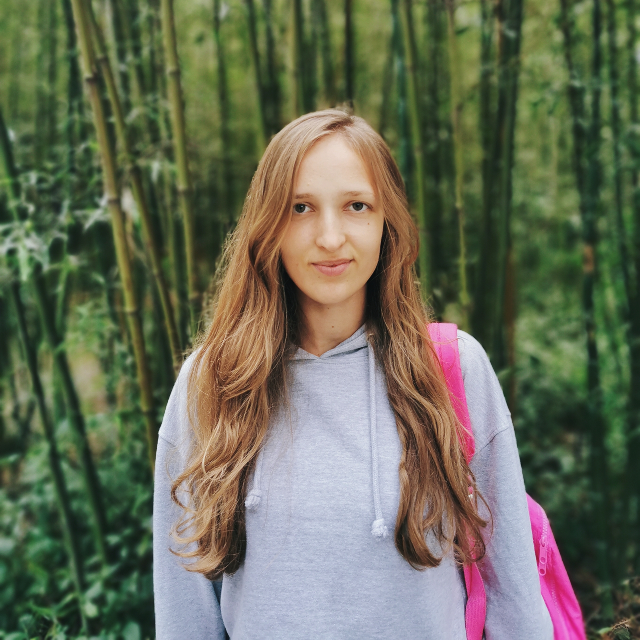 Grow Your Business with Profitworks!
Profitworks Small Business Services provides website traffic and website conversion optimization services to increase the number of sales generated from a website. The focus of our services is on increasing sales and providing a positive return on investment!
If you are interested in getting new customers for your business, contact us today!
You can also download our Closed-Loop SEO Marketing Services Brochure or our free SEO checklist by clicking on the links!
What Profitworks Customers Are Saying:
"We saw not only an increase in website traffic but more importantly in the quality of leads. It means we are spending more time on the things that truly make a difference to our business." (Dave Mattingly)