Malls serve some of the savviest and also the most fickle shoppers. Create loyal fans by understanding your shoppers and tenants with a one page marketing plan. Work with the Profitworks team to help you reach more visitors today!

We empower retailers and malls to find their crowd
We've seen time and again how mall owners want advisors that take the time and care to manage their marketing as if it was their own business. Work with the Profitworks team to help uncover the amazing product and service more people need to hear about.

---
Executive Summary
- Mall owners and managers continue to face challenges in sustaining foot traffic as eCommerce continues to grow, signalling a need for a more robust yet succinct marketing plan
- The key components of a one page marketing plan include target segment, messaging, and channels
- The one page marketing plan can be summarized as qualities my customer cares about, who is my target customer, what is my brand statement, what is my marketing budget, where will I reach my clients, and what are my marketing goals
- The retail industry is highly competitive and mall management needs to provide great service and creativity if they want to find innovative ways to attract visitors
The key consideration for mall managers and owners

Malls have been in decline for a number of years, but for those that aren't ready to quit yet, here is where the rebellion against the tide begins, with your one page marketing plan. Use your one page marketing plan as a compass rather than a map. As part of starting a new business and creating a marketing plan, the aim is to create something unique. That is what truly makes an effective marketing plan that is positioned to help your team grow in serving more great people in the company. Using this one page marketing plan will require frequent contact with clients to understand where their needs and their pets' needs are.
Our interpretation of a one page marketing plan as popularized by Successwise revolves around two crucial areas:
Message - what the predominant themes are that your target customer should know about your mall
Channel - where these messages should be delivered in a unique or fresh way
Creating a message that resonates with people most likely to shop

In order to create a message that resonates with clients, it is important to understand what is valued and how they would articulate these aspirations and needs in their own words. One of the best sources for this is to use Google, Yelp, or Yellowpages reviews to determine what customers find to be important when they are raving about malls or what expectations often go unmet.
Both reinforcing these needs and addressing unmet expectations are great ways to create brand messaging that can help you better connect with your customers. Based on a search on UNIQLO's / Yorkdale Mall's reviews in the Toronto area, here are some things that customers really appreciated:
Stores being cleaned regularly
Having people to help on standby
Patrons also appreciated larger malls having wait lines so that the store isn't cramped
Customers appreciated the fact that store directories were kept up to date and accessible
People were fans of the selection of stores
Decor
Here are some mistakes to avoid:
Communicate pricing consistently so customers aren't charged more than expected
Ensure customers understand refund/exchange policy
Parking and limited seating at the food court contributed to poor experiences
The retail industry is incredibly competitive because of the sheer number of retailers vying for patrons, while online shopping is becoming more widely used than ever before. Without a marketing plan, you are leaving your mall's future viability to chance. From here we identify the target customer base that you would like to aim for.
Describe your mall in 1-2 sentences

Being able to describe your mall in 1-2 sentences is a great way for you to quickly connect with customers and also give people an easy way to understand how your retail experience is different than others. For example, based on the Google feedback we've just covered, I may want to highlight the mall's emphasis on customer service oriented brands, decor, and focus on experience from parking to purchase.
"Our mall is dedicated to an unparalleled shopping experience, going at your pace, and comfort at every shop. We invite the curious, adventurous, and fashion-forward to enter with expectation."
A mall could also look at emphasizing the availability of parking, seats at the food court, or simply exciting new stores.
"Never miss a spot, seat, or moment at Pleasantown Mall, where life happens."
Given these examples, it is important to conduct first-hand research into what mall shoppers and retailers care about as part of being in a mall. Having gone through the process, one develops an innate empathy with their market, helping define who you're trying to serve based on a resonance of challenges and aspirations.
Finding the right audience to reach and where to reach them

Retailers, like other people, often do not enjoy being categorized, but as part of empathizing with the families and shoppers you are trying to serve, there are important insights to draw from understanding these categorizations.There are generally a number of types of shoppers, including:
Mall walker: a person who innately just enjoys walking in the mall either alone or with other friends, they enjoy browsing
Deal hunter: a person who gets their thrill from finding deals
Retired seniors: they are all about shooting the breeze and can often be found doing yoga or tai chi early in the morning, or power walking particularly during the winter
New mothers: mothers with young children are often seen congregating together and the mall offers a break from being cooped up at home
High school students: they're supposed to be in class but instead find solace in hanging out with friends at the mall
Therapeutic shopper: shopping as stress relief, these shoppers are what keeps malls and retailers going
Select the top segment of shoppers that you would like to target. It is important to note that choosing a segment may provide you with a way to have a dedicated following.
As you consider what themes impact shoppers and your target segment, you are now creating a brand. A brand is more than just a message but is a core set of themes and values that are held true in every aspect of your retail experience. It is the standard to which your service is held that constitutes a brand, and it is one that can help provide a high level of service.
Set a marketing budget

Whether you are starting up with little money to spare or are an established mall looking to attract more foot traffic, setting a marketing budget is important and is accessible to all malls of all shapes and sizes. Typically, shopping malls may dedicate 6-8% of their total budgets towards marketing and outreach, though we understand that dedicating this amount of dollars may not always be feasible.
This means that a mall that makes $1,000,000 a year should look to spend at least $60,000( 6%) on marketing. Now, the second difficult choice is how to spend that budget, which we explore further in our next section of the marketing plan. ,
It is to be noted that more established malls will tend to have even greater spending on marketing, not because they can better afford it, but because they've seen its impact on growing their patronage.
Determining means for delivering your message and brand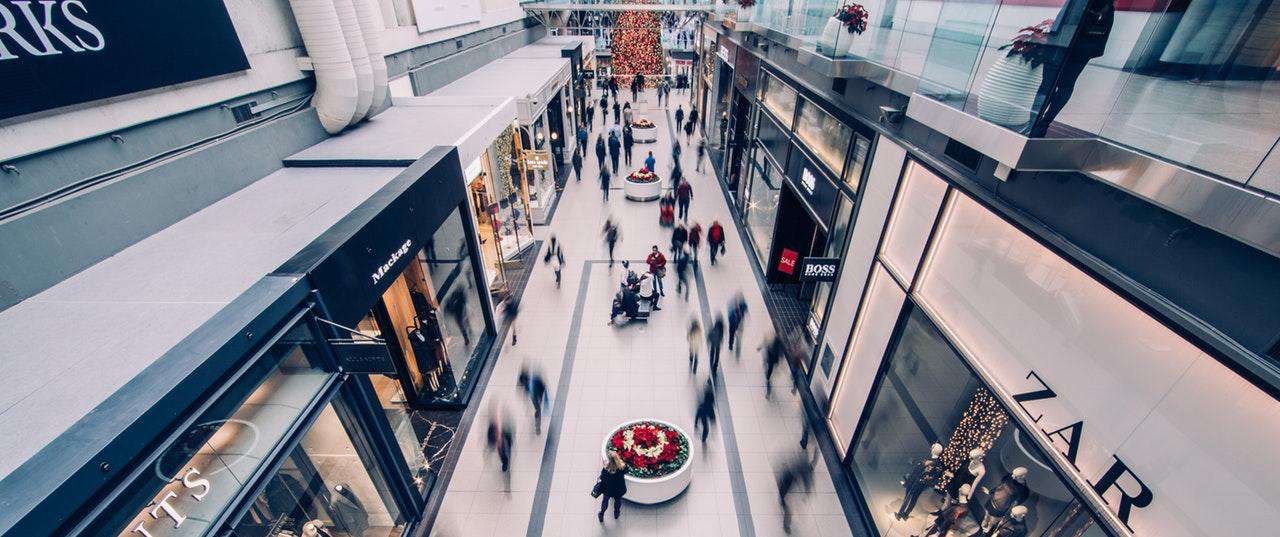 For your one page marketing plan, the next section is to determine the channels through which to reach your target visitors with your message and brand. We cover classic channels that are used by malls and explore ones that could deliver your brand and create a connection with visitors.
Here are some classic channels in which malls could seek to promote themselves:
Website - is the standard for marketing and is the primary means in which mall hours, news, and events are shared
Media ads - media ads like commercials and radio spots are another method to get on potential customers' radar
Social media - is another way to interact and stay in touch with visitors.
Here are some other great ways mall owners can reach visitors that may help you cut through the noise:
Create a date night experience featuring various shops, restaurants, and entertainment centres
Invite local personal stylists/interior designers to utilize your mall for a tour for a group of guests
Offer daycares competitive rental rates so that working families can have a reason to visit as they pick up their kids
Shop for a cause by hosting charity events at your mall or feature retailers
Provide competitive rates to fitness centres to attract visitors before and after a workout
Invite an escape room to set up shop in an open area to attract new guests and visitors
Set goals for your marketing plan

One of the main challenges that mall leaders run into is a fixation on rental income alone. Often the long-term viability of a mall can be determined not in response to a sole focus on the bottom line but through a focus on learning and curiosity. As part of that approach, we often encourage leaders to focus on driving insights and applying those to quickly improve service or communication, which ultimately lead to growth.
Example goals for mall leaders or owners:
Learn 3 things about mall tenants and how to support their objectives
Find at least 2 new potential platforms, communities, or apps that shoppers and families are using to make their lives easier
Get at least one Google review (or choose your top review site) a month
Identifying monthly goals often times is more actionable than setting quarterly and annual goals. Depending on how dedicated a mall's management is, however, this rule is flexible.
1 Page Marketing Plan Table of Contents
Now that we've covered the basics of a one page marketing plan, here is an outline to help you get started on your own:
Key needs and expectations I want to focus on for shoppers and tenants
Who are the shoppers/tenants that I want to serve
What is my brand statement (1-2 sentences about my mall experience)
What are the main ways I will reach these shoppers/tenants
What are my goals and expected outcomes that I can review
Sample One page marketing plan

Download our one page marketing plan here or contact us to help you tailor the plan.
Growing your guest experience
A one page marketing plan is a great way to quickly identify key priorities in reaching the visitors that are looking for convenience and an experience. Marketing, done well, is customer service because it allows a mall to reach and engage in a caring and delightful way. Our hope is that our one page marketing plan for malls can help more retailers serve more families.
Profitworks helps organizations lead with marketing
"I've found Profitworks to be tenacious and adaptable to the challenges our industry possesses."
-Blair - Business Owner & Customer
Read More About What Our Customers Say
We've helped passionate and caring companies across Canada and the US succeed with growth, because we believe in the beauty and meaning of every article written, email sent, and social media post crafted. Our team endeavours to create unique competitive advantages for all of our customers and would be thrilled to learn more about your mission and plans for your team. Profitworks provides marketing strategy, content marketing, branding, and social media management for great companies with a stellar product or service.