Recently I have heard from a lot of small business owners that they are not clear of what search engine optimization is or that they have never even heard of search engine optimization. This presentation is an overview of search engine optimization and how to increase the ranking of a website in search engines. The presentation simplifies SEO into plain English so that any business owner can understand what it is, what it is not,  how it impacts their business and how they can improve the search engine optimization of their website.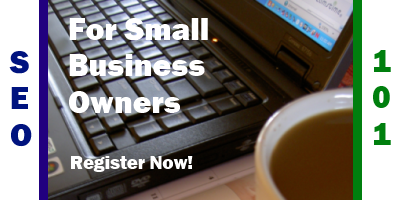 Click the play button below to see the SEO 101 for small business owners. After reviewing the presentation send us a note and let us know what you thought of the presentation and if there is any additional information you would like to see added to this presentation that you feel could help you with your business.
In this presentation I forgot to include the return on investment (ROI) for seo services. Keep in mind that the ROI metrics below are for website blogging or seo services that includes posting content (new pages) to a website and search engine optimizing the content. The metrics listed below are not for link building services, search engine submissions services or directory listing services (like canpages.ca or yellowpages.ca). For these types of services we don't have enough data to give an exact number. We do know that they deliver a negative ROI though in almost all cases for all businesses.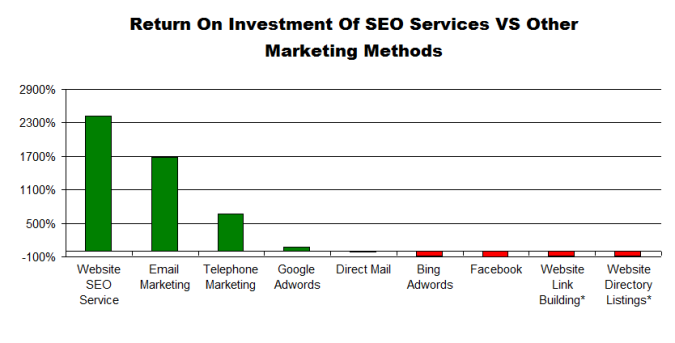 Marketing methods marked with an * are best guess estimates.
If you would like a PDF copy of this presentation for your files or to print off just email us and ask us for one. In the email simply state that you would like a copy of the SEO 101 presentation and we will be happy to send it to you.
If you would like to sign up for our SEO 101 course, just email us and we enroll you in the course.
Learn The 7 Key Tasks To Increase Traffic To Your Website. Click Here For The Free Report.
My name is Chris R. Keller. I work at Profitworks Small Business Services helping various business-to-business small businesses in Waterloo and Kitchener Ontario generate new customers via our full marketing & sales service, our website traffic and sales service and our marketing plan services. Feel free to connect with me on Google+ or learning more about Profitworks by visiting our Google+ Page. If you are interested in getting new customers for your small businesses enter your email in the box provided below and click the "Send Me Free Marketing Insights" button.

Other Articles You Might Be Interested In
1. The Best Referral Program Ever - How To Get $50 Free For You And Your Friends
2. How To Make A Slogan For Your Brand That Will Attract Customers
3. Small Business Marketing - 5 Key Components
4. The Marketing Methods For Small Businesses With The Best Return On Investment